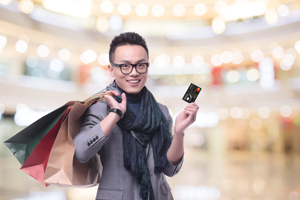 So you might have already heard a thing or two about the new CardNav mobile app by CO-OP, and maybe even registered your Genisys Credit and Debit MasterCard.
What's the deal with this app that's changing how we manage our cards?

You can turn your card on and off.
CardNav is like a security blanket for your cards. Not only does it give you greater control over your card, but it can also help protect against fraud. You can conveniently turn off your card until you are going to use it, which prevents would-be fraudsters from accessing it. It's a great feature for making sure your card is only used by you, giving you peace of mind.

You can set spending limits based on location.
One of CardNav's little-known features is its built-in GPS capabilities. Often times credit card fraud happens in an entirely different state. By setting limits on where your card can be used, you'll receive an extra layer of protection. You can set controls and notifications by either location or region, making sure your card is only used by you.
This comes in handy when you leave your card at, say, a restaurant. The CardNav app uses the physical GPS location of your phone and the location proximity of the pending transaction. If the card is not in range of your phone the card will not work. Even if it ends up in the wrong hands rest assured transactions will not be authorized.

You can use it as a budgeting tool.
If you're concerned about overdoing use of the plastic, here are some ways you can use CardNav to help you stick to your budget:
Turn on the threshold feature: You can set dollar limits for transactions to keep your spending in check. For purchases made on your card that are over the set limit or threshold, you'll receive a real-time alert and the card transaction will be denied.

Choose which types of merchants to use the card for: Only want to use your card for certain types of purchases? No problem. You can set up your card so it can be used for say, only personal items, and gas. Selecting which categories to turn on or off will help you not go overboard and stick to using your card for certain kinds of purchases.

Control transaction types: Trying to kick your online shopping addiction or have a bad habit of taking out too much cash on your card? CardNav gives you the power to control the merchant categories where you use your card. Now you can block categories such as ATM, Online, Gas Stations, Travel and more. When you have a transactions in one of your blocked categories, you can simply allow the merchant category from the app, complete the transaction and then block the category again. Combining your knowledge of your personal money weaknesses and CardNav's capabilities will help you kick any bad spending habits in no time.
With CardNav and its powerful features at your fingertips, you'll come up with personalized solutions to help with your financial goals and give you greater control over your money.

What are you waiting for?
If you already have our cards, you can download the CardNav app from the Apple or Google Play store. Or, stop by your local Genisys Credit Union branch today and get the credit card and debit card that offer you the extra layers of CardNav security.
© Genisys Credit Union and www.genisyscu.org, 2017. Unauthorized use and/or duplication of this material without express and written permission from this site's author and/or owner is strictly prohibited. Excerpts and links may be used, provided that full and clear credit is given to Genisys Credit Union and www.genisyscu.org with appropriate and specific direction to the original content.
Sources: https://co-opcreditunions.org/articles/