1st Time Homebuyer Mortgages
Buying a new home can be stressful enough - but what if you're buying your first home?
Genisys Credit Union knows how hard buying your first home can be, and we're here to make it easier on you. With exclusive mortgages & home loans for first time home buyers, as well as a custom-tailored program to help see you through the process, Genisys can help make it easier than ever for you to own your first home.
Avoid the cookie-cutter home loans that other financial institutions offer. Genisys can help find a home loan that fits the specific needs and budget of a first-time home buyer instead of trying to force a square peg into a round hole with a 'one-size-fits-all' mortgage plan.
Above and beyond our home loans and mortgage programs, we take great pride in helping first-time homebuyers find their way through the process into their dream of owning a home. When you apply for your mortgage, a dedicated Genisys Credit Union Mortgage Consultant will work with you every step of the way to tailor a mortgage product that meets your unique needs. At any point in the home-buying process, your Mortgage Consultant will guide you along so you know what to expect - no more nasty surprises at the closing of a loan!
With a first time homebuyers mortgage loan from Genisys, you can take that first step towards home ownership knowing the dedicated specialists of Genisys Credit Union have your back from the first walk-through to the final closing. Let us help make your home-buying experience even easier.
How is your Credit? Do you even know?
Healthy credit is crucial to applying for most loans, but if you're applying for a mortgage for your first home, your credit can be subjected to even greater scrutiny. Get ahead of the game with financial services from Genisys Credit Union and figure out what you can do to get ready for your first mortgage.
We offer Greenpath Financial Wellness as a free service for our members.
This is a great place to start because they will provide you with a Free Credit Report Review so you can be ready to start the mortgage process without any surprises.
Search for your Mortgage Consultant.
1st Time Homebuyer Video Series
The first video in our series covers:
Section 1: Understanding Today's Mortgage Market
Section 2: Buying Your First Home: Are You Ready?
Section 3: Getting Yourself Ready
Section 4: Know the Real Cost
The second video in our series covers:
Section 5: Go Shopping for a Mortgage
Section 6: Pick Your Team
Section 7: Know Your Budget, and Don't Be Swayed
The third video in our series covers:
Section 8: Beautiful Day in the Neighborhood
Section 9: What It Takes To Get Approved For a Mortgage
Section 10: When and Where to Apply For Your Mortgage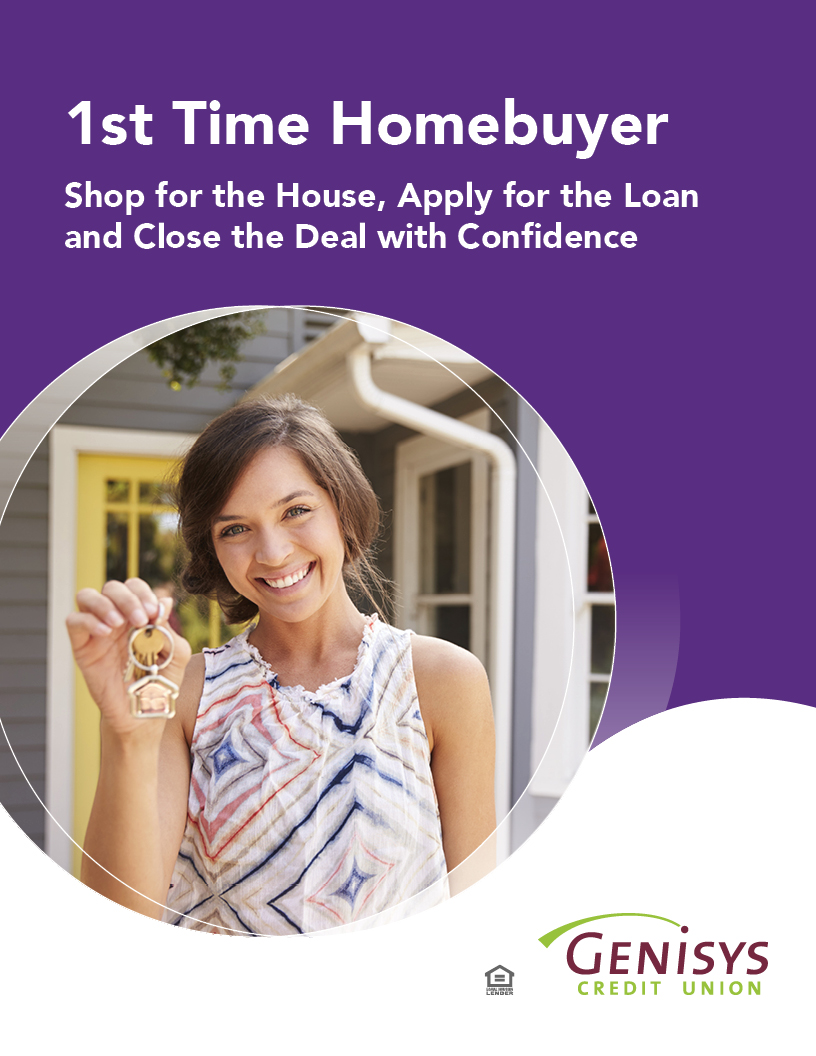 Download Your Free eBook
Shop for the House, Apply for the Loan and Close the Deal with Confidence
Buying your first home can be one of the most exhilarating - and stressful - moments of your life and getting everything in order can be daunting. Let this guide help you get ready to purchase a home that's just right!
Popular First Time Home Buyer Blogs
Go to main navigation