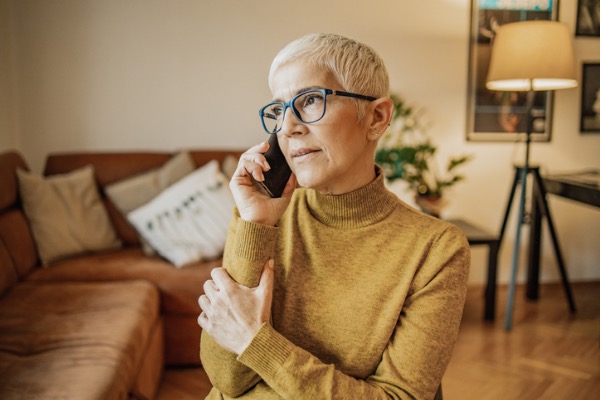 It seems like every day a new scam emerges as fraudsters attempt to separate you from your hard-earned money. While many of these ploys are extravagant and convincing, that doesn't stop fraudsters from returning to their old tricks. That's what is happening now as the "Say Yes" scam regains popularity.
The sole purpose of this telephone scam is to get you to say the word "Yes." It's simple, seems harmless, and catches people off guard. The best way to protect yourself from this trick is to understand how it works.
How the "Say Yes" Scam Operates
The "Say Yes" scam is a telephone scam designed to trick individuals into saying the word "Yes." Generally, the scam begins with a call from an unknown number, often with a local area code to appear more legitimate. When you answer, the scammer will usually pose as an employee of a company or other organization.
Their main objective is to record you saying "Yes" during the conversation. For example, common phrases include:
Can you hear me?

Are you there?

Are you the homeowner?

Is this [your name]?
While these questions seem harmless, the scammers do have malicious intent.
How Scammers Use the Audio Recording
Fraudsters utilizing the "Say Yes" scam often already have some of your personal information, such as your credit card number. For example, they could have obtained this data from a security breach or another identity theft ploy.
Then, they enroll you in products or services and charge them to your credit card or other financial accounts. They use your recorded "Yes" as proof that you gave permission to purchase or subscribe to these services.
Tips to Protect Yourself from Telephone Scams
Today's digital world allows fraudsters to mimic companies and organizations online easily. This makes spotting modern day scams challenging. Fortunately, it's much easier to protect yourself against telephone scams.
Always be cautious when answering calls with unfamiliar numbers – even if it's a local number.

Most phone companies today provide call-blocking or robocall protection; however, you might inquire about additional spam call protection services or utilize third-party apps.

If you receive a phone call that begins with "Can you hear me?" or another common "Say Yes" prompt, respond with a question. For example, reply with, "Who is calling?" or "May I ask what this call is about?" Questions like this may result in the fraudster hanging up.

If you receive an unsolicited call that seems suspicious, hang up and do not engage with the caller. It's much better to protect yourself from potential scams than to worry about appearing rude.
What To Do If You're a Victim of a Telephone Scam
If you believe you were a victim of the "Say Yes" scam, don't panic. Instead, remain vigilant and monitor your financial accounts and credit card statements for potential fraud.
If you engaged with the caller and provided personal or financial information, consider the following steps:
Enroll in identity theft protection services.

Turn your debit or credit cards off when not in use. Download Genisys Card Controls to see how easy it is to turn your card off instantly.

Obtain a new credit or debit card from your financial institution (if you provided this information to the caller).

Monitor your accounts daily for possible fraudulent charges.

Review your credit report for free at www.AnnualCreditReport.com.

Use a credit score service, such as www.Experian.com or www.CreditKarma.com, to monitor changes in your score.

If you notice fraudulent charges, contact your financial institution immediately. Also, report the scam to the Federal Trade Commission at www.FTC.gov/complaints/.
Unfortunately, scammers never seem to take a day off. And neither should you when it comes to guarding your personal and financial information. The best way to protect yourself from scams is to stay updated on the latest trends and log into your account daily to monitor your transactions.
If you believe you were a victim of fraud, we're here to help. Please call us at 248-322-9800 extension 5 or stop by any of our branch locations to speak with a team member.
© Genisys Credit Union and www.genisyscu.org, 2023. Unauthorized use and/or duplication of this material without express and written permission from this site's author and/or owner is strictly prohibited. Excerpts and links may be used, provided that full and clear credit is given to Genisys Credit Union and www.genisyscu.org with appropriate and specific direction to the original content.