Safe and Sound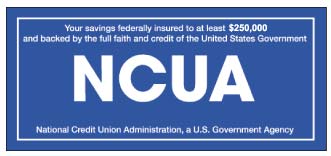 The Share Insurance Fund is backed by the full faith and credit of the United States Government.
The Share Insurance Fund provides essentially the same coverage as the Federal Deposit Insurance Corporation's (FDIC) account insurance.
Genisys Credit Union member deposits are insured up to at least $250,000 per account. Your coverage already may be higher. For Example: Having a joint account increases coverage to $500,000; adding a beneficiary or opening a Trust account can provide additional coverage.
Genisys has you protected, Safety and Security
Go to main navigation