Safe and Sound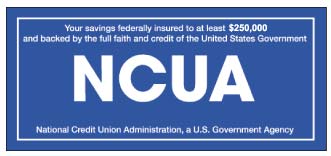 The Share Insurance Fund is backed by the full faith and credit of the United States Government.
The Share Insurance Fund provides essentially the same coverage as the Federal Deposit Insurance Corporation's (FDIC) account insurance.
You can increase your coverage by setting up different types of accounts because the $250,000 coverage is per qualifying account.
Genisys has you protected, Safety and Security
NCUA Share Insurance brochure
Go to main navigation