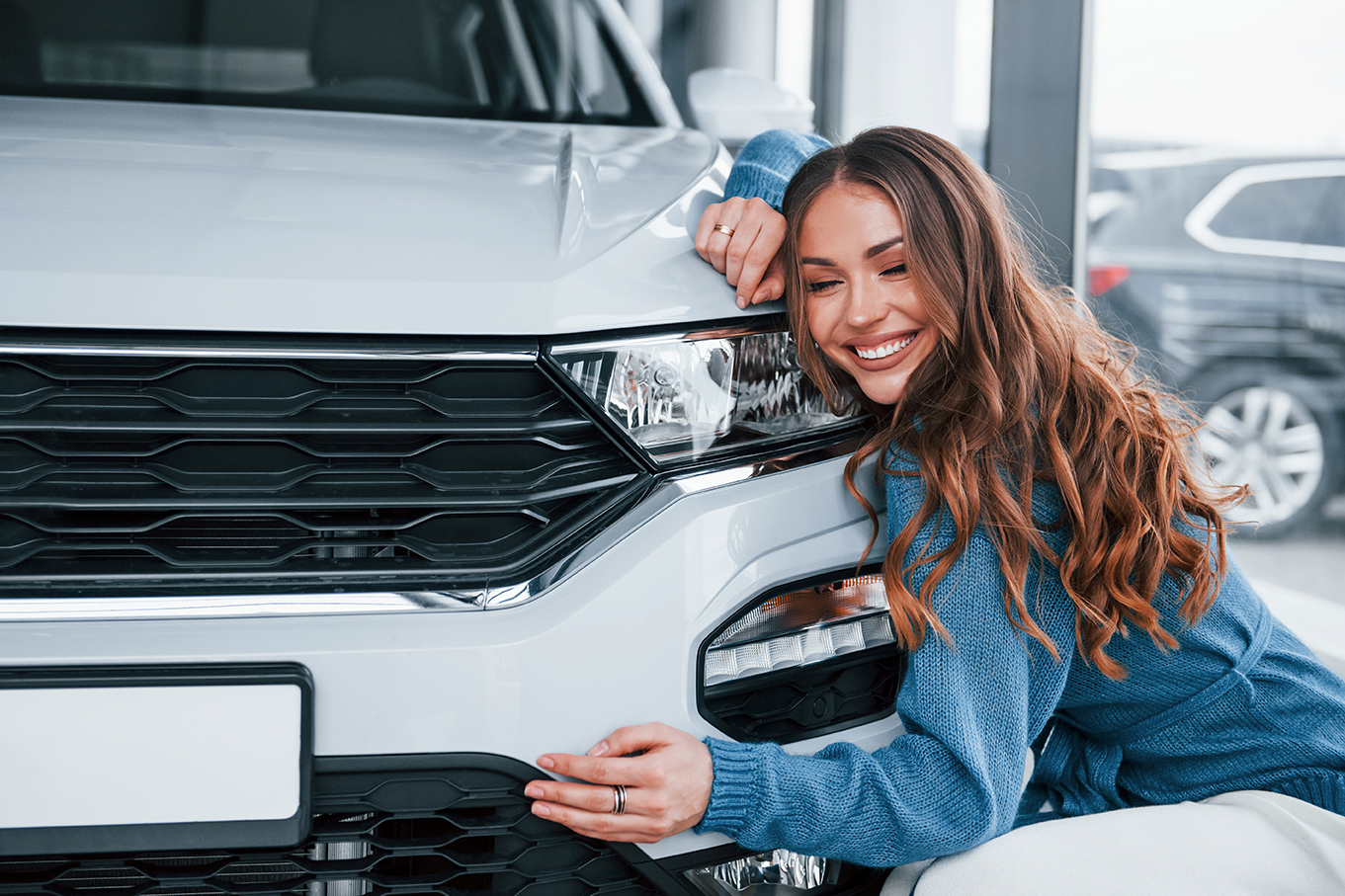 Hassle-Free. Everything you need.
Buying a car should be an exciting time, but we know how stressful finding the perfect car loan can be. Take some of the hassle out of finding your dream car with a credit union car loan from Genisys!
New, Used or Refinanced Car Loans,


Genisys is your Best Financing Option!

With our low rates, a new or used car loan is just a few clicks away. We also offer auto loan refinancing for existing car loans from other institutions, in order to take advantage of our great low rates. Our convenient application process can be done online or at one of our convenient branch locations, and our friendly staff is always ready to help you find the best loan term with the low auto loan rates you can always expect.
Auto Loan Special
Model Year 2017 & newer
New Loans & Refinances
as low as
Up to 60 months
PLUS, 90 Day No Pay Bonus 2
Rates So Low,

You'll Love Your Payment.

New cars, used cars, daily drivers, or the dream car you've always wanted, Genisys has the flexible car loans to get you in the driver's seat. Just a click away!
More Rates
New Auto Loan Rates & Used Auto Loan Rates (By Model Year)

Effective Date:

Friday, December 8th, 2023
Model Year
APR as low as*
Maximum Term
2017 and newer
6.74%
up to 60 months
2017 and newer
7.24%
61-72 month
2019 and newer
7.74%
73-84 months**
2014-2016
7.54%
up to 60 months
2013 & older
8.04%
up to 60 months

Enjoy no payments for 90 days for borrowers with excellent credit2

*Annual Percentage Rate (APR) and terms may vary depending upon credit qualifications, age of collateral, payment protection package, and Direct Deposit of payroll, social security or retirement with AutoPay set up from a Genisys checking or savings account. Approximate monthly payment would be $19.68 per $1,000 borrowed at 6.74% for 60 months.
**73-84 month term requires minimum financed amount of $25,000.

290 days no payment offer available to credit scores of 675 and higher. Interest accrues during the deferral period.

---
Not Sure Which Fits Your Budget?
Use our Auto Loan calculator to crunch some numbers. Not a bean counter? No worries, that's what we're here for. Contact us to find the right payment for your budget.
Knowledge Center
Whether you are just starting your auto loan search or are looking for extra protection from unforeseen and costly car repairs we have made it easy to find the answers. Use the Research, Buy and Protect buttons below to find anything you need related to finding your new car.
Your Trusted Partner in Auto Buying
Let Genisys help you into your next car
Use this helpful calculator to find the car that fits in your budget.
Helpful Auto Loan Blog Articles
More articles available on the Genisys Blog.
Discover more tips and tricks in our eBooks and Financial Empowerment Center.
Incoming Loan Payment Instructions
Auto Loan FAQ
How do auto loans work?
Auto loans are similar to other types of loans in that they're a lump sum given to pay for your new car, and you then repay the loan over time through an agreed-upon monthly payment. Auto loans are closer to something like mortgages in that they're a loan for a specific purpose and are given directly to the dealer you purchased your car from, but you still have a lot of flexibility as far as what kind of car you can buy with your loans, and other potential loan uses.
What is considered good credit when buying a car?
Genisys Credit Union has several financing options to meet the needs of most borrowers. People that have a higher credit score will typically end up financing at the lowest interest rates, and may be able to have an easier time getting their auto loan approved overall. However, that doesn't mean that you can't get a car loan with payments to fit your budget if you have less than perfect credit. If you have limited or blemished credit, we may still have a financing option for you. The best thing to do is apply for a car loan and let us determine the best solution to meet your needs.
Do you need a down payment to buy a car?
A down payment is generally not required. Genisys will finance up to 100% of a car's purchase price assuming you meet the credit qualifications for the full financing. Factors such as limited job time or limited credit history are two situations that may require a down payment. One thing to consider with 100% financing is whether or not you are comfortable with little to no equity in your car.
Should I lease or buy a car?
Leasing or buying a car can offer different benefits for different budgets and lifestyles. However, buying a car and financing it through your credit union can offer several significant advantages over a short-term lease, including the following:
Lower down payment: Many leases require a large, non-refundable down payment at time of signing, whereas in most cases, an auto loan requires a much smaller down payment that affects the amount you owe on your overall loan, if one is required at all
No mileage restrictions: In most cases, a lease requires your vehicle to be under a certain mileage at the time the lease is over. Auto loans on new or used vehicles don't have that restriction, and allow you to use your vehicle as you see fit.
No "wear and tear" provisions: When leasing a vehicle, it needs to be returned in a condition dictated by the manufacturer so it can be re-sold or otherwise used after the lease is up. Auto loans don't have these requirements, as the car is not expected to be returned at the end of the loan term, so you don't need to worry about keeping it as in-shape as a lease would require.
No more payments once the loan is paid off: Once an auto loan is paid off, the vehicle is yours to keep and can be driven until you decide to get a new one. Leases, by nature, require you to return the vehicle to the dealer or manufacturer, meaning you'll need to get a new vehicle when the lease ends, putting you in the position of needing to lease another vehicle right after the term is up.
While leasing may be an attractive option if you tend to not put a lot of annual mileage on your vehicle or find yourself trading vehicles often, auto loans are a much more stable and secure long-term option for financing and keeping a vehicle.
What is the process of buying a new car or used car?
When buying a new or used car from a dealership, the process is relatively quick and easy. It's always a good idea to get a pre-approved auto loan from your credit union or financial institution first. If you don't, avoid rushing into dealer financing and check with Genisys. Taking the time to get the best financing can save big dollars in the long run. Once you have found the perfect car for you and your budget and the dealer submits all pertinent information for financing, it will typically take us less than one (1) hour to return the approval back to the dealer. This is assuming no additional information is needed from you such as proof of income or co-signer information. If you've been pre-approved before shopping, you can be ready with your loan when you're ready to buy your vehicle. When the dealer receives the approval they will need a couple things from you such as proof of insurance and any monies such as title, tax, plates, and add on products that are not being rolled into the loan. Next the car will be prepped for delivery to you.
What is GAP insurance?
GAP stands for Guaranteed Asset Protection. This insurance covers the 'gap' or the difference between what is owed on the car and what the car is worth should you have an accident which causes the insurance company to "total" your car. This means they will write you a check for the determined value of your vehicle. Without GAP insurance, you may end up having to continue making loan payments on a car you can't even drive. For example, suppose that you finance a new vehicle, and two years later you have an accident that results in a total loss. The car has decreased in value. If you still owe $20,000 for a car that is now only worth $15,000, you still owe the lender a 'gap' of $5,000. GAP insurance will pay for that difference.
The cost of a GAP policy is generally a few hundred dollars, and can be added into the loan amount. Genisys Credit Union offers affordable GAP policies when you finance with us. Talk to a Genisys loan representative to get more information and be sure to include this in your financing option comparisons.
How can I get a loan for a classic car?
Getting a classic car loan is similar to the process of getting a loan for any other type of car! Auto loans are given depending on the overall credit picture of the borrower, and not dependent on the year, make, or model of the vehicle itself. Apply for a loan today and provide all the needed information, and we can see what your best loan option would look like!
What does salvage title mean?
Be aware that Genisys Credit Union and many other financial institutions WILL NOT finance a rebuilt or salvage title. This means the car has been damaged or deemed a total loss by an insurance company that paid a claim on it. A car is deemed "salvage" when the insurer determines that the repair or replacement cost is in excess of its market value at the time of the accident. In the state of Michigan, the issuance of a salvage title does not mean that the vehicle is also deemed a total loss. Michigan issues a salvage title when the damage equals 75-90% of the pre-damage value; if the loss is 91% or greater the vehicle is eligible only for a "scrap" title. If the vehicle is rebuilt to a road worthy condition and has passed State inspection, the difference in price is 35-50% of fair Kelley Blue Book value, a source similar to NADA for vehicle valuation. These cars have "rebuilt" or "rebuilt salvage" annotation in the title and can be registered and operated just like a new car.
How do you buy a car using a lien?
When you borrow money to buy a car, the lender will require a lien on the title of a vehicle. This lien establishes the lender's rights to the vehicle as collateral for the loan in the event payments are not made according to the terms of the loan contract. When a used car is purchased at a dealership, there is nothing extra for you to do. The dealer will handle the placement of the lien with the lender.
However, if the car is purchased from a private owner, it is your responsibility as the new owner to place the lien of the financial institution. Typically, the seller and buyer must go to the Secretary of State (SOS) or Department of Motor Vehicles (DMV) to have the title switched over to the buyer's name. If the title is already free and clear, you can place Genisys Credit Union as lienholder when transferring the title at the SOS or DMV. If there is another lienholder on the title, you will need to wait until the lien release is sent by the other lender (sometimes it is sent to the original owner first). Once the original owner has the release of lien in their possession, this document should be brought to the SOS or DMV to complete the transfer of title and have the new lender's lien placed.
How do you buy a car from a private owner?
Buying a car from a private owner, while it carries some risks and challenges, isn't much different from purchasing a car from the dealership. Once your financing is secured, you need to go to your Secretary of State or Department of Motor Vehicles to switch the title over into the buyer's name, and list the name of the financial institution that financed your vehicle as the "lienholder". For more information about liens, refer to our previous question about liens on vehicles.
How can I budget for buying a car?
Buying a car can come with a lot of expenses, some of which you might not have expected when you went to the dealership. When trying to calculate how much car you can afford, ask yourself the following questions:
How much of an auto loan can I afford?
How much will it cost to register my car?
What will my monthly insurance rates be for this new vehicle?
If you need help figuring out how big your auto loan should be, check out our Auto Loan Calculator.
Do auto loans require full coverage insurance?
All cars that have an outstanding lien (meaning an unpaid loan or financing) are required to have full coverage insurance in the event of an accident or other unexpected events. If you're looking for a new way to insure your vehicle, check out our credit union auto insurance offerings.
How can I get an auto loan?
If you're ready for your next vehicle, no matter what you're hoping to drive, Genisys can make it easy! Fill out our online auto loan application and we'll get in touch with you!
1Annual Percentage Rate (APR) and terms may vary depending upon credit qualifications, age of collateral, payment protection package, and Direct Deposit of payroll, social security or retirement with AutoPay set up from a Genisys checking or savings account. Approximate monthly payment would be $19.68 per $1,000 borrowed at 6.74% for 60 months.
290 days no payment offer available to credit scores of 675 and higher. Interest accrues during the deferral period.
Go to main navigation