Credit Union Credit Cards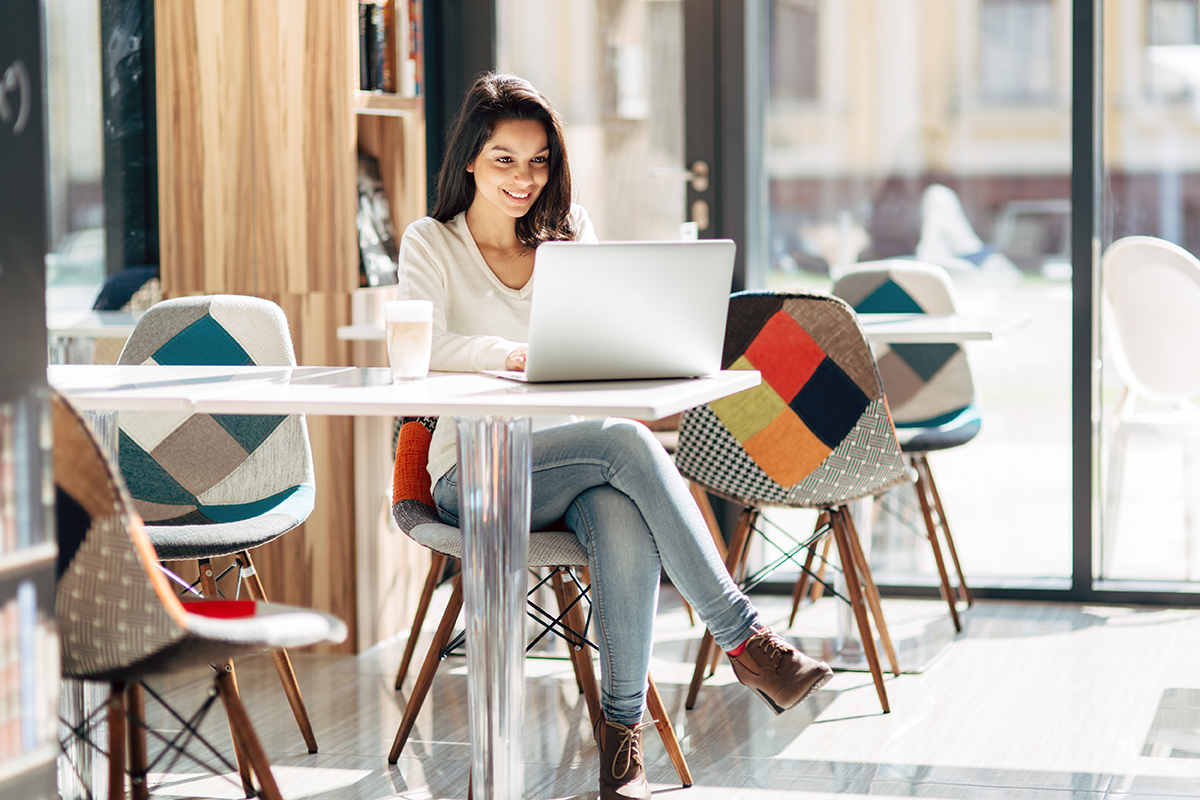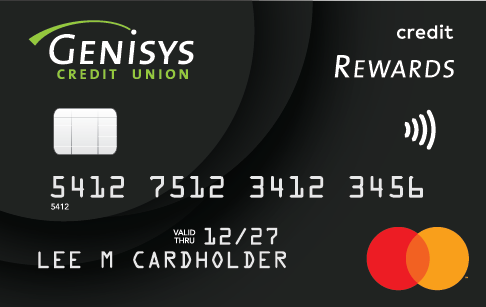 Two Great Credit Card Offers to Choose From
Have you received credit card solicitations in the mail and wondered if you were missing out on a good deal? You have a lot of choices when it comes to credit card offers. It pays to apply for a credit card with someone you can trust. Apply with Genisys Credit Union.
Genisys Credit Rewards Mastercard®
Features:
Variable rate as low as 15.49% APR
No annual fee
28-day interest free grace period
Fast & secure contactless transactions
Online and mobile account access
Worldwide acceptance
Free Identity Theft Resolution Service
Auto Rental Insurance
$500,000 Travel Accident Insurance
INCLUDES Genisys Double Play Rewards Program
Earn Mastercard® DOUBLE PLAY Rewards
just by making purchases with your Genisys Rewards Credit Mastercard®
---
Every time you sign for transactions you earn 1 point for every $1 you spend, redeemable for travel, merchandise, gift cards, and much more
Genisys Rewards Credit Mastercard® holders are automatically enrolled and it's FREE
Access your DOUBLE PLAY Rewards account information and redeem points automatically through Online Banking
Genisys Platinum Credit Mastercard®
Features:
As low as 9.90% APR
No annual fee
28-day interest free grace period
Fast & secure contactless transactions
Online and mobile account access
Worldwide acceptance
Free Identity Theft Resolution Service
Auto Rental Insurance
$500,000 Travel Accident Insurance
Genisys Credit Union Secured Mastercard®
Features:
Take control and build your credit with responsible use
Limits available from $500 to $5,000 based on the security deposit you make
Can be opened as a Genisys Platinum or Genisys Rewards Mastercard
Enjoy the same features and benefits as the non-secured cards
Apply Online:
*Secured credit cards are not guaranteed approval. The applicant's credit bureau will be reviewed as part of the approval process.
Peace Of Mind With Every Purchase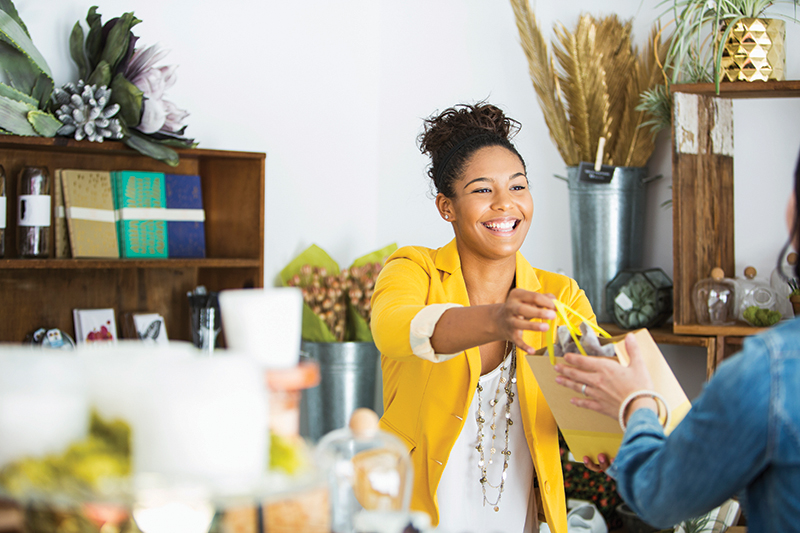 Genisys Credit Union Card Controls
Card Controls is a mobile app that gives you control of when and how your credit cards are used. Identify potential fraud, monitor and control spending instantly, and receive lightening fast alerts - all from the palm of your hand. Learn more about Card Controls and the real-time alerts you can set up.
Help safeguard your account when shopping online
Mastercard Identity Check is a new way to help secure your account when shopping online. Genisys Credit Union will review your transactions and in some cases require you validate a One Time Passcode or speak with us to verify your identity. Once the data is verified, the merchant will complete your purchase. You can enjoy peace of mind in knowing that your purchase was protected with an extra layer of enhanced security with Mastercard Identity Check. Terms and Conditions
No Fee Credit Card Balance Transfer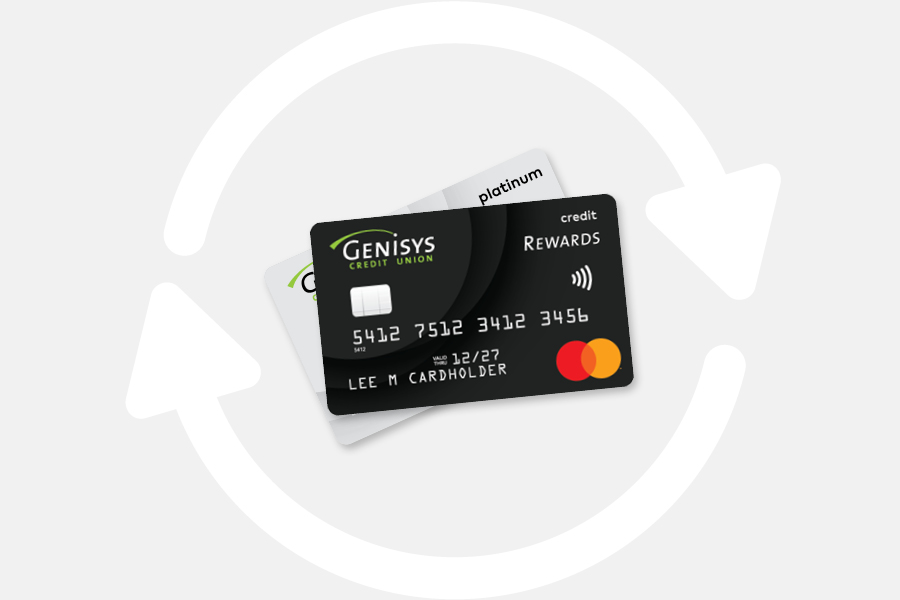 When you open a Genisys Credit Union credit card you have a great savings tool in your pocket! You can transfer balances from other higher rate credit cards to your Genisys Mastercard and start saving on interest charges. Plus, there is no transfer fee to move balances to our card.
It's easy to transfer balances!
Complete an Online Balance Transfer Request form. Just snap a picture of your credit card statement and upload with your smartphone to our credit card balance transfer form, send it to us and we'll do the rest.
Get Started Today!
Credit Card FAQ
How do credit cards work?
Credit cards work similarly to debit cards in that they let you pay for purchases without carrying cash, but the money for your purchases comes from different sources. Debit cards deduct the money directly from your checking account, and are a reflection of how much money you actually have in your account to use. Credit cards, on the other hand, offer you a line of credit that can be used to make purchases, and require that you pay this credit back later. This helps them stand out from loans, in that the line of credit is always available to you and can be used anywhere that accepts credit cards as a form of payment.
How do I get a credit card?
Getting a credit card is similar to applying for a loan. All you need to do is fill out our online credit card application for the credit card you want, and one of our representatives will work with you to get the documents and information they need! Your eligibility for a credit card will be affected by things such as your current credit score and other details of your financial situation, and your limit and payments will be determined then as well.
How do credit card payments work?
Credit cards, similar to other types of loan payments, are given a monthly payment on a fixed due date every month. Unlike most loans, this minimum payment can vary depending on the current credit card balance, among other factors, and will reflect your recent purchases and current charges on the card.
What sort of limit will I have on my credit card?
Credit card limits will vary depending on a number of factors, including your current credit score, any outstanding debts you may have, your overall credit history, and more. Everyone's credit situation is different, but by applying for a credit card with Genisys, you can get an idea of what your limit and spending power might be.
Can I increase my credit card limit?
In certain cases, as long as your account is in good standing with Genisys, you can request to have your credit card limit increased. Your eligibility for an increase will be determined by a number of factors, including overall credit health and payment history, but by contacting Genisys you can request a potential limit increase.
How do I check my credit card limit?
Both your current credit card balance and your available credit limit are available either through Genisys Online Banking or through our credit union mobile app once your account has been linked.
What is a secured credit card?
A secured credit card is a type of credit card that requires a deposit before use. When you apply for a secured credit card, you place a deposit down as collateral for making the payments for your card on time. The amount of this deposit will depend on a variety of factors, and may affect your overall credit limit.
What is a reward credit card?
Rewards credit cards are like normal credit cards, except by using your credit card you can qualify for discounts, special promotions, and even cashback in certain cases! Learn more about the Genisys Double Play Rewards program and see what sort of perks you can get from using your credit card.
How do EMV chips work?
Chip cards add an additional layer of security to your credit card by making it harder to be copied, counterfeited, or used in an improper way. To learn more about our EMV chips and the security they can provide, check out our EMV Chip Card FAQ.
How can a credit card impact my credit score?
In general, owning a credit card is good for your credit score. Simply opening a credit card will not help you build your credit history. Making on-time payments and keeping account balances low relative to the credit limit are key to building your credit history. Credit cards typically weigh more heavily on credit scores than other types of debt because they give greater insight into how you make borrowing and debt management decisions. One of the fastest ways a new credit card will help your score is by increasing your total available credit limit. Say you have one card with a $2,000 limit, and you're using about $500 of that limit. That's a 25% credit utilization rate, which is good, but it would be better if it were below 10%. Then you get a new credit card, and it comes with a $5,000 limit. That puts your utilization below 10% with a little room to spare ($500 balance / $7,000 total limit). The thing to pay attention to here is to not abuse the higher credit limit. It's definitely tempting to spend when you have $7,000 of available credit, but most experts recommend keeping your utilization below 30%, with below 10% being best. You'll want to look at your existing debt before turning to a new credit card as the way to improve your scores. You may want to reduce your spending and work on making timely payments on your existing debt to help raise your credit scores before applying for additional credit.
How does Genisys handle credit card compromises?
Genisys Credit Union maintains high standards of security for our credit and debit card systems. However, there are times that your card information could become compromised due to a system breach at a merchant due to no fault of your own or Genisys. We wish to share with you the actions we take in these situations so that you are prepared in the event this ever happens to you. When Genisys is notified that a merchant compromise has occurred, all Genisys issued cards associated with that compromise are reviewed and subject to additional security measures. Working together with industry experts and our card processor, Genisys employs all methods of fraud detection available. When the breach has been shown to already have fraudulent activity, Genisys will generally reissue all cards to provide the best protection possible. Other steps could include reducing daily spending limits, restricting certain purchases, and adding fraud monitoring detection rules. We find that a multi-layer approach provides the best protection for our members and we continually perfect and update our approach to target the risks of each specific merchant compromise.
Additional Infomation about Credit Cards
Go to main navigation