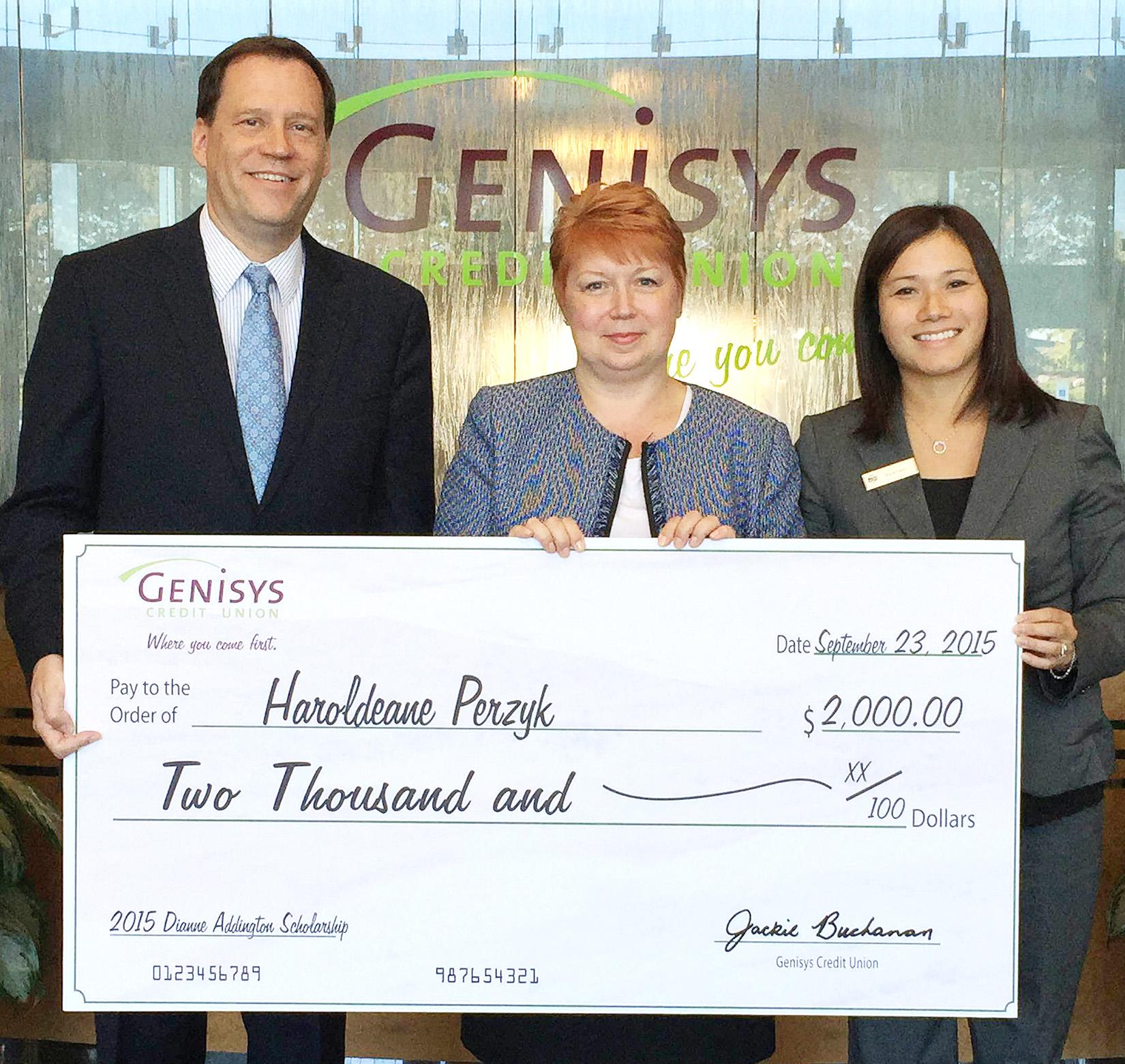 FOR IMMEDIATE RELEASE

Nov. 18, 2015

A photo has been sent as an attachment; the caption is below the release.

Baker College of Auburn Hills student awarded
Dianne Addington Community Leadership Scholarship
$2,000 scholarship honors Genisys Credit Union's former CEO
AUBURN HILLS, Mich. – Baker College of Auburn Hills has announced that student Haroldeane Perzyk, CAP, has been awarded the 2015 Dianne Addington Community Leadership Scholarship in the amount of $2,000.
Genisys Credit Union funds the annual award in honor of its former CEO who retired in 2010. Addington served on many community boards throughout her career, including the Baker College of Auburn Hills Board of Regents.
"While juggling the responsibilities of a professional career and significant community involvement, Ms. Perzyk completed an associate degree with a perfect 4.0 GPA," said Peter W. Karsten, Ph.D., CPA, Baker College of Auburn Hills president. "We're pleased she is continuing her education at Baker College to obtain a bachelor's degree, and we appreciate Genisys Credit Union's generous support of such a deserving student."
Jackie Buchanan, president and CEO of Genisys Credit Union, said, "We are grateful to be able to assist students in fulfilling their academic goals. We wish Ms. Perzyk the best of luck with her future endeavors."
Perzyk, of Lake Orion, earned an administrative professional associate degree and is continuing her education in pursuit of a bachelor's in business administration. After graduation, she plans to use her education at her current employer and hopes to devote more time to her favorite charities and new volunteer opportunities.
"It's an honor to receive the Dianne Addington scholarship," said Perzyk. "I will use it to complete my bachelor's degree, which I know will be an asset at work and in the community."
For information about Baker College business administration programs, contact Nicole Chirco in the admissions office at nicole.chirco@baker.edu or 248.340.0600, or visit www.baker.edu.
The largest private college in Michigan, Baker College is a not-for-profit higher education institution accredited by the Higher Learning Commission. It serves more than 23,000 students on multiple campuses and online. Baker grants certificates and associate, bachelor's, master's and doctoral degrees in more than 150 programs across diverse academic fields, including business, health sciences, engineering, information technology, education and human services. An impressive 97 percent of available graduates are employed. Every Baker graduate receives Lifetime Employment Assistance—free and forever. Baker is a pioneer in distance education and offers students the option of completing a degree 100 percent online, without ever visiting a campus. For information, visit www.baker.edu or follow Baker College on Twitter, @bakercollege, or on Facebook, www.facebook.com/bakercollege.
# # #
Photo caption: Baker AH-Addington 2015 – Tom Alter, senior vice president/chief marketing officer at Genisys Credit Union, presents a ceremonial scholarship check to Baker College student Haroldeane Perzyk. Also pictured is Nicole Chirco, Baker College of Auburn Hills director of admissions.
CONTACT:
Nicole Chirco
248.340.0600

Jan Jenkins, Publicom, Inc.
517.487.3700/cell 517.898.2858
JanJ@Publicom.com