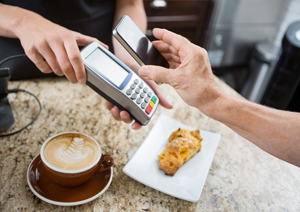 Our phones are our lifelines to everything we do. We take pictures with them; call and text message friends and family, and of course, stay connected to our social media.
So why not use them for mobile payments too?

What is a mobile payment?
A mobile payment is a point-of-sale (PoS) transaction made or received with a mobile device. Mobile payments are gaining popularity not only for their convenience but also for their security.
Mobile payments provide a secure way for card information to be stored and transmitted to stores in an encrypted fashion.
Your mobile device generates a random token for each transaction. The token is used during authorization at the store rather than the store receiving your actual card number. This way, there is never a worry that someone can duplicate your card and make unauthorized charges.
Read our previous digital wallet information blog to understand specifically how the most popular mobile platforms (Apple Pay, Android Pay and Samsung Pay) operate.
Where Can I Use Mobile Payments?
Merchants that can accept mobile payments will have the Apple, Samsung and Android mobile payment options posted just as they post the accepted credit card logos on the door or at the register.
Samsung Pay is the most widely accepted mobile payment because its tokenization works using Magnetic Secure Transmission, which most merchants already have. This does not require them to upgrade their existing payment terminals.

Apple and Android Pay can be used at a growing number of merchants including Macy's, McDonald's, Meijer, PetCo, Panera, Subway, Rite Aid, Walgreens, and Whole Foods, just to name a few.
There are also a number of Apps that accept Apple Pay and Android Pay for easy checkout without having to enter all your card information.
Check out all of the merchants and apps available for Apple Pay and Android Pay.
Mobile Payments are a great way to pay when using your debit or credit card. With card compromises increasing, this is a safe alternative regardless of which digital wallet you have. Each of the mobile payment wallets mentioned in this article provide a level of protection not available with your physical card. Worried about a misplaced phone? Each wallet allows you to delete cards to protect your accounts. It's also recommended that you protect any mobile payment solution with a PIN on your device to prevent unauthorized use.
Try it out for yourself! Not only is it safe and the ultimate convenience, but you'll also be the envy of others in the checkout line too!

Genisys Credit Union Debit and Credit Cards are compatible with Apple Pay, Android Pay, and Samsung Pay! Load a Genisys debit card and credit card into your wallet today!
Source:
http://searchmobilecomputing.techtarget.com/definition/m-payment
© Genisys Credit Union and www.genisyscu.org, 2016. Unauthorized use and/or duplication of this material without express and written permission from this site's author and/or owner is strictly prohibited. Excerpts and links may be used, provided that full and clear credit is given to Genisys Credit Union and www.genisyscu.org with appropriate and specific direction to the original content.