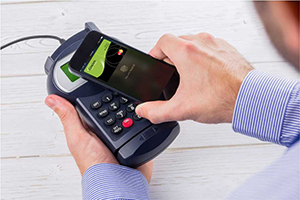 Apple Pay, Samsung Pay, and Android Pay - OH MY! Why do I need a digital wallet when my old-fashioned wallet is working just fine?
It's the digital age, right? We use our phones for directions, weather reports,
news, to search for health information, to bank online and endless other tasks. Our phone doubles as our camera and keeps us in touch with friends and family in a variety of ways. We keep nearly our entire lives in our phone. Do we want our credit and debit cards in our phones too?
What exactly is a digital wallet?
Digital wallets are simply a way for credit and debit card information to be securely stored for use either at retail stores or online along with other information like shipping and billing addresses.
Amazon and PayPal offer two of the most widely recognized digital wallets, and new wallets are being introduced almost daily.
Digital wallets can help in several ways. When all of your credit and debit card information is stored in one place, it makes it easy and quick to check out at a store and get back to things you would rather be doing!
Digital wallets provide a secure way for card information to be stored and transmitted to stores in an encrypted fashion.
These features can protect your data and save you from potentially having your card number compromised. You benefit from never suffering from unauthorized transactions or the need to have a card reissued because the number fell into the wrong hands.
Digital wallets protect you by converting your card number into a digital token. The token is used during authorization at the store rather than the store receiving your actual card number.
By supplying the store with a digital token rather than your card number, there is never a worry that someone can duplicate your card and make unauthorized charges.

Common digital wallets:
Apple Pay provides security by storing information in a secure element on the device. To best protect your cards in Apple Pay, a passcode or Touch ID is required to be set on your device. A complex passcode is recommended. This will prevent someone that does pick up your phone from using your wallet without your knowledge. Activating Find My iPhone can help too; you can simply suspend Apple Pay by placing your device in Lost Mode should your phone fall into the wrong hands.
To process payments, Apple Pay uses Near Field Communication (NFC) technology between your device and the payment terminal. This technology is an industry standard contactless technology designed to work only across short distances.
Once you load your cards into the Apple Pay wallet, you have the capability to update your information, delete cards, and to use cards at stores or for in-app purchases where allowed. If you lose your phone, you can contact your card issuer to have your card suspended or removed from your Apple Pay wallet.
Samsung Pay works slightly differently, but still uses tokenization to protect your card data. Samsung pay works using Magnetic Secure Transmission, a technology that emits a magnetic signal that mimics the magnetic strip on the back of your card today. This signal is transmitted to the merchant terminal.
In most cases, Samsung pay can be used anywhere you currently use your card because it usually doesn't require that the merchant makes changes to their payment terminals. Your payment information is secured with a fingerprint or Samsung Pay PIN, keeping it secure if your device is lost. For additional security, Samsung Find My Mobile can remotely lock and erase your payment cards in Samsung Pay.
Android Pay works using NFC (Near Field Communication) and HCE (Host Card Emulation). NFC is the method in which Android Pay transmits your tokenized card information to the merchant terminal. HCE allows Android Pay to store your encrypted card information on secure servers, meaning it is never stored on your device or shared with merchants.
Since NFC is already deployed on most merchant devices, Android Pay is likely to work at merchants that have NFC capable terminals. In some cases, merchant terminals do need a software update to begin accepting Android Pay.
Android requires a device lock be enabled to activate Android Pay. Also, if your phone is lost or stolen you can find, lock, and erase it using Android Device Manager. Since your card information isn't stored on your phone, it wouldn't be accessible to the person that took your phone even if it was unlocked.
Regardless of the digital wallet you choose, be assured that each provides levels of protection not available today using payment cards directly at merchants. This step to tokenize card data is likely one that will continue to evolve as consumers demand more secure payment methods.
Feel confident that if you do choose to use a digital wallet, your card information is secure. Each wallet creator has worked to provide additional functionality to protect you if you ever do misplace your device.
The evolution of digital wallets is exciting! Why not try it out and determine for yourself if paying with your phone offers conveniences not possible by your traditional wallet.

Genisys Credit Union can get you started on your digital wallet journey today.
Apple Pay users can load your Genisys Credit Card or Debit Card into your wallet and let the fun begin. We are working on Android and Samsung Pay and will have those available to load very soon.
Genisys Credit and Debit cards both include Genisys Rewards.
Earn points on both cards and combine them to redeem for merchandise fast!

© Genisys Credit Union and www.genisyscu.org, 2016. Unauthorized use and/or duplication of this material without express and written permission from this site's author and/or owner is strictly prohibited. Excerpts and links may be used, provided that full and clear credit is given to Genisys Credit Union and www.genisyscu.org with appropriate and specific direction to the original content.