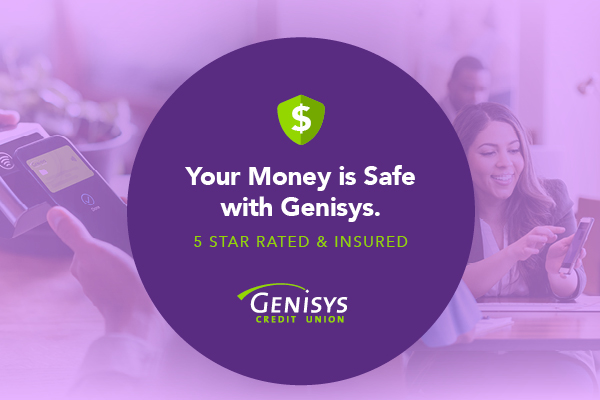 We are all likely aware of the news regarding Silicon Valley Bank in California. While this can feel like an uncertain, and scary time, we are here to assure you that you have safe alternatives for where you choose to put your money. Credit Unions offer a unique alternative for many reasons.
Did you know Genisys Credit Union is one of the strongest financial institutions in the country? If you are looking for a financial institution that offers a safe and secure place to keep your money, Genisys Credit Union is a wise choice. With 32 branch locations, a comprehensive mobile banking app, excellent high-yield checking account and low interest rate loans, why not become a member?
Highly Rated - Safe & Secure
Genisys is one of the strongest financial institutions in the country, with a net worth of nearly two times what the National Credit Union Administration considers well capitalized.

Our balance sheet and investments are conservative and our membership is diversified, giving us an extremely strong financial position to weather economic downturns.

Genisys has received a Five-Star rating from the independent rating firm, Bauer Financial for the past 35 years. This is the top rating a financial institution can receive for safety and soundness of overall company finances.

Genisys Credit Union was named 10th in the Top 50 of "Top-Performing" Credit Unions in the United States by S&P Global Market Intelligence.

Forbes Best in State credit union, three years in a row, placing #1 in Michigan in 2022.
How is a Credit Union Different from a Bank?
It may not seem like banks and credit unions are very different from each other, but they are!
Credit unions are member owned and exist solely to serve its members. Each member has an equal ownership stake.
Credit Unions:
Not-for-profit institution operating to benefit its members.

Make decisions in the best interest of its members, and income made on loans and other products and services goes back to our members (not stockholders) by way of higher dividends and lower fees.

The Board of Directors are voluntary, not receiving pay for their service.

Credit Unions do not invest in risky endeavors and we also keep our investments diverse, conservative and fairly short so we have constant liquidity coming back to us.
Banks:
For-profit institutions acting in the best interests of its investor stockholders to deliver a profit to their shareholders.

Make decisions in the best interest of the stockholders, because again they need to maximize profits in order to pay their investor stockholders. This often comes in the form of higher fees and loan rates along with lower savings rates.

A Bank's Board of Directors are compensated and don't always act in the best interest of their customers.
Federal Insurance Protection Strong at Credit Unions
Member deposits at Genisys are federally insured by the NCUA, through the National Credit Union Share Insurance Fund (NCUSIF). NCUSIF is backed by the full-faith and credit of the United States Government.

Genisys Credit Union member deposits are insured up to at least $250,000 per account. Your coverage may be higher. For Example: Having a joint account increases coverage to $500,000; adding a beneficiary or opening a Trust account can provide additional coverage.

Not one penny of insured savings has ever been lost by a member of a federally insured credit union.

Learn more about the NCUA Share Insurance Fund

Additional information included in this NCUA Share Insurance Brochure

We are honored to serve our members and look forward to earning your business as well. We take that trust very seriously and operate within conservative risk policies to ensure we remain strong to serve our members through various economic cycles. If you have questions about switching your accounts or any loan over to our credit union, we're ready to help. Please contact us at 248-322-9800 extension 5.
© Genisys Credit Union and www.genisyscu.org, 2023. Unauthorized use and/or duplication of this material without express and written permission from this site's author and/or owner is strictly prohibited. Excerpts and links may be used, provided that full and clear credit is given to Genisys Credit Union and www.genisyscu.org with appropriate and specific direction to the original content.