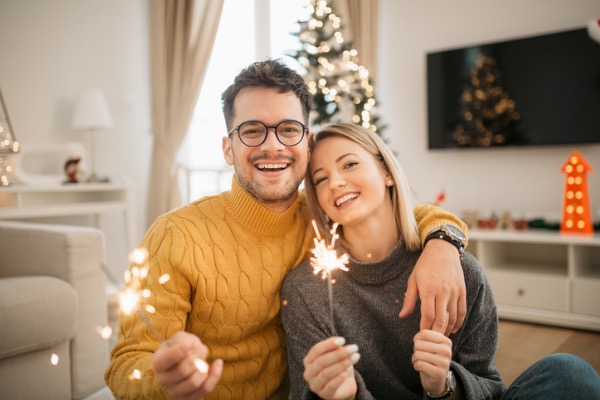 As the year comes to an end, people look at the new year as a fresh start. It's a time to change behaviors and create resolutions with the hope of bettering ourselves in the coming year.
Consistently among the top resolutions are living healthier, spending more time with family and friends, and bettering one's financial position. However, while you may have the best intentions, keeping resolutions throughout the year can be challenging – especially regarding financial goals.
Accomplishing your goals becomes much easier when you work with your partner. Setting goals as a couple allows you to work as a team toward your targets – holding each other accountable along the way. The following five steps will assist you and your spouse in creating a plan to achieve your New Year's resolutions together.
Before You Begin…
As you prepare to create your New Year's resolutions, it's important to remember you're working as a team. That means respecting your partner's desires - even if they differ from your own.
When setting financial goals, identify each other's spending and saving habits. Then, find ways to build on the positive characteristics and create a plan to avoid any future temptations.
Step #1: Discuss the Goals You Want to Achieve
First, you'll want to identify what you hope to accomplish in the coming year. When setting financial goals, it helps to break out your aspirations into short, medium, and long-term goals.
Short-Term: Goals you want to accomplish within a year. These might include improving your credit score, consolidating credit card debt, or saving for a down payment on a new car.
Medium-Term: Things you hope to achieve within two to five years. Saving for a dream vacation or preparing to buy a new house could fall into this category.
Long-Term: Any goals that will take over five years to achieve will fall into this grouping. Examples include saving for retirement or putting aside a specific amount for your child's college fund.
Take time and list out all your financial goals. Again, respect each other's desires. Then, narrow down your list to the objectives you both feel are the most important – especially regarding your short-term resolutions.
Step #2: Define Your Goals in Detail
Next, focus on turning vague goals, such as "saving for a new car," into actionable steps. You can do this by using the SMART goal-setting method.
SPECIFIC: Be as detailed as possible when defining your goals. Identify exactly what you want to accomplish. For example, your goal might be, "We want to save $3,000 for a down payment toward a new car."
MEASURABLE: How will you track your progress? Since you have already determined you want to save $3,000, you can now break this out into monthly savings goals. If you plan to achieve this goal within 12 months, you need to save $250 per month.
ACHIEVABLE: You always want to ensure your goal is realistic and attainable. If your goal is too lofty, you'll likely become discouraged and abandon it. If you're unable to save $250 monthly, you might need to lengthen your timeline or lower the dollar amount.
RELEVANT: Your goals should correlate to your overall financial vision. What reasons are you setting this goal? Does it fit into both your short- and long-term goals?
TIMELY: Set an end date to achieve your goals. By defining exactly when you will start and hope to achieve your goal, you'll be more likely to stick with it and remain focused throughout the journey. In this example, the goal timeline is 12 months.
When you finish defining your goal, it helps to put all the SMART method components together into a few short sentences. This tactic makes it easier to remember and stay focused. For example:
"We plan to purchase a new car in January of next year. We'll accomplish this by saving $3,000 for a down payment over the next 12 months. Each month, our goal is to set aside $250."
Step #3: Create an Action Plan
Once your goals are defined, you'll need to map out how to accomplish them. If you have several fiscal goals, you might want to limit them to no more than three. Otherwise, you might take on more than your budget can handle.
Next, begin by working the goals into your monthly budget. In the example from earlier, your goal was to save $250 each month toward a $3,000 down payment. Does your current budget provide an extra $250 monthly? If not, are there areas you can trim to make up this amount?
If you cannot fit all your financial goals into your budget, you should prioritize which are the most important to both of you. Remember, you're working as a team to achieve goals you both value.
Step #4: Monitor Your Progress Routinely
Once you begin working toward your goals, you'll want to set aside time to monitor your progress. Depending on your unique goals, these check-ins might be weekly, bi-weekly, or monthly. Schedule them on your calendar to make them more official and to serve as reminders.
Use this time to review your progress and identify any successes or challenges. If you're not on track as planned, take note of what happened, and create steps to avoid the mishap in the future. But don't give up. Work as a team to hold each other accountable and encourage one another along the way.
Step #5: Reward Yourselves
Working toward lofty financial goals can be draining – and involve sacrifices. To maintain your motivation, it helps to create rewards you can earn along the way.
A fun strategy is to break your goal up into four parts. Then, set prizes you can earn upon completing each section. These might include a date night or a small gift for each of you. Just remember, your rewards shouldn't be too expensive and prevent you from reaching your next benchmark.
We're Here to Help!
Creating resolutions as a couple is a great way to start the new year. You'll be able to motivate and hold each other accountable as you work together as a team.
If your aspirations include improving your financial position, we're here to help. Whether you want to reduce debt, save more, or finance a new car or home, our team is available to assist you along the way. Please visit any of our convenient branch locations or call 248-322-9800 ext. 5 today.
© Genisys Credit Union and www.genisyscu.org, 2022. Unauthorized use and/or duplication of this material without express and written permission from this site's author and/or owner is strictly prohibited. Excerpts and links may be used, provided that full and clear credit is given to Genisys Credit Union and www.genisyscu.org with appropriate and specific direction to the original content.