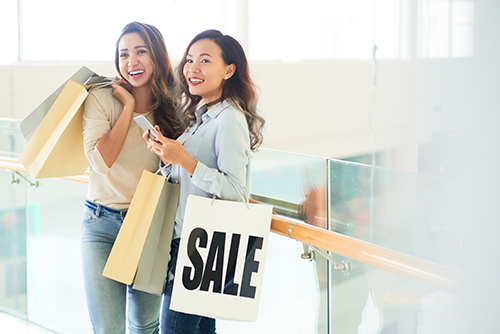 Black Friday and Cyber Monday can be great fun – but they can also put you at great risk… and we aren't talking about the WrestleMania scene in the Electronics Department! Scams are plentiful on this weekend that officially marks the start of the holiday shopping season, and you don't want a phishing scheme or a bogus bargain to turn you into the rotten Mister Grinch!
Here are 5 scams to look out for as you brave the frenzied crowds while trying to snag the best deals after Thanksgiving.

1. An online deal that's too good to be true

Scammers need your attention before they can take your money. Trying to stand out among a flurry of insane deals can result in some rather desirable low prices designed to lure you in. Try to remain clear-headed, maintain your common sense and stick to a plan.
An iPhone X on sale for just $12? A pair of genuine Ugg boots for just $9? These deals sound insane because that's exactly what they are. And yet, thousands of people happily send their money to online stores that are advertising these ridiculously low prices on Black Friday. And of course, once the scammers have your credit card information, they won't hesitate to use it for their own shopping spree – the gift that keeps on giving, right?

Be smarter: Don't believe any advertised price that is so unbelievably cheap. It's often bait used by scammers to lure you into their card stealing trap. Black Friday deals tend to fall within the 20-30% off range or an offer of free shipping.

2. Black Friday gift cards for cheap

In the weeks leading up to Black Friday, you might see an explosion of cheap gift cards being sold at online marketplaces. The gift cards are linked to big-name retailers and are offered for a fraction of their real value.
These cards are usually stolen from innocent people. The victim of the theft will likely report the loss and the card will be disabled. And you'll have forked over your hard-earned money for a card that's not worth the plastic it's made from.
Be smarter: Steer clear of buying any gift cards that are retailing at a heavily marked-down price.

3. Bait and switch
You've seen this one pop up randomly… Want to be the lucky winner of a $1000 Gift Card? Just fill out a form with your personal details and take this survey.

If you know anything about online scams, you'll already recognize this one. Your personal details and a site whose authenticity you can't verify are two things that should never meet. The sweepstakes is just the scammer's bait to get at your information. And, with holiday expenses growing each year, it's the perfect time to lure an innocent victim into thinking they've just won a ton of money.
Don't make the mistake of thinking you're safe from this scam just because you're doing all your Black Friday shopping at the mall. "Bait and switch" scams can happen offline, too.

The brick-and-mortar version of this scam is somewhat less obvious. Some less reputable retailers will advertise deals so amazing you'll find yourself traveling across town, battling impossible traffic to grab these bargains. Once you finally reach the store, though, you'll find that those items are all sold out. They may have similar, but inferior, products and cheap knockoffs, or nothing you're interested in at all. These scams are just a waste of your time, energy, and often your money, too.
Be smarter: Don't enter any sweepstakes or believe advertisements for heavily marked-down prices on sites and stores you're unfamiliar with.

4. Delivery problems
With so much of your shopping happening online, you probably wouldn't be surprised to receive an email claiming there's been a problem with the delivery of one of your purchases. But if you get an email like this asking you to click on a link or download an attachment to arrange an alternative delivery date, you're looking at a scam.
You may also receive a message asking you to pay an extra fee for delivery after you've completed an order. Again, this email is bogus and you're being scammed. Ignore these emails. And, if you have a problem with the delivery of your purchase, contact the seller or company directly.
Be smarter: Never download anything or click on a link from an unverifiable source. And any delivery fee would have been paid for in your original check out. Contact the retailer using phone numbers on their official website (not from the email, you are questioning) if you have any issues with your order.

5. Online purchases that can only be paid for with a wire transfer
If you're planning on going on an all-out spending spree this Black Friday, use your credit card. It offers you the most protection against purchases that don't turn out to be what you expected.
Never agree to an online purchase demanding payment via money order or wire transfer. These are favorites among scammers since they are similar to paying with cash – once the money has changed hands, there's almost no way you can get it back.
Be smarter: When frequenting unfamiliar stores and sites, use your credit card.
Tips to help you shop safely on Black Friday and Cyber Monday
Stick to trusted, verified websites. By relying on the brands you already shop with and trusted Black Friday retailers, you're in a better position to dodge dirty deals.

Take advantage of your financial institution's protection. Credit Union's and banks employ sophisticated systems to detect potential fraud on debit and credit cards. Many guarantee zero liability and reimbursement for unauthorized debit card purchases. Yours may also allow for shopping through Apple Pay or Android Pay, combining biometrics with other digital safeguards, or even setting up two-step authentication that requires a code from a text message to complete your purchase.

Keep an eye on your transactions. Regularly monitor transactions on your cards through your online account, and contact your financial institution immediately if you see any suspicious spending.

Avoid purchases on public Wi-Fi. Cyber criminals know how to thwart unsecured Wi-Fi to gain access to the info you send over it. Save your online shopping for more secure home connections.

Double-check apps before downloading. Cyber criminals are getting smarter and smarter. There have been instances where they have created fake shopping apps designed to look like the real deal and scoop up your credit card information when you go to make a purchase. Look for red flags like a typo in the name of the app, typos throughout the page and a low number of reviews.
Be educated, be prepared, drink lots of water and relax this holiday shopping season! It's supposed to be the most wonderful time of the year, not your worst nightmare! If you feel like your Genisys Credit or Debit MasterCard information has gotten into the wrong hands be sure to report the cards Lost or Stolen right away.
SOURCES:
https://www.finder.com/black-friday-scams
https://www.makeuseof.com/tag/6-scams-watch-black-friday-cyber-monday/
© Genisys Credit Union and www.genisyscu.org, 2018. Unauthorized use and/or duplication of this material without express and written permission from this site's author and/or owner is strictly prohibited. Excerpts and links may be used, provided that full and clear credit is given to Genisys Credit Union and www.genisyscu.org with appropriate and specific direction to the original content.