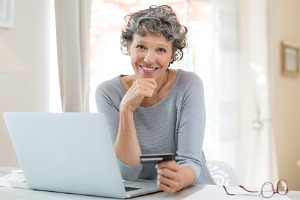 The pandemic is certainly a moment in history that will be remembered forever. With this period of uncertainty and isolation, we've found a way to "cope" by changing the way we shop. U.S. eCommerce sales have risen 25% since March. Online shopping is convenient and you can often shop from the comfort of your own home - no wonder it's becoming so popular!
But, with the increased availability of online shopping, it opens a new avenue for scammers to trick buyers into paying for goods they may never receive or obtain personal information. Here's what we're seeing and how you can protect yourself when shopping online.
Making Purchases from Companies Overseas
With so many ads on social media and online, it's important to check to see where the order is coming from before making the purchase. In addition to checking where the goods are coming from, also check the estimated delivery date and make sure you are comfortable with it. If the product is coming from overseas, or anywhere, it's a good idea to review the refund policy before commiting to a purchase.
Using Electronic Payment Apps to Pay for Goods
Paying for merchandise through cash services merchants like Western Union or Cash App should only be used for transferring money to individuals you personally know. There are many ways for scammers to steal your personal information through these electronic payment apps. If you decide to transfer money for goods and services, your purchase may not be protected if you do not receive the goods or service.
While technology is becoming more advanced, so are the scammers. Protect your accounts by taking precautions when using electronic payment apps.
It's suggested to link only one credit card or checking account to your electronic payment apps. This makes it easier to monitor one statement so you can keep up with your purchases and dispute any you are unaware of.
Fake Support Websites
If you are looking for a contact number for customer support, be sure to triple check the website you are looking at. Scammers can create spoofed websites that look similar to the actual site. Always make sure you are on a secure site (https) and if something looks weird, it might be! You can try contacting merchants via their app, via the email provided with your shipping details or through a secure, online login on their website.
Scammers Trying to Steal Your Personal Information
Merchants should never ask for access to your phone or computer or ask you to provide full card information when they already have that on file from your purchase. These are red flags that you may not be speaking to a reputable merchant. Always be cautious and it's okay to withhold information if you are experiencing any red flag.
Tips to Stay Safe Online
Practice Safe Surfing & Shopping
When shopping or banking online, look for a padlock symbol somewhere in the web browser, usually in front of the page address. This, along with web addresses that begin with "https" indicates that the website is secure and uses encryption to scramble your data so it can't be intercepted by others.
Use Safe Payment Options
Most credit card issuers allow you to request a refund if your product is not delivered as expected or differs from what was ordered.
Be Cautious Before Clicking
Whether it's a company you are familiar with or not, it's important to be cautious before clicking on any link. Look carefully at the domain name and check for any misspellings or additions. If you are interested in the offer, go directly to the company's website to verify the offer is real.
Don't Give Away Too Much Information
Be aware of the type of information the merchant is requesting. If it's more information than you are comfortable with or it's out of the ordinary, cancel the transaction.
It's also worth mentioning to never save passwords on websites, no matter how secure they may seem or how easy it is to checkout when your information autofills. This is especially important if you often shop online on numerous sites. Again, with convenience comes a larger inconvenience.
© Genisys Credit Union and www.genisyscu.org, 2020. Unauthorized use and/or duplication of this material without express and written permission from this site's author and/or owner is strictly prohibited. Excerpts and links may be used, provided that full and clear credit is given to Genisys Credit Union and www.genisyscu.org with appropriate and specific direction to the original content.
Sources:
https://www.bigcommerce.com/blog/covid-19-ecommerce/
https://www.digitalcommerce360.com/2020/04/01/us-ecommerce-sales-rise-25-since-beginning-of-march/
https://staysafeonline.org/stay-safe-online/online-safety-basics/online-shopping/