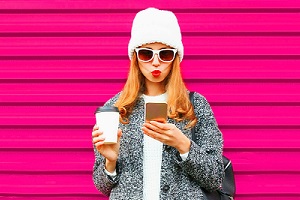 It's hard to believe the iPhone was born not long ago in June of 2007. Since that time, everything from browsing the internet, checking emails, connecting with friends and even ordering food has completely changed forever. In that time, the way we bank has been completely transformed as well.
While online banking and e-statements helped streamline our financial world, mobile banking revolutionized it. Now we're able to make smarter financial decisions instantly, whether we're out shopping or on vacation. We can even deposit checks and transfer money with only a few taps.
With our smartphones, we're able to truly be smarter with our money.
Access Your Account Anywhere, Anytime
Imagine you're out shopping with friends and everyone decides to go to the movies. Do you have enough money in your checking account? No problem, with mobile banking you can easily transfer money between accounts in a few taps. Or what about when you're on vacation and aren't sure if your paycheck was deposited yet…again, no problem. Just login on your phone and check your recent deposits. You can even set up an eAlert to send a notification of your check being deposited. With mobile banking, your accounts are with you whenever, wherever.
Bill Pay Becomes Easier
Have you ever thought you paid a bill only to find out later you completely forgot? This is a thing of the past with mobile banking. As soon as a bill arrives, simply login, follow the steps and pay the bill instantly with online bill pay.
If you have a list of due dates for each bill, you can set reminders within your mobile phone's calendar to notify you to pay that bill. You can avoid making payments over the phone or going online to each individual site, with mobile banking you can log in and pay your bill instantly. Thus, you never have to worry about missing a bill or loan payment again!
Deposit Checks Immediately
Remote deposit offers the convenience and flexibility of depositing checks through your mobile phone. Think of the time you received a check from grandma and grandpa, placed it in your wallet for safekeeping and completely forgot about it. Or maybe you received a check for a rebate you completed months ago, but it's a Saturday evening and the credit union is closed. With remote deposit, you can take a picture of your check and deposit it instantly, eliminating the need to step into your financial institution or use the ATM deposit. You can deposit it from the comfort of your own home!
Want a better idea of how this process works? Simply select mobile deposit from your Genisys app and follow the steps to deposit money instantly.
Eliminate Carrying Excess Cash
Carrying large amounts of cash isn't as common as it's been in previous years, but many people still carry excess cash with them. There's more temptation when carrying cash, since you can physically see the dollars, your mind begins to think of all the ways you can spend it.
With mobile banking, we can make better financial decisions. Instead of carrying excess cash, deposit it into your account and transfer the money into your checking account when you need it. This may also help with impulse buying since you will have more time to think about your purchase decision if the cash isn't readily available in your wallet.
Make Smarter Financial Decisions
Mobile banking puts your financial accounts literally at your fingertips anytime, anywhere. It allows us to make smarter financial decisions by reviewing our account balances before we make purchases, verifying enough funds are in our accounts, ensuring paychecks were deposited and more.
While 2007 was an amazing year with the introduction of the iPhone and all the smartphones to follow, it also paved the way to a completely new and better way to manage your money.
Setting up mobile banking on your device is a quick and easy way to manage your finances. Download our mobile app from the iTunes App Store or Google Play Store. Follow the prompts and you'll be on the road to making smarter financial decisions in no time.
Sources:
Stratix
CU Content
© Genisys Credit Union and www.genisyscu.org, 2019. Unauthorized use and/or duplication of this material without express and written permission from this site's author and/or owner is strictly prohibited. Excerpts and links may be used, provided that full and clear credit is given to Genisys Credit Union and www.genisyscu.org with appropriate and specific direction to the original content.