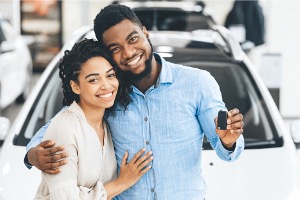 If you're in the market for a new car, you may be considering a lease as opposed to purchasing a vehicle outright. With shorter terms and typically lower monthly payments, leases offer many attractive benefits on the surface. However, understanding the ins and outs of a lease is essential before making your decision. Below we'll explore the pros and cons of leasing so you can make the best decision for your financial situation.
Pros of Leasing a Car
There are several advantages to leasing a car, including:
Lower Monthly Cost - The beauty for most shoppers when it comes to leasing a car is the fact that you're able to drive a brand-new vehicle at a much lower cost than if you were to purchase it. The lower monthly cost is especially attractive to those wanting to consider more of a luxury-type vehicle.
Short-Term Leases - Most companies will offer leases of two to three-year terms as opposed to five- and six-year terms available when you purchase the vehicle. These terms allow you to turn the car in for a newer model earlier than you probably would if you were to buy the vehicle.
New Car Smell - With shorter terms, you're able to enjoy the new car smell without the five-year (or longer) commitment.
Maintenance – Your vehicle maintenance is usually covered as part of your lease agreement. Most of the time, this includes basic care such as oil changes and tire rotation. The warranty on the vehicle should cover other more significant issues.
Cons of Leasing a Car
There are several drawbacks to leasing a car. These include the following:
Mileage Limits – It's common for leasing contracts to impose yearly mileage limits of 10,000 to 15,000 miles. If you exceed those limits, you could be assessed fees upwards of 30 cents per additional mile over that threshold at the termination of the lease.
Initial Fees – When you lease a vehicle, there are initial fees that you are required to pay. These expenses are usually in the form of a lump sum type of payment, similar to a down payment, and can cost several thousand dollars.
Maintenance – While most maintenance is covered in the terms of your lease or by utilizing the vehicle's warranty, many lease agreements require you to pay for excess wear and tear. This means that when you return the car at the end of your lease, the dealer could charge you to fix anything considered excessive by the lease agreement.
Return of Vehicle - The other consideration is that you must return the car when the lease period ends. Alternatively, when you finish paying for a vehicle you purchase, you own the car outright, giving you the option of continuing to drive the vehicle, payment-free, for several more years. Or you can sell the car outright or use it as a trade-in on your next vehicle. With a lease, you do not have this financial benefit.
Financial Strategy
The biggest consideration, though, is the impact leasing has on your long-term financial strategy. Buying a car is a smarter choice in most situations, as it provides several long-term benefits.
With a lease, you have a lump-sum payment at signing, never build equity, and always have a monthly payment. It's very similar to renting an apartment as opposed to buying a home. You end up foregoing any equity that you could use toward another vehicle.
When you purchase a vehicle, once the car is paid off, you're able to drive it payment-free. Not having a monthly payment is a huge win for your budget and frees up money for other needs, such as saving for retirement, taking vacations, or starting a college fund. Every month you can drive payment-free is a significant financial benefit.
We're Here to Help!
Weighty decisions, like whether to buy or lease a car, often require some assistance when making your final choice. We're here to help you make the best decisions to ensure your financial success. Visit any of our convenient branch locations today to learn more about how we can help you with your decision to lease or buy, saving money for a down payment on the car of your choice, and securing an auto loan if you decide to buy.
© Genisys Credit Union and www.genisyscu.org, 2021. Unauthorized use and/or duplication of this material without express and written permission from this site's author and/or owner is strictly prohibited. Excerpts and links may be used, provided that full and clear credit is given to Genisys Credit Union and www.genisyscu.org with appropriate and specific direction to the original content.