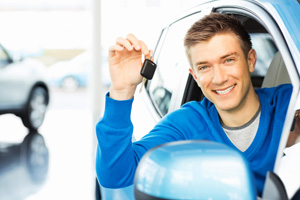 Shopping for a new car can be fun, exciting, and time-consuming. Most people also spend time online researching the cost of vehicles and preparing themselves to get the best deal when it is time to negotiate.
However, too many people skip one important step: ensuring they minimize the cost of financing a car.


Where is the best place to get a car loan?
The best place to get a car loan is the place with the most affordable terms. While the speed of approval and convenience are also important factors, putting too much emphasis on these factors and not paying attention to the interest rate you will pay can be costly.
Let's look at the total interest cost of financing $30,000 for sixty months. According to bankrate.com, the average 60-month auto loan rate in early 2017 was 4.36%.
If you obtain financing at the average rate, the total interest cost of your loan over sixty months will be $3,443 if you pay on time for the full term.
Suppose you don't do your homework and you wind up financing at 6.36% instead. (It can happen. An explanation is coming soon.) At this rate, your total interest cost would be $5,101, an additional $1,658. That is a significant chunk of change.
Now, assume that you qualify for a better than average rate of 2.36%. That total interest cost would be only $1,834, $1,609 less than the average rate.
The only way to know what rate you qualify for before visiting the dealer is to get pre-approved.
What can cause a car loan interest rate to change?


Your credit score will affect the interest rate on your auto loan. If you have a score of 720 or better, you can expect to finance at the best rates available. If your credit score is not that strong, you will pay a higher interest rate. How much more varies from lender to lender.
Getting a pre-approved car loan will arm you with one or more financing options based on your current credit rating before you visit the dealer. That will be valuable information.
When you are ready to buy, the car dealer will present you with financing options. In many cases, they have an opportunity to earn extra income by "marking up" the rate on your loan. Without being pre-approved, it can be difficult to determine if the rate presented by the dealer is the rate you qualify for or if it the rate has been marked up.
If the dealer financing is a lower rate than the pre-approval, you benefit. You can even go back to your pre-approval lender to see if they will match or beat the rate the dealer offered. Each step saves you money.
Is it better to have a low monthly payment on my car loan?
Many buyers believe they have the best financing because they chose the lowest monthly payment. That's not always the case. Make sure you understand how the length of the loan affects your total overall cost.
Let's return to our $30,000 loan example. If you finance at the average rate of 4.36% for sixty months, your monthly payment will be $557. Extending the term to eighty-four months lowers your payment to $429. It's nice to have that extra $128 in your pocket, but the total interest cost of your loan has increased from $3,443 to $6,045.
Taking the lower payment may still be the right choice for you, but make sure you think about how long you expect to keep the vehicle and the cost of maintenance as the car ages.
Your payoff amount will also decline more slowly over the longer term. If for some reason you need out of the car after 48 months, your payoff balance with the eighty-four-month term will be $14,240. That is much more than the $6,533 you would owe with the sixty-month loan.
What other costs should I consider when getting a car loan?
With buyers often financing nearly 100% of the cost of their new vehicle, many will opt to add a GAP policy to their loan. GAP stands for Guaranteed Asset Protection. It covers the difference between the amount you owe and the value of your car if you total it in an accident or another mishap. Regular collision insurance does not cover the loan amount; it only insures the vehicle market value. In most cases, the car depreciates faster than the loan balance declines, leaving a "gap" that you must pay for if you don't have a GAP policy.
If a GAP policy makes sense for you, it also makes sense to learn how much it costs from different lenders. The price can vary by hundreds of dollars from lender to lender.
Similarly, warranties and mechanical repair protection can vary widely in price. When getting pre-approved for financing, be sure to ask about these options and costs as well.
Don't just settle for point of sale financing because it seems convenient. Act before you shop to ensure you get the most affordable financing.
Start your pre-approval process. Apply with Genisys on any device.

© Genisys Credit Union and www.genisyscu.org, 2017. Unauthorized use and/or duplication of this material without express and written permission from this site's author and/or owner is strictly prohibited. Excerpts and links may be used, provided that full and clear credit is given to Genisys Credit Union and www.genisyscu.org with appropriate and specific direction to the original content.