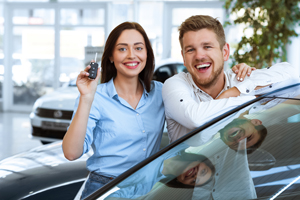 Getting a new car is the best! There are multiple levels of excitement for your senses wrapped into the experience.
The shine of chrome, the acceleration your old classic was lacking, sun and sound packages, and let's not forget, that new car smell! Now you're ready to get serious about arranging your purchase.
You confidently stride into the showroom and you are quickly greeted by a salesperson. After a test drive and discussions about all those car options, something strange starts to happen. Why are you sweating? The salesperson who once looked friendly enough, now in your mind, resembles one from the movies with a cheap leisure suit and fake mustache looking to sell you the lemon of all lemons. What is happening?
Navigating automobile financing can be one of the biggest financial decisions of your life. But it doesn't have to be stressful.
Prepare yourself with answers to 5 basic questions about auto loan financing before you shop for a new car.

How do dealerships secure financing?
At some point in the car buying process, you'll be introduced to the "F&I" person. This person is responsible for setting up financing and insurance for dealer customers. They will share the details of your purchase and your credit history with different credit providers. These could include auto manufacturer financial departments, banks and credit unions. Each credit provider will quote an interest rate and any applicable fees. Keep in mind, your credit could be inquired on multiple times during this process. If you have had other credit granted recently, the inquiries could have impacted your credit score.
Arranging to finance your car through the dealer can be very convenient for your busy life, but there are certain things you need to know.
Car dealers have business arrangements with the lenders that often include incentives for the dealer for financing a loan through that lender. Ask to see all the rates that were quoted, to make sure you're getting the best deal based on your credit rating.

Lower payments and interest rates make you more likely to buy a car. The add-on products offered at the dealership are sometimes more profitable than the sale of the vehicle, itself. Depending on your situation, they may not be necessary. Don't be afraid to ask questions about these products and consider the value of these additions and how your payment is affected.
Should I get pre-approved for an auto loan before shopping?
It's a good idea to get pre-approved for an auto loan before shopping. Not only will you be armed with the knowledge of how much you can afford, but you'll also be prepared to evaluate and compare any financing options presented to you by the dealer.
Before visiting the dealership, discuss your plans with a lender; including the type of vehicle you are planning to purchase. Your lender can give you valuable information on that vehicle, so you know the fair market value beforehand. You'll also know the rates and payment terms they offer and what you qualify for. Ask your credit score so you know where you stand, the better your score, the lower your rates should be.
Get pre-approved for your auto financing by Genisys. Fill out our online auto loan application today or talk to a representative at 248-322-9800 or 800-521-8440, ext. 5.
Getting pre-approved ahead of time helps you to learn the financing options available to you. The dealer can still present their offers, so you can see if there are better rates and terms available. You may strengthen your negotiating position on other parts of the transaction, like the price of the car or the value of the trade-in. You will be prepared to compare payments and rates presented by the dealer and ready to select the best option.

How does 0% financing really work?
You've seen the advertising for 0% financing over and over again from a variety of car manufacturers and dealers. These offers have become incredibly popular for car buyers and dealers alike. But remember, if it were honestly a losing proposition for the manufacturer, they wouldn't keep doing it.
First, 0% financing gets people to the dealership and thinking about buying a car. The manufacturer and the dealer both make money on each car sold, so the 0% financing trades some profit per car, assuming more cars will be sold than normal.
Second, not everyone will qualify for 0% financing. Since most people who get to the point of discussing financing have decided to purchase a car, they'll accept a non-zero rate when presented.
Finally, 0% financing is frequently offered instead of receiving a rebate. You have your choice: take the 0% car loan or take the rebate and reduce the price of the car. In these cases, you will often find you're far better off taking the rebate and arranging other financing.
Look at Genisys Credit Union's Rate vs. Rebate Comparison to determine your best option.
What is GAP insurance?
The term "GAP insurance" or "GAP coverage" will usually come up in a financing discussion. Don't gloss over this because you're getting close to grabbing the keys.
"GAP" or guaranteed asset protection insurance covers the difference between the total remaining balance of a loan and the value of the car. Look at it as a complement to your comprehensive automobile insurance.
Here's an example of how GAP insurance could benefit you. Suppose that your vehicle is stolen or damaged in an accident so badly that your insurer determines the cost of repairs would be more than the value of the vehicle. In this case:
Your comprehensive insurance coverage will only pay out the value of the car, leaving you on the hook for any remaining balance and finance charges on your loan. The loan balance could exceed the insurance payout as your vehicle has lost that "new car value" as soon as you started driving it, especially if you did not make a down payment.

If you have GAP insurance, the remaining amount you owe on the loan will be covered by that policy.
If you are buying a car without putting a lot of money down, financing for a longer term, or if your financial resources or credit history are limited, consider getting GAP insurance. It usually can be added onto to your loan. But, like any other purchase, you should shop around.
Genisys members frequently add GAP policies to their car loans at prices significantly lower than offered elsewhere.

Learn more about GAP insurance at Genisys Credit Union.
What steps can I take to avoid being pressured by last-minute financing changes?
Financing is almost always the last step in the car-buying process. You're nearly 100% committed to purchasing a car, and you are utterly exhausted from making a series of decisions.
If you haven't had a chance to compare rates and terms, ask your salesperson for a purchase agreement. You'll likely leave a good-faith deposit on the vehicle, but this will give you the time to make sure you're confident in your lending choice and options.
If you've been pre-approved for a loan, take the time to compare the payments, terms, and, most importantly, the total cost of financing. Call to review the terms and value for the particular car you have now selected with your lender.
If you decide to get the loan through your credit union or another lender, your next trip to the auto dealer will be with a cashier's check in hand to complete the sale. At the end of the day, all parties involved are happy that you drove away in a shiny new ride and a positive experience.
© Genisys Credit Union and www.genisyscu.org, 2018. Unauthorized use and/or duplication of this material without express and written permission from this site's author and/or owner is strictly prohibited. Excerpts and links may be used, provided that full and clear credit is given to Genisys Credit Union and www.genisyscu.org with appropriate and specific direction to the original content.