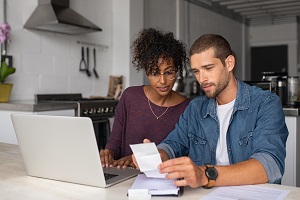 Managing debt can seem like a never ending chore, but there is a light at the end of the tunnel. Having a plan set in place will help you through this process, so take a look at a few tips to help make managing debt a bit easier.
1. Create a Budget
You must know who you owe and how much you owe. Once you have an idea of the amount of debt you have, you can create and set a budget. Track your expenses over one month to figure out how much money you have to work with and decide how to spend it. Determine your needs vs. wants and set aside a realistic budget to pay off debts. If you have extra money left in the budget, use it to pay off your debt faster. If you have trouble budgeting, try using a budget worksheet to get you started.
2. Prioritize Which Debt to Pay Off First
When deciding your strategy to pay off debts, you have a few options. If you have multiple credit cards, you may want to pay off the debt with the highest interest rate first. Then pay off the next and the next until all cards are paid off. Or maybe you want to start with the loan that has the smallest balance and work your way up. Whatever you choose, stick with your plan.
This may also be a time to consider a debt consolidation loan. Combining multiple debts into one lump sum will keep you on track and pay off debts faster. Plus, these loans often offer lower interest rates which helps save money!
3. Pay More than the Minimum
Of course, paying the full amount will save money in the long run by eliminating the need to pay extra interest each month. If you cannot pay the full amount, try paying more than the minimum. Making smaller payments throughout the month can help pay the balance down as much as possible.
For a loan, keep in mind to pay extra on the principal and not the interest since interest is calculated on the remaining loan balance. If you're planning to pay your mortgage off early, ensure there is no penalty for prepayment.
4. Never Miss Payments
Your payment history makes up 35% of your credit score, so it's best to never miss a payment. If you are having trouble making payments on the scheduled date, contact your credit card company to inquire on moving your payment date. You can coordinate the new due date with your job's payment schedule, limiting missed payments and those pesky late fees and a potential decrease in credit score. If it's helpful, set reminders or enroll in automatic bill pay to stay on track.
5. Have an Emergency Fund
This sounds crazy, right? Saving for emergencies and paying off debt? While it might seem foolish, saving for emergencies is key to helping manage debt. Think about it this way, if you need a new alternator for your vehicle, is it best to charge it to your credit card - adding additional debt to your existing balance, or take the money from your emergency savings acount?
Life happens, so having an emergency fund that can cover those expenses that happen out of nowhere, will help you in the long run. When budgeting, be sure to contribute to your emergency fund. Though the suggested amount for an emergency fund is 3-6 months worth of expenses, begin saving what you can and adjust as you begin to pay down other debts.
6. Seek Help
You're not alone when navigating through managing your finances. The experts at GreenPath Financial are available to help you gain control of your finances. They can provide help with creating your budget and sticking to it, prioritizing debts and answer any questions you may have.
Depending on the amount of debt, this is not a process that will happen overnight. It's a slow and steady race that will offer a great reward in the long run. It's important to remember your goals, stick with them and try your best to stay on track!
© Genisys Credit Union and www.genisyscu.org, 2019. Unauthorized use and/or duplication of this material without express and written permission from this site's author and/or owner is strictly prohibited. Excerpts and links may be used, provided that full and clear credit is given to Genisys Credit Union and www.genisyscu.org with appropriate and specific direction to the original content.
Sources:
Stratix Marketing
CU Content
https://www.greenpath.com/2019-is-your-year-to-get-out-of-debt/
https://www.thebalance.com/how-to-manage-your-debt-960856
https://www.nerdwallet.com/blog/pay-off-debt/
https://www.credit.com/debt/get-out-of-debt/
https://www.wellsfargo.com/goals-credit/smarter-credit/manage-your-debt/tips-for-managing-debt/