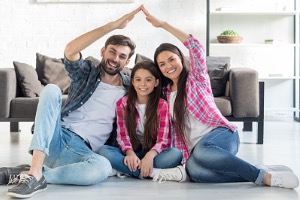 Purchasing a home is an exciting time, but it's also a significant financial investment. Before you get ahead of yourself, you must understand what lenders will be looking for when applying for a mortgage and the upfront costs of buying a home.
Below are some ways to ensure you're prepared when it comes to financing your new home.
1. Take a Look at Your Credit Score
Be sure you check your credit score and figure out where you currently stand. Many lenders will consider a 740 or higher credit score to be very good. However, even if your credit score isn't that high, it doesn't mean lenders won't approve you.
Even so, it's still in your best interest to take steps to improve your score before you apply. A good credit score could potentially help you save thousands of dollars in interest over time. Here's a list of things to do before you apply for a home loan:
Visit www.AnnualCreditReport.com to get a copy of your credit report and check for any errors. You'll have the chance to correct any errors, which can help boost your score quickly.
Don't apply for other types of debt, like credit cards. Credit and loan applications will often ding your credit score in the short-term; therefore, you must avoid any kinds of new activity that can potentially harm your credit score. Limit large purchases as well, particularly if you'll have to pay for them with credit.
Pay off unsecured debt (i.e. credit cards, personal loans, etc.). There's no collateral in unsecured debt like with a home or car loan, and taking on more unsecured debt will make lenders view you as a higher risk.
Lower your credit utilization ratio. Your credit utilization ratio is the amount of available credit you're presently using. For example, if you have a $10,000 limit on a credit card, but your current balance is $7,500, you will have a 75% credit utilization ratio. Ideally, lenders prefer this ratio to be under 30%.
Pay all your bills on time. Payment history makes up the largest portion of your credit score. Late payments, particularly recent ones, will substantially lower your credit score. Therefore, it's important you pay all your bills on time. You might even want to automate your payments so you won't accidentally miss one. You can also set up email or text payment alerts to remind you when your bills come due.
2. Estimate Your Closing Costs
Many are surprised by the amount of closing costs they need to purchase their home. Generally speaking, closing costs will be around 2% to 5% of the home's purchase price. Therefore, if you're buying a $200,000 home, you'd estimate the closing costs to be between $4,000 to $10,000. You will need this amount upfront before you can close on your home loan.
3. Estimate Your Down Payment
If you're looking to avoid PMI (private mortgage insurance), usually a conventional mortgage will require a down payment of 20% or more. If you're purchasing a $200,000 home, this will amount to about $40,000. You'll need the down payment upfront as well before you close on the home loan. If you can't put 20% down, the lender will likely require your loan to carry PMI. Alternatively, there might be special loan programs you could explore.
Buying a home is a large investment – and planning your finances around the home purchase is just as important as finding your dream home.
Our home loan experts are here to guide you through the entire process and answer all your questions. For more information on the steps to take before applying for a mortgage, visit our website or give us a call at 248-745-3353.
© Genisys Credit Union and www.genisyscu.org, 2021. Unauthorized use and/or duplication of this material without express and written permission from this site's author and/or owner is strictly prohibited. Excerpts and links may be used, provided that full and clear credit is given to Genisys Credit Union and www.genisyscu.org with appropriate and specific direction to the original content.