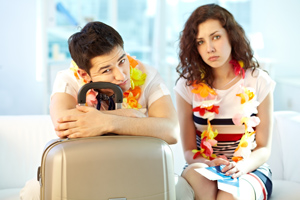 Summer is almost here, and with it comes a bit of rest and relaxation for millions of people around the world. It is clear workers eagerly anticipate summer vacations with 68 percent of people taking a summer vacation in the last year. Vacations create special memories and experiences that we all cherish, but they also open us up to be the perfect target for identity thieves.
Unfortunately, vacationers face an increased risk of identity theft while traveling, from pickpockets to fraudulent travel websites and other scams. Perhaps the greatest threat comes from digital travel-related identity theft. Travelers are more likely to be robbed of their data than their money. One in five international travelers gets hit by cyber crime abroad.
Keep these tips in mind to guard against digital identity theft while traveling.
Security trumps bargains: Stay safe while booking travel online
Fraudulent travel websites pop up during the two busiest vacation times of the year—summer and end of year—to lure in bargain hunters. Stick only with name brand travel sites like Priceline, Orbitz, or AirBnB when making reservations. Or book directly with the airline, hotel, or car rental of your choice.
Even if you avoid the shady websites of internet travel scammers, your personal information can still be at risk. In the last two years, hackers have hit the travel industry hard, causing major data breaches at hotel, airline and travel sites. Because these travel-related websites have a lot of personal information about their guests, experts expect the cyber attacks to continue.
The most threatening destination? Unsecured public WiFi
With mobile devices, there is pressure to remain constantly available for calls, texts, and emails. Forty-four percent of people get online before leaving the airport and 50 percent are connected by the time they arrive at their hotel.
Don't be your own worst enemy. Stay off unsecured, public WiFi networks. That includes most airports, restaurants, and tourist attractions. Rely on your cellular data plan, a password-protected private WiFi network, or use a Virtual Private Network (VPN). Sadly, most travelers ignore this critical threat, with 75 percent connecting to public WiFi abroad, and nearly half shopping or banking on public WiFi.
Up the security for your devices while traveling
Turn off the automatic connection to WiFi option on all of your devices (laptops, phones, tablets), so they don't seek out public networks. You may be able to use your phone as a cellular, password-secured hotspot. Avoid using public computers found in internet cafes or hotel business centers, but if you must, make sure the web browser isn't storing your login information and clear the browser's cache, history, and cookies when you are finished.
Delete phone apps that contain financial information such as payment apps and online banking apps. You can reinstall them once you return home. Before you leave, set up a new password or PIN to lock down each of your devices and upon returning home, change it again. Keep careful track of your phone to guard against pickpockets.
Watch out for data skimmers at public charging stations. The Global Business Travel Association recommends using a juice-jack protector on the end of your USB cord if you must plug into a public charger, or better yet, travel with your own charging device.
Don't let identity theft ruin your summer vacation
Genisys Credit Union has partnered with CyberScout to offer comprehensive identity protection services. If you detect suspicious activity or would like to proactively protect your identity, members can contact Genisys and we will transfer you to a personal touch fraud specialist with the Identity Theft 911 Resolution Center.
© Genisys Credit Union and www.genisyscu.org, 2019. Unauthorized use and/or duplication of this material without express and written permission from this site's author and/or owner is strictly prohibited. Excerpts and links may be used, provided that full and clear credit is given to Genisys Credit Union and www.genisyscu.org with appropriate and specific direction to the original content.
Sources:
Kapersky Lab Lab International Travel Report
The New York Times, February 4, 2019