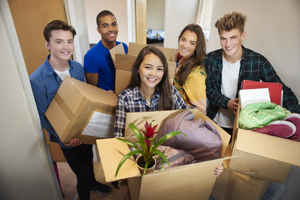 Did you play the Game of LIFE when you were a kid? Remember how fun it was to act grown up? Every card you drew and every move you made would determine what your future would look like.
Unfortunately, in the real world, things like going to college aren't as easy as drawing a card from a deck and instantly getting that advanced degree. Now the Game of LIFE is real, and so is paying for college.
Quitting the game isn't an option here, so it may be time to get some real information that can help you navigate your options for paying for college. Consider this guide your game board. Spin. Move one space now.
Plan Early
In LIFE, you get the choice of college or career. But, considering you landed on this page, you have probably already figured out your child will be choosing a college. One thing that our favorite childhood game taught us, though, is that you usually end up with a higher paying career if you have a degree.
College can begin to seem worthless when you start calculating how much it will cost, but even LIFE knew that some careers can only be obtained with a college degree.
What does college cost today? According to the College Board, a public 4-year in-state university had an average cost of $20,770 for tuition, fees, and room and board for the 2017-2018 school year. That price rises to a whopping $46,950 for a private 4-year university.
As you can see, this is a significant chunk of money to obtain a 4-year degree. Sallie Mae reports that fewer than 4 in 10 families actually have a plan in place to pay for college. How will you pay for it? You have options, so let's take a look at them.
Financial Aid
Nearly every college and university requires a completed Free Application for Federal Student Aid (FAFSA) if a family wants to be considered for financial aid. Grants, scholarships, and federal loans are obtained by filling out the FAFSA. On October 1st of every year, the federal government opens the FAFSA. The FAFSA is completed online at fafsa.ed.gov and is completely free.
The FAFSA requires you to know a bunch of information about both the student and the parent's financial history.
Here is a quick checklist of everything you need to fill out the FAFSA:
Your Social Security number

Your driver's license number

Your most recent federal income tax returns, W-2s, and other records of money earned. (Note: You may be able to transfer your federal tax return information into your FAFSA using the IRS Data Retrieval Tool.)

Bank statements and records of investments (if applicable)

Records of untaxed income (if applicable)

An FSA ID to sign electronically

Records of your income

List of the schools being applied to
Grants
Grants are free money awarded to students based on their economic situation. These are similar to the "Share the Wealth" cards you find in the game, but from the government. If your family falls into a certain income level, you will be awarded money by either the state or federal government to help pay for your schooling. Unlike scholarships, which are merit-based, grants are need-based according to a family's income.
Scholarships
Many scholarships come from the schools themselves, versus private organizations. Making sure your child qualifies for freshman scholarships is key. Start by checking college websites for scholarships they offer. Many institutions award plenty of scholarships each year that many students are unaware of. These scholarships are rarely sought after, which increases your chances of being selected. Also, these scholarships are usually tailored to your major, making it easier for you to find a scholarship that matches your qualifications. If you know what school you would like to attend, you can apply for these scholarships even before you begin attending your school.
Other popular ways to find scholarships are through online scholarship portals. Some of the best scholarship aggregators are found online. Some sites to check out for scholarships are the College Board's Scholarship Search, Fastweb.com, or Scholarships.com.
Federal Loans
Your FAFSA will also tell you how much in federal student loans you are eligible for. This is considered financial aid because these loans are different than private student loans. These loans offer borrowers lower interest rates and have more flexible repayment options. For undergraduate students, three types of federal loans may be available to you; Perkins Loan, Direct Subsidized Loan, Direct Unsubsidized Loan.
Perkins Loan – A school-based loan program for those with exceptional financial need. Under this program, the school is the lender

Direct Subsidized Loan – Awarded based on financial need determined by the school. The Department of Education pays the interest on this loan while you are attending school at least half-time and for the first six months after you leave school. No Payments are due until after the first six months of graduation.

Direct Unsubsidized Loan – No requirement to demonstrate financial need but your school determines how much you can borrow based on the cost of attendance and other financial aid you receive. You are responsible for paying the interest from the point you accept this loan, even during the grace period after graduation and during the deferment period while in school.
It's wise to explore all of your college funding options before you jump in. In many cases, you will be able to use several sources of funding to make your college degree become real.
Still not sure where to start?
If you're not at the "education funding" phase yet, starting a good education savings program early is also a key to an affordable education. Let Genisys help you with your savings goal. Whether it is an aggressive plan designed with our Genisys Investment Services, or you prefer a slower, less risky savings plan utilizing Savings Certificates and IRAs Genisys can help you create the best college savings plan to fit your needs.
© Genisys Credit Union and www.genisyscu.org, 2018. Unauthorized use and/or duplication of this material without express and written permission from this site's author and/or owner is strictly prohibited. Excerpts and links may be used, provided that full and clear credit is given to Genisys Credit Union and www.genisyscu.org with appropriate and specific direction to the original content
Sources: Badcredit.org, Leah Ingram, "Complete Guide to Paying for College", Studentaid.ed.gov, Collegeboard.org