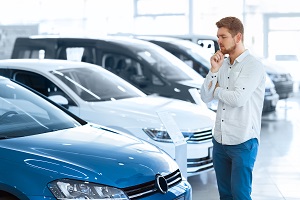 The new year seems to bring goals and changes for lots of people. Is this the year you change the vehicle you are driving? If Trusty Rusty is on his last legs you may need to spring for a new vehicle or buy a pre-owned one?

Which choice is best for you? Choosing between new and used cars can be a complicated decision. To make your job a little easier, here are some pros and cons of each purchase type.

Pros of New Cars
Status Symbol. The allure of owning a new vehicle, the shine, crisp interior, and don't forget that smell!

Fewer Repairs. You can assume you won't be dealing with major repairs or maintenance issues for a while.

Easier Shopping. You pick the exact make, model, and options. Everything is handled easily with the dealership and the lender. There's no need to drag your prospective new car to the mechanic to check it out.

More Financing Options. You'll be offered attractive incentives, like factory cash rebates and low-interest rates from the credit union. Sometimes 0% is offered, but we've told you why that isn't always a great deal.

Improved technology. Recent models have incredible technology, such as smartphone syncing capabilities, custom programmable settings, and autonomous emergency braking.

Automaker's guarantee. New cars come with warranty coverage for a designated mileage and time period. Most manufacturers offer at least three years or 36,000 miles, whichever comes first.

Cons of New Cars
Price. Of course, a new car will cost more. Depending on the options added, it could be significantly more. But, what makes it more painful is the fact that you can get a slightly used car for much less and that leads us into the next point.

Depreciation. New cars go down in value as soon as they leave the lot, often by 20%. At the end of the first year of ownership, your new car can drop another 10%.

Higher Premiums. Insurance costs more for new vehicles, even with discounted insurance programs offered by your credit union.
Pros of Used Cars
Price Tag. It's not unusual to find a used car in decent condition with a price tag that's 30% lower than a similar brand-new model. Previously leased vehicles might be a good option thanks to mileage restrictions and the routine maintenance that was likely performed.

Less Depreciation. With the previous owner absorbing the initial depreciation on the car, your vehicle will only experience a minimal drop in price.

Lower Insurance. With your car weighing in at a lower value, your monthly insurance premiums will be lower.

Lower Interest. If you finance a used car, you'll likely have a slightly higher interest rate than a new car. However, since the loan amount is lower, you'll save in total interest payments over the life of the loan.

Predictability. When buying a model that's been around for a few years, you'll have a wealth of research available on your car and can know what to expect.

Cons of Used Cars
Complicated Purchase. With a used vehicle, you'll want to get a vehicle history report and bring it to a mechanic for an inspection. These precautionary tasks cost money on a vehicle that you may not end up buying, if the results are not what you expected. You may also want to add an extended warranty plan if the factory warranty is nearly expired. These can get expensive, but ask the credit union about mechanical repair coverage pricing and what it covers.

Fewer Choices. When buying pre-owned, you don't get to be picky about things like colors and features.

Risk. Even if you do your homework well, you run the risk of driving off with a lemon when you buy a pre-owned car.

Whether you go with new or used, Genisys is here to help you. We can make the lending process quick and easy, along with a great rate and payment. At Genisys you can check out auto loan rates, apply for an auto loan online, or visit one of our branch locations for in-person service.
© Genisys Credit Union and www.genisyscu.org, 2019. Unauthorized use and/or duplication of this material without express and written permission from this site's author and/or owner is strictly prohibited. Excerpts and links may be used, provided that full and clear credit is given to Genisys Credit Union and www.genisyscu.org with appropriate and specific direction to the original content
SOURCES:
https://www.nerdwallet.com/blog/loans/compare-costs-buying-new-car-vs-used/
https://www.autotrader.com/car-shopping/4-questions-help-you-decide-new-or-used-car-167808
https://cars.usnews.com/cars-trucks/new-cars-vs-used-cars
https://www.iwillteachyoutoberich.com/blog/cost-vs-value-should-you-buy-a-new-or-used-car/