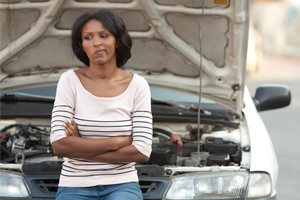 The trusty ride that got you through high school, college, and into your new job is on its last leg. The estimates from the mechanic are becoming overwhelming.
Maybe it's time for your first new car. Before you pick out your shiny new car, here are the things you need to consider.

Will you have a down payment?
First, you need to determine if you are going to have a down payment by either trading in your car, using money you have saved up, or a combination of the two. A down payment can help when you have limited time on your job, or minimal history on your credit report. A healthy down payment might even prevent the need for a cosigner, depending on your application as a whole.

How much can you afford?
Next, you need to decide, what payment will fit comfortably into your monthly budget. There are auto loan calculators available for you to enter the amount you want to finance, the auto loan interest rate, and term to get an idea for the monthly payment. Better yet, contact your credit union to get pre-approved for a loan. This way you will know roughly how much your monthly payments will be and how much you can spend.

Start Shopping
Now the fun part… Shopping for the car! Dealerships can vary on the pricing of cars. Research the cars you like on websites like Edmunds or NADA for fair pricing to make sure you're getting a good deal, even after you add on the sun and sport package!
Don't be afraid to shop around either. By getting several pricing options, you'll be better informed and have that powerful negotiating factor in your favor. This is a big purchase, after all!
What are some other costs to keep in mind?
Once you have finalized the price of the car there are still other costs to consider that need to be factored into your monthly budget.
Auto Insurance
You will be required to carry full coverage insurance if you have a loan on the car. Be sure to get a quote prior to finalizing your purchase so there aren't any surprises in the expense department for your new car purchase. Be sure to inquire about discounted auto insurance that may be available to you as a credit union member.

Repair and Maintenance
Price out costs such as oil changes and tire rotations into the amount of the car. A trusted mechanic can tell you the approximate cost per year for these routine services.
Gas
You love the look and size of those SUVs but your commute requires a weekly fill up. Gas mileage is something to consider when picking out your new car. Perhaps, a more practical sporty sedan is the best way to go.

Add Ons
When buying a new car, you'll be asked if you want to add an extended warranty, GAP insurance, credit life and disability insurance, and more. These items can increase your loan amount, so be sure to understand what each one covers, research the cost and ask the Credit Union for information.
• GAP Insurance
GAP stands for Guaranteed Asset Protection. This insurance covers the 'gap' or the difference between what is owed on the car and what the car is worth should you have an accident which causes the insurance company to "total" your car. This means they will write you a check for the determined value of your vehicle. Without GAP insurance, you may end up having to continue making loan payments on a car you can't even drive.
• Credit Life and Disability Insurance
Credit Life and Disability insurance can protect you from losing your savings or other property if you cannot repay the loan due to death or a disabling accident.
• Extended Warranty
Extended warranties can be beneficial and possibly reduce your expenses down the road if your car ends up having expensive mechanical issues. Financially speaking, the cost and coverage of extended warranties can vary greatly.
Often times, your credit union can provide these coverages and insurance at a lower price than is available through the dealer.

For more information about the car buying process check out our Auto Loan FAQs or contact your local branch. We look forward to helping you along the way and being part of your first big purchase!
© Genisys Credit Union and www.genisyscu.org, 2017. Unauthorized use and/or duplication of this material without express and written permission from this site's author and/or owner is strictly prohibited. Excerpts and links may be used, provided that full and clear credit is given to Genisys Credit Union and www.genisyscu.org with appropriate and specific direction to the original content.