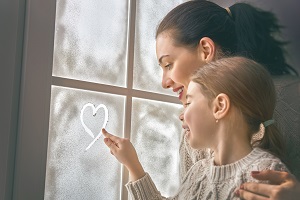 Home ownership can be rewarding and enjoyable. Relaxing in your yard looking at a freshly cut lawn brings a certain satisfaction you don't feel as a renter. But, eventually summer turns to fall, and fall turns to winter. Problems start to arise, and home ownership doesn't feel quite the same.
You can avoid many of the doldrums of home ownership by preparing your house for winter. Here are a few tips that any first-time or veteran homeowner should follow each fall.
Seal it up!
Your home is your fortress against the cold, so make it as airtight as possible. Check windows, doors, vents, cabinets, and anything exposed to your outside walls for drafts.
One trick is to hold a candle in these areas. If the candle flickers, you probably have air coming in from outside. Seal up any holes and reinforce existing points of entry with weather stripping. You can pick some up in your local hardware store. A little bit of caulk around windows and doors can go a long way toward keeping your home warm and free from winter wind invasion.
Unclog your gutters.
Falling leaves are beautiful until they clog your gutters. Don't let this happen. They will block the draining of melting snow and ice. This will leave the water nowhere to go but into your roof, potentially causing extensive damage.
Be prepared to get the snow off your roof.
Uh… what? Yep. But don't climb up there and shovel. Invest in a roof rake. These are telescoping rakes that let you drag the snow (or leaves) off your roof. If you live in an area that sees lots of snow each winter, you want to remove the heavy snow from your roof when it really piles up to avoid a roof collapse.
Reverse your ceiling fans.
This is an easy one. Flick the reverse switch on your ceiling fans. This will make the blades spin to produce an updraft, which will push the rising hot air down so it can keep the entire room warm.
Get those reaching branches off your house.
Take a look around your home's exterior. Do you see any trees or bushes that are growing onto or near the façade? Prune them away from the house so they don't end up cracking from heavy snow and causing damage to your home. Be sure to cut any branches from trees hanging over your roof or other places that could cause damage.
Get your survival kit ready.
If you live in a snow area, you know how quickly the store shelves empty when a storm is predicted. Bread and milk are never more popular than during these times! Don't be stuck facing empty store shelves days before the first big storm hits; Prepare now! Stock up on water, canned food, batteries, flashlights, and storm lanterns. You may also want to invest in an external charger in case the electricity goes out.
Don't let frozen water lines cause major damage.
Make sure your outdoor spigots are turned tightly off and store your garden hose away for the winter. If you have a sprinkler system, you need to have it prepped for winter. It may be best to contact a professional for this.
If you're going to be away from home for an extended period, keep your heat on so that the house is at a sufficient temperature to keep pipes from freezing. If you have a severe cold snap, you may even want to let your faucets drip to keep water flowing through pipes. If your home gets unusually cold during winter, wrap exposed pipes with insulation.
Check your heating system.
It can be hard to think of testing your furnace when the temperature is still in the 70s and 80s, but that's a great time to do it. But if you didn't do that earlier in the fall, it's still wise to have someone come out and give it a check. At a minimum, you should check your furnace filter and replace it if needed.
If it's time for a new furnace, why not consider reducing your monthly heating bill by installing a high-efficiency furnace? They cost a bit more but should provide a good payback over time.
Look for loans specifically designed for energy improvements. For example, the Michigan Saves Home Energy Loan Program makes financing for energy upgrades very affordable. Michigan Saves is a non-profit organization dedicated to making energy improvements easier for consumers, so interest rates with this program are low for a loan that requires no collateral.
If you have owned your home for a few years or more, you have likely built up some equity that you can use as collateral for financing. A home equity loan may be one of your best options for financing that new heating system.
© Genisys Credit Union and www.genisyscu.org, 2018. Unauthorized use and/or duplication of this material without express and written permission from this site's author and/or owner is strictly prohibited. Excerpts and links may be used, provided that full and clear credit is given to Genisys Credit Union and www.genisyscu.org with appropriate and specific direction to the original content.