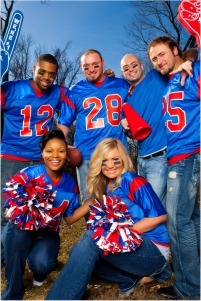 The big game is here, and while we may not be able to agree on the toppings for the halftime pizza, we can agree that we're watching the game. Unfortunately, we don't have the same fanatical devotion to our finances, which are often confusing. Do you wish selecting the right investment mix was as easy as picking your fantasy football team?

For those of us who should have spent more time in the library and less at the tailgate, below is a breakdown of your financial portfolio the way you might break down your fantasy team, with links to resources to help you beef up your most important positions.
Quarterback: Equity Investments
Just like a football team, the overall strength of your financial portfolio is dictated by the high-growth prospects. Stocks and mutual funds are the best way to grow the value of your holdings. Just like your QB, if your stock portfolio is weak, it's time to start scouting the prospects, because you won't get far without an elite QB.

Offensive Line: Savings Products
No one gets excited about the offensive line. They don't sign fat endorsement contracts or grace the covers of magazines, but the offensive line is the backbone of the offense.
Your savings accounts are the same way. Having a savings nest egg protects your stocks. This means you don't have to cash out of your equity investments if times get tough; instead, you can sell them when they are at their highest value. We may all watch the ball in a football game the same way that we check the stock ticker in the morning, but a diverse savings portfolio can offer tax breaks, steady returns and security that are unparalleled in your long-term portfolio.
If you want unparalleled security with the ability to withdraw your money in an emergency, often a money market savings account might be your answer. Or if you are more interested in protecting yourself from the blitz – the IRS – there are a variety of savings plans that offer tax protection for your money. You can find more information by talking to an investment professional – and often these consultations are free.

Draft Picks: Home Equity
Ask the fans of any team that traded a bundle of draft picks for a quarterback that didn't pan out, and they'll say you can't build a successful team without draft picks. In the same way, you can't be financially secure without owning at least one large asset. For most Americans, that asset is their home.
You can borrow against its value in an emergency, transfer high-interest credit card debt into a low-interest home equity loan and, most importantly, you're getting a large chunk of your payment back as equity every month. Whether you're looking to take the plunge with your first mortgage or hoping to turn your home equity's potential into something more tangible, your home can be the best draft pick you have.
While we are getting ready for the big game by putting on the face paint of fandom and ignoring all common sense, particularly with regards to chili and chicken wings -- don't ignore your financial football roster. Be rational and realistic and don't be afraid to schedule a FREE investment consultation. After all, even the best coaches in the world bring in offensive and defensive coordinators.
Securities and Advisory services offered through Cetera Advisor Networks, Member FINRA, SIPC. Cetera Advisor Networks is not an affiliate of Genisys Credit Union. Mutual funds, annuities and other investments available through Cetera Advisor Networks are not insured by the FDIC, NCUSIF or any federal government agency, are not deposits, or obligations of nor guaranteed by Genisys Credit Union, or any other affiliated entity. Investments are subject to investment risks including loss of principal invested.

© Genisys Credit Union and www.genisyscu.org, 2017. Unauthorized use and/or duplication of this material without express and written permission from this site's author and/or owner is strictly prohibited. Excerpts and links may be used, provided that full and clear credit is given to Genisys Credit Union and www.genisyscu.org with appropriate and specific direction to the original content.