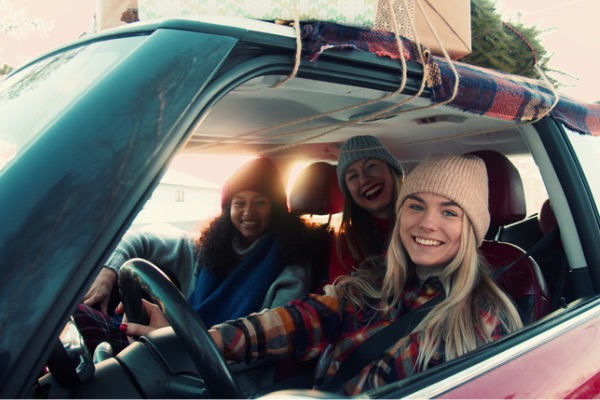 Buying your first car is both exciting and a bit overwhelming. It's a big decision that will impact your finances for the next several years. As a first-time buyer, you want to know you're making the right choice and not being taken advantage of by the dealership.
If you have a parent or friend to help in the process, that's great. If you're going it alone, use the following guide to become familiar with the steps necessary for a fun and positive car-buying experience.
Step #1: Determine Your Price Range
Figuring out how much you can afford to spend each month on a car is the first and most difficult step in the process. There are two reasons this step is challenging:
If you already have a car in mind, it's easy to fall into the trap of trying to fit that amount into your budget – no matter what.

Lenders will approve you for a specific amount based on your income and current financial obligations. But they don't know the details of your everyday life or spending habits. So what they approve you for might be more than you can afford to borrow. It's up to you to decide what you can truly afford to spend.
Creating a budget is the best way to determine how much you can afford. Tally all your monthly income(s) and then subtract all your monthly expenses (rent, bills, groceries, etc.). With the money left over, how much of that can you realistically afford to spend on a car?
Remember, your monthly car expenses will include your car payment, insurance, gas and maintenance.
When determining your monthly amount, include these items. You want to ensure you can handle all the expenses monthly – not just the car payment.
Step #2: Save for Your Down Payment
While you might be eager to buy your new car immediately, the more money you can save ahead of time, the better. Since this will be your first car, you probably do not have a vehicle to trade-in as a down payment. Instead, you'll be relying on your savings.
A down payment is money you pay upfront to the dealership. This amount goes toward the price of the vehicle. A lender will finance the remaining balance through an auto loan. Making a down payment will reduce the amount you have to finance with a loan and decrease the interest you will pay.
An effective way to save for a down payment is to open a special savings account at the credit union. By keeping these funds separate from your everyday spending accounts, you'll be less likely to dip into them for frivolous spending. Then, put your savings on autopilot by setting up automatic transfers.
Step #3: Secure Financing
Once you determine how much you can afford to spend monthly and have money saved for a down payment, stop by the credit union or visit us online where you'll officially apply for a car loan, and one of our lenders will review your finances with you.
There are several things the lender will be reviewing, such as:
Do you have a steady job?

How much income do you bring in monthly?

Do you currently have other loans or credit cards? If so, what are the balances?

What is your credit score?
Remember, the lender will approve you for a specific amount based on what they believe you can afford. If you think that amount is too large and you won't be able to afford it monthly, let them know. Again, they don't know your unique financial situation as well as you do. That is why Step #1 is so important.
Once you're approved, you will receive a pre-approval from the lender. A pre-approval means that the lender reviewed your finances and approved for you to borrow a specific amount to purchase a car. The dollar amount, interest rate, and loan term will be detailed on your pre-approval.
A pre-approval is one of the best negotiating tools and gives you an advantage at the dealership. You'll discover why in Step #5.
Step #4: Find Your Perfect Car
Next, the fun begins – finding your new car! It might take some time to find the right vehicle for you that fits within your budget, and that's okay. You want to ensure you're making the right financial decision.
The best place to start your search is online without the stress and hassle of salespeople. If you find a vehicle you like, you can inquire through the dealer website – again, giving you more breathing room and the ability to walk away if the price isn't right.
Before you head to the dealership to look at cars in person or test drive a model, make sure you're ready for the dealership games.
Step #5: Prepare for Dealer Games
Dealerships often have a less than favorable reputation. This stems from the fact that most car prices are somewhat negotiable. If you're not the best negotiator, you might feel like you were taken advantage of or didn't get a great deal.
However, most dealerships are pretty straightforward and genuinely want to help you make the right car-buying decisions. Their reputations are more important to them than a few extra dollars. With that, there are still many games they like to play.
Here are a few of the tactics you're almost guaranteed to experience:
Dealer Financing: Remember when we mentioned your pre-approval was the best negotiating tool? Here's why. With a pre-approval, you have a set amount you're able to spend. Dealers know they cannot sell you a vehicle over that amount – or push their costly add-ons.
So what do they do? They'll try to convince you that you can get better financing through the dealership. The most common strategy is to extend the term of your loan payment – this causes your monthly payments to decrease. It looks like a better deal, but it actually costs you more in interest and can lead you to buy a car you can't afford. If a dealership tries to convince you not to use your pre-approval, that's an instant red flag.
High-Pressure Sales: Whether it's because of limited inventory, microchip shortages, or high demand, salespeople will always tell you the car you're looking at won't be there tomorrow. Their goal is to close the sale now.
The truth is that even if that car is gone tomorrow, they can usually find a comparable one quickly. For new vehicles, they can generally order you a new one, but be sure to check with your dealer for timing.
Don't let high-pressure sales tactics intimidate you. If you feel pressured, walk away and come back another day.
Pushing Add-Ons: Many dealers make most of their money through costly add-ons. Once you agree to buy a car, you'll head to the finance office to finalize the deal. It's here that the real sales process begins. They will usually try to sell you everything from ding and scratch protection to extended warranties.
Don't feel like you need to purchase any of these add-ons. Most are entirely unnecessary. Items like GAP (Guaranteed Asset Protection) and extended warranties can be purchased through the credit union for much less.
We're Here to Help!
Buying your first car is exciting. But it's also a significant financial decision. As your credit union, we're here to help you make the best financial decisions. Our lenders are happy to work with you one-on-one and walk you through the entire car-buying process.
If you're interested in speaking with a lender or would like to apply for your first car loan, please visit any of our convenient branch locations or call 248-322-9800 ext. 5 today.
© Genisys Credit Union and www.genisyscu.org, 2022. Unauthorized use and/or duplication of this material without express and written permission from this site's author and/or owner is strictly prohibited. Excerpts and links may be used, provided that full and clear credit is given to Genisys Credit Union and www.genisyscu.org with appropriate and specific direction to the original content.