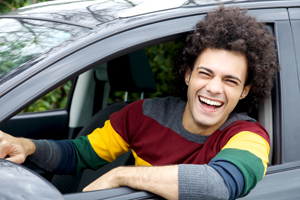 Does it come in Red?

When it comes time to search for your first car, it's not as easy as picking the color. There are several steps for this key financial decision.

1. Know Your Budget
Budget. It sounds like a yucky word, but knowing how much of a payment you can afford is an important step down this road.
Record all of your monthly expenses, and not just the auto-related expenses like full coverage auto insurance, gas, and vehicle maintenance (oil changes, etc.).
Add up housing costs such as rent, your cell phone and cable expense, utilities, credit card payments, student loan payments, groceries, pet expenses, dining out expenses, charity donations, movies, concerts, and any other expenses you regularly incur.
Don't forget what you put aside in savings each month (yes, you definitely still need to set aside some dough in that account!).

Once you have this number, subtract it from your monthly income to see how much you have to work with for an auto loan payment.

You should aim to spend no more than 25% of your monthly income on a car payment.
2. Know Your Credit Report
A credit report is kind of like a report card for your monthly budget. It shows if you "missed class" by paying late or not paying at all with collections or judgment accounts. To get an A+ in this area, you'll need to make sure that you pay all of your bills on time, and keep balances on your credit card to a minimum.
Also, keep your credit inquiries to a minimum – you shouldn't have more than one or two per year if possible.

So what does a credit report have to do with getting a car?
Everything!
The credit score calculated is your "GPA" that tells lenders how much of an interest rate they should charge you to borrow a loan from them. The higher your score, the lower the interest rate, and the less money you end up dishing out for your new ride.

If you want to check out what's on your credit report before starting the auto loan process, you should go to www.annualcreditreport.com to pull a free credit report.
It will give you a chance to verify everything is reporting correctly and to see if there's anything you need to take care of before applying for a loan.
3. Get Pre-Approved
A pre-approval might mean you'll need a passenger for the ride, a co-signer. If you have no credit history or very limited credit, a co-signer is often requested by the lender to ensure you stay on track with your loan.
This might also mean thinking about loan protection products such as:
These products have a cost associated with them, but in the long run can help you save money on costly repairs, or paying off the remaining balance of your loan if your car is totaled. Make sure to talk to a credit union representative about these products.

Your loan amount will be largely determined by your debt-to-income (DTI) ratio.
Your debt-to-income ratio is the percentage of your income that goes toward paying your debt. Calculate your debt-to-income ratio by adding up your monthly debt payments and dividing it by your monthly income.

DTI = monthly debt / monthly income
Example:
Sam's monthly debt payments total $1,540 and his monthly income totals $4,000
So, let's divide $1,540 by $4,000 and then multiply by 100
$1,540 / $4,000 =.385 x 100 = 38.5%
Sam's debt-to-income ratio is 38.5%.
Typically lenders like to see a debt-to-income ratio of no more than 45%.
A down payment might be required in some cases, since it helps you build equity in your vehicle so that you can pay it off sooner. Remember, a down payment is the amount of money you spend upfront to purchase a home, vehicle etc. combined with a loan to fulfill the total purchase price.

Once you have your pre-approved loan amount, you'll be ready to start shopping for a vehicle.
4. Find an Auto
There are a few different routes to take when searching for your perfect car. Indirect Dealerships partnered with local financial institutions and private sellers are the most common. Since you were pre-approved with your credit union, you can let the seller know upfront to avoid any type of delay with your purchase.

If you are buying a used car, you should always obtain a CarFax or similar product on the vehicle you are interested in buying to see if there are any previous issues. It's also a smart idea to have a trusted mechanic inspect the car before making any type of verbal or written agreement with the seller.
Make sure to check out what safety features are on the vehicle (airbags, anti-theft devices, brakes, etc.) as well the mileage (the higher the mileage, the more likely there will be upcoming repairs), and the gas mileage (the lower the MPG, the higher your gasoline costs).
5. Make Sure to Insure
This step should be done in tandem with searching for a car since it very well could affect which car you decide to purchase. Sometimes the cost to insure one vehicle is much higher than expected and it's a good idea to have another car in mind to see if the insurance premium is lower.

When shopping for an auto insurance policy, make sure to compare the details side-by-side to verify you're fully protected and that your deductible amounts are affordable and allowable by your credit union.
6. Final Inspection
Before heading onto the highway in your new ride, you'll want to go over all of the details once more with your credit union.
Payment amount – can you live with it for the next several years?
Interest rate on your loan
Payment due date
Do you need loan protection products?
If there is something you're confused about, make sure you ask!
There may be some other final steps that vary depending on where you purchased your vehicle such as placing the lienholder on the title to the vehicle.
Keep On Cruising…
Your first car loan is one of the first of many important financial decisions you will make. On-time payments every single month will help you set a pattern of having great credit history to help you achieve those future financial goals.

Buying a car is not always a perfect step-by-step process, but knowing these critical steps will help you cruise toward a successful financial future. Contact a Genisys Representative for more answers to your auto loan questions visit our Auto loans pages online for FAQs, calculators and more.