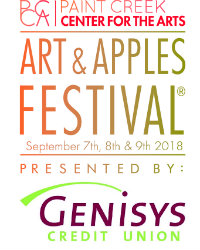 CONTACT: Lana Mini/David Stoyka
Marx Layne & Company
(248) 855-6777 – office
lmini@marxlayne.com
New Executive Director Elizabeth Chilton replaces Tami Salisbury at PCCA who moves to director of development.
ROCHESTER, Mich., July 11, 2018 – Art & Apples Festival, the largest annual fundraiser for and produced by Paint Creek Center for the Arts (PCCA), returns to the Rochester Municipal Park (400 Sixth St.) in downtown Rochester, Mich., Sept. 7, 8 and 9, 2018. New PCCA Executive Director Elizabeth Chilton announced that Genisys Credit Union is returning as presenting sponsor.
Chilton, founder of the Exhibit Professionals Group and former manager of Curatorial Affairs at the Arab American National Museum, replaces Tami Salisbury who has switched to the role of director of development for PCCA.
"I am thrilled to be on board to both preserve the prestige of the Arts & Apples Festival while also working to elevate it to new heights in both presenting fantastic art and creating a fun family event," Chilton said. "Tami and I have been working together to generate even more excitement within the festival that has become a celebrated annual send-off to summer in southeast Michigan,"
This year, PCCA is adding Blake's Orchard cider and donuts as well as new nationally-recognized artists to the signature event, which transforms the 30-acre park into one of the nation's top fine art festivals. Jackie Buchanan, president and CEO, Genisys Credit Union, said the decision to partner with the festival again this year was an easy one.
"The Arts & Apples Festival, a long-treasured asset to the community, shares the same goal of Genisys Credit Union of enhancing the lives of those in our community," Buchanan said. "The partnership between The Arts & Apples Festival and Genisys Credit Union is a perfect match. PCCA's dedication to promoting artistic excellence and the positive economic impact the festival generates on the greater Rochester community is to be commended. It is an honor to be part of this great local tradition once again."
Consistently ranked one of the top juried fine art fairs in the country, the 2018 Art & Apples Festival will feature nearly 300 artist booths featuring artists from across the nation displaying and selling their work. New and returning artists will showcase fine art in a variety of mediums, including ceramics, digital art, drawing, fabric/fiber/leather, glass, printmaking, jewelry, metal, mixed media, painting, photography, sculpture, and wood.
This year the event kicks off on Friday, Sept. 7 with the Stoney Creek High School Cougar Marching Band and ends on Sunday, Sept. 9 with the three Legend Brothers, impersonators of Frank Sinatra, Elvis Presley, Rod Stewart. Other live entertainment highlights include the award-winning Sheila Landis Jazz; the Swing Shift Orchestra; country music artist Melissa Lee; and Denise Davis & The Motor City Sensations R&B/Funk/Motown act.
Art, live entertainment, children's activities, interesting foods and of course apple treats such as apple cider, strudel, streusel and caramel apples and other creations makes it a true Michigan event.
"Every year, the festival attracts art enthusiasts who are hungry for high quality art from a diverse style of artists, Chilton said. "It is not easy to get an exhibit space at this festival and both the artists and our guests very much appreciate the exceptional standards we uphold. When you add in the creative children's activities, interesting foods, our commitment to highlighting local and regional entertainment – and of course Michigan apples - you can understand why the event is so unique and popular."
The Meijer Kids Art Zone returns to offer a weekend of activities for children of all ages. As part of PCCA's commitment to fostering the arts in the region, the Kids Art Zone is free for festival patrons to enjoy thanks to the generous support of returning sponsor Meijer.
While other prices rise in Michigan, the suggested $5 tax-deductible donation per person remains the same this year at each entrance to the festival. The suggested entrance fee provides funding for PCCA, which works year-round to promote the arts and artistic excellence through art education, exhibitions, an art market, outreach programs and more. Other non-profit organizations that benefit from the donations include St. John Rochester Youth Group, Music Shapes, Adams Highschool Boys Swim, Rochester College Theatre Department, and Onyx Theatre Troupe – Skating Team.
For more information about Paint Creek Center for the Arts and the Art & Apples Festival, visit www.pccart.org.
Our Generous Sponsors
In addition to the presenting sponsor Genisys Credit Union, the Art & Apples Festival is also supported by Meijer and Shelton Buick GMC and many more.
Sponsorships are still available, and information can be found at www.pccart.org or by calling 248-651-4110.
The Art & Apples Festival is a program of Paint Creek Center for the Arts (PCCA), a regional nonprofit art center located in Downtown Rochester. Since 1982, PCCA has been dedicated to enhancing life in the region by promoting, encouraging, and creating opportunities to participate in and appreciate the arts.