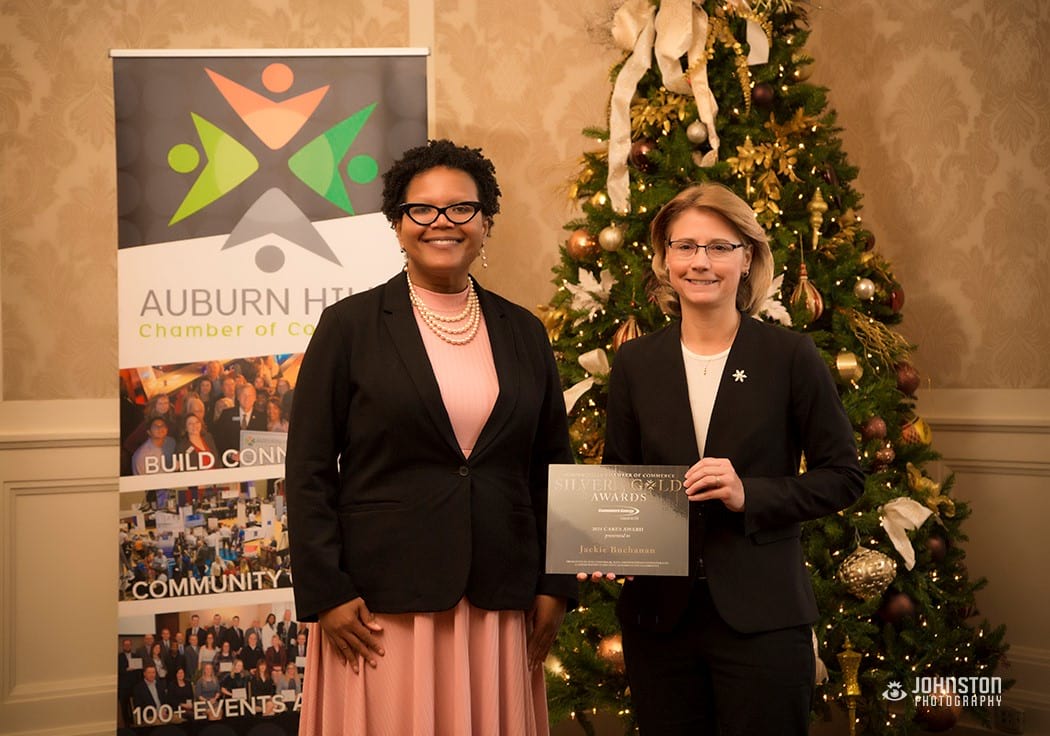 On December 6th Jackie Buchanan, President & CEO of Genisys Credit Union, was awarded the Consumers Energy Cares Award at the Auburn Hills Chamber of Commerce's Silver & Gold Awards. She received the award in recognition of her dedication & commitment to community.
"My sincerest thank you to the Auburn Hills Chamber and Consumers Energy for the recognition. It reaffirms not only my social impact efforts, but also those of Genisys," said Jackie Buchanan, President & CEO of Genisys Credit Union. "By being involved in the civic life of our communities, we are able to create settings where people can meet, share activities, and feel at home in our public spaces. Creating a connection between member, community, and organization makes our communities places to stay & grow for now and generations to come."
Throughout her 30 year tenure at Genisys Credit Union, Jackie has demonstrated a commitment to navigating her career with one thing in mind: being an agent of change in the philosophy of "people helping people." Guided by her passion, she serves on various financial, non-profit, and college advisory boards and is dedicated to giving back through volunteering; a commitment of time and service.
Through volunteering with various organizations such as Lighthouse of Oakland County, Ferndale Pride, Oakland Livingston Human Services Agency (OLHSA), McLaren Oakland Hospital, and more, she is making fundamental change and support to community members possible.
When she assumed the position of CEO at the credit union in 2010, she intentionally worked to lead the Genisys team with a Committed to Community approach; creating a company culture that values volunteerism, non-profit giving, community partnerships, and financial education. Through this lens, the credit union has worked to foster sustainable solutions through projects that help community members learn, grow, and thrive. Through Jackie's leadership & guidance, Genisys has become a community resource to give back to their neighbors. She has inspired & motivated a whole team to service to create a lasting effect on community and team.