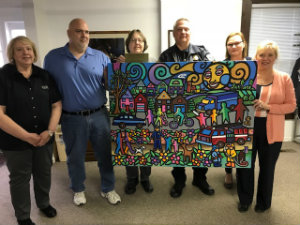 (Linden), Mich. – Mar 27, 2018 – The community came together last August for Linden's National Night Out, a night to build relationships between first responders and the communities they serve. The event, sponsored by Genisys Credit Union, brought out police, fire and EMS from Fenton City, Fenton Twp., Linden, Mundy Twp., Argentine Twp., Michigan State Police and the Genesee County Sheriff's Office. Everyone was invited to come and check out emergency vehicles, a smokehouse that simulates a house fire, bounce houses and more. The goal of the event was to allow people in the community to meet the officers, firefighters and other emergency personnel and to get to know them as people and create trust.
During the event, guests were invited to add their special touches to a community art project created by Daniel Cascardo from Art Action Experience. Daniel creates the template for the painting, based on the event, and the community adds the color and character. Once the event is over, Daniel takes the painting, cleans it up and makes it a "Work of Art" to be displayed. The National Night Out mural featured first responders out connecting with people in their beautifully painted community.
"Genisys is honored to come together with the community to salute our first responders" says Genisys President/ CEO Jackie Buchanan. Linda Zabik, Manager of Corporate Social Responsibility at Genisys, presented the finished art piece to the Linden City Council at their meeting on March 12th. The mural will hang at various locations throughout the community.