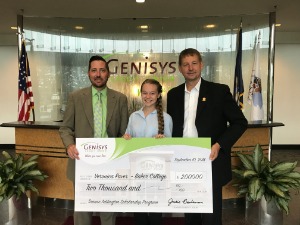 Genisys Credit Union announces that Veronica Paver has been awarded the 2018 Dianne Addington Community Leadership Scholarship. The scholarship provides funding to Baker College students who serve their communities as leaders and volunteers and are working toward a degree.
Genisys Credit Union funds the annual award in honor of its former president and CEO, Dianne Addington, who retired in 2010. She served on many community boards throughout her career, including Baker College of Auburn Hills Board of Regents. Since 2010, Baker has awarded $18,000 in scholarships to students at the Auburn Hills Campus.
"Genisys is committed to improving our communities," said Jackie Buchanan, Genisys President and CEO. "this is a perfect way to honor a student who exemplifies the spirit of giving back."
Veronica, who is from Holly, is a Junior currently enrolled in the Bachelor of Science in Nursing program. She has a 3.77 GPA and is scheduled to graduate in Spring 2020. "Veronica is not only an outstanding student, but she gives generously of her time by volunteering to help those in need both in Michigan and outside of the United States." says Pete Karsten, President of Baker College of Auburn Hills, "Baker College is grateful to Genisys Credit Union for their support of our students."