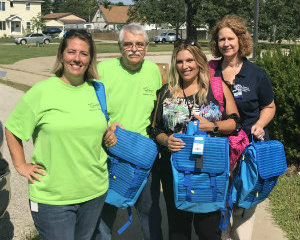 (Mt. Clemens), MI. – Aug. 13, 2018 – Genisys Credit Union donated 50 backpacks to Macomb Community Action to help get kids ready to start the school year. The backpacks were stuffed with a binder, glue sticks, markers, colored pencils, a pencil case, a highlighter and erasers and were purchased through a partnership with CO-OP Financial Services and school supply company, Yoobi.
Yoobi's, Fall 2017 Backpack Drive helped 1,300 students start the year off right with CO-OP Financial Services donating financial literacy resources, credit unions providing 650 backpacks and Yoobi matching those donations.
"Genisys is passionate about helping students be successful." says Genisys President/CEO Jackie Buchanan. "Our hope is that by providing school supplies we are contributing to their success."
Macomb Community Action provides services to children, families, and seniors to help increase their quality of life. Their mission is "Persistent Action to Diminish Poverty and Promote Independence" and they accomplish this by providing immediate assistance as well as short and long term solutions to their clients so they may become more independent.
"Just as it 'takes a village to raise a child', it takes a whole community of partners to make the important work of Macomb Community Action possible. Head Start is the beginning of a life changing experience for both children and families, and we are grateful that Genisys is part of our community of support for Macomb County families, " said Ernest Cawvey, director of Macomb Community Action.