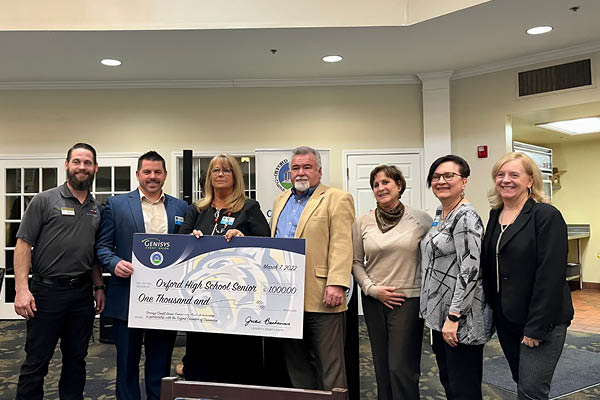 Genisys Credit Union and the Oxford Chamber of Commerce are excited to announce the launch of the Community Pride Scholarship for Oxford High School (OHS). Four eligible students from the graduating class of 2022 will be awarded $1,000 each.
"We are grateful to have a partner in the Oxford Chamber & Community to give back to students as they continue along their education journey," said Jackie Buchanan, President and CEO of Genisys Credit Union.
They made the announcement at the Chamber's State of the Community Address this morning. The scholarship has been established to provide tuition assistance to OHS senior students who plan to continue their education at a vocational school, college, or university.
Done in partnership with the Oxford Chamber of Commerce, students will have the opportunity to submit an essay, artwork, music, or video in response to a prompt along with a reference letter. This year's prompt is: What does the Oxford Community mean to you?
"To quote Martin Luther King, 'Out of a mountain of despair, a stone of hope,'" said Amy Desotell, Executive Director of The Oxford Chamber of Commerce. "We are excited to partner with Genisys Credit Union to give this opportunity to our Oxford High School students."
To be eligible, applicants must be a graduating Oxford High School senior with a GPA of 2.5 or higher. Employees, contract employees, board members, and immediate relatives including children, grandchildren, nieces, and nephews of Genisys Credit Union and the Oxford Chamber are not eligible to apply.
Applications and materials are due by close of business Friday, April 15th, 2022. For more information and to apply, visit: www.genisyscu.org/OHSPride