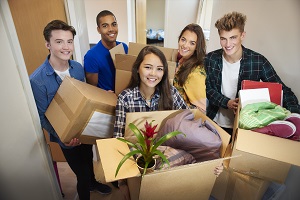 Lets face it, college dorm rooms are cold, blank canvases just waiting for the next student to add their personal touch. You're excited to finally have your independence and dive into adulthood, but who would have thought the tiny space where you will study, create new memories and live for a year or more could be so expensive?
We've seen the extravagant dorm room decor on sites like Pinterest, so you're hit with a reality check once you're adding up the price of each item. Not to worry, adding your personal touch doesn't have to drain your savings account. Instead, check out a few ways to get started decorating your dorm for less.
Washi Tape Is Your Friend
We've all seen these bright, colorful, printed and metallic rolls of tape in the craft aisle. Using washi tape to add color and character to your dorm room is a very inexpensive task. Similar to painters tape, washi tape does not leave residue. So if you create a pattern on your wall and later find out you want to change it, you can do so without damaging the paint (and saving you and your parents a headache at the end of the year)!
Washi tape can also be used to line bookshelves, dresser drawers, posters and virtually anything. If you really want to get crafty, you can wrap pens/pencils and your notebooks with it.
Use Potted Plants
If your dorm allows, add a few potted plants for a natural touch to your space. Since you will be busy with your studies and extra curriculars, opt for succulents and other plants that are low maintenance. Many of these succulents come in small pots so they won't take up much room and are easy to tote around. And the best part, they need minimal sunlight, if any!
You can even use chalkboard paint or leftover washi tape to decorate the pots, too!
Create A Photo Wall
Adding pictures can immediately personalize any space for cheap. Choose photos of different sizes, find inexpensive frames at the dollar store or thrift shops and paint them to match your decor. If painting is not your thing, cover the frames in washi tape (this stuff is amazing and so versatile)!
If you are not allowed to tac things into your wall, you can still achieve the photo wall look by taping your photos. Add your favorite prints and letters to achieve the ultimate dorm photo wall.
Use Fabric For Decoration
Purchasing a few yards of fabric at your local craft store can be fairly inexpensive. Choose a pattern you love and get crafty! You can use it to create the illusion of a headboard, simply cut the fabric to the shape of your liking and tape it behind your bed. You can even line it with twinkle lights.
If there is any unused wall space, you can use the fabric as tapestry. With a sewing kit, tension rod and a little creativity, you can even make your own curtains to transform your dorm room in no time.
Rent Your Furniture
Your older brothers old futon is probably not your first choice for seating options in your dorms shared space. A huge part in decorating your dorm is adding your personal touch, so using a site like Cort allows you to rent great looking furniture for the school year. This site is specifically for college students who want to have stylish furniture without dropping hundreds of dollars on a new couch or futon. They've got a variety of options for sofas, accent chairs, tables, you name it! And the best part, you could rent a sofa for as low as $36 per month. If you have the chance to connect with your roommates before your move-in date, you can even split this cost to make it more affordable. Say hello to easy move in day, as this company delivers the furniture to your dorm!
Buy Your Bed In A Bag
When shopping for a new bedding set, you typically have to purchase your comforter separate from your sheets and pillow cases. If you want a cute throw pillow, that'll cost a few extra bucks. Thankfully, stores like Target have dedicated entire areas to college dorm room must haves, including your comforter set. They offer a variety of bed in a bag options that contain everything you need to complete your bedding space and have a good night's rest. Your comforter, sheets, matching pillow cases and often a throw pillow will cost you under $50. What a deal!
© Genisys Credit Union and www.genisyscu.org, 2019. Unauthorized use and/or duplication of this material without express and written permission from this site's author and/or owner is strictly prohibited. Excerpts and links may be used, provided that full and clear credit is given to Genisys Credit Union and www.genisyscu.org with appropriate and specific direction to the original content.
Sources:
CUcontent.com
https://www.buzzfeed.com/gabbynoone/26-cheap-and-easy-ways-to-have-the-best-dorm-room-ever
https://studybreaks.com/college/the-5-best-plants-to-keep-in-your-dorm-room/
https://www.ucribs.com/blog-post/6-great-places-to-buy-college-furniture/
https://www.coupons.com/thegoodstuff/dorm-decorating-on-a-budget/