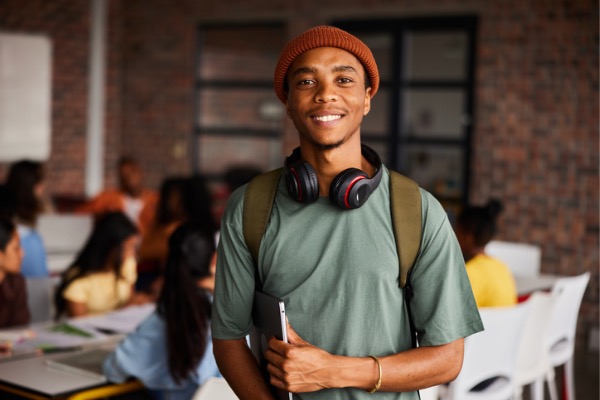 Attending college and earning a degree in a field you're passionate about is a dream for many. After countless hours studying and working towards your goal, there's no better feeling than holding that college acceptance letter in your hands. Now that you've passed the first major hurdle, it's time to start preparing for the next…how to pay for school.
With tuition costs continuously rising, it's wise to consider all your options. One of the best places to start is by exploring college scholarships.
What is a College Scholarship?
A college scholarship is a type of financial aid awarded to students pursuing an undergraduate or graduate degree. What makes scholarships so valuable is that you do not have to repay them. They are essentially free money that can be applied toward the cost of your degree.
In terms of payouts, scholarships usually come in two formats: one-time payments and renewables.
One-Time Payments: Most college scholarships awarded fall into this category. For example, you might earn a $2,000 one-time scholarship. You can either use these funds all at once or break them up over the course of your college experience.
Renewable Payments: Sometimes, scholarships will have the option to renew. For example, you receive $2,000 yearly if you meet specific requirements, such as maintaining a certain GPA.
One of the biggest misconceptions people have about college scholarships is they automatically assume they won't qualify. Maybe you're not a 4.0 GPA student or a star athlete, that's okay, most people aren't. But the world of college scholarships is so diverse that it's much easier to obtain one than most people think.
Types of College Scholarships:
Too often, people assume scholarships are only awarded for extraordinary achievements. While superstar athletes do make the headlines with the extremely rare "full ride," the sheer volume of scholarships available for students today is astounding.
Some of the more common scholarships include:
Academics: Yes, good grades can land you enticing scholarships. Universities want the brightest students to attend their programs, and they're willing to pay big to make it happen.
Athletics: College sports programs are popular and profitable for universities. With players constantly graduating, the need to add new, talented players to rosters is a continuous cycle.
Music & Arts: From musicians and performers to artists and writers, scholarships that highlight specific talents are always popular.
Diversity & Culture: Universities are hubs of various cultures, races, religions, and ethnicities. Many scholarships focus on building diversity throughout the school.
Military: Programs, such as ROTC, offer scholarships in exchange for military training while in school and service upon graduation.
Entrepreneurship: Many schools and businesses award scholarships to new business leaders and individuals with big ideas.
Contests: Organizations and businesses often award scholarships to individuals that participate in and win contests, such as producing a video or essay on a specific topic.
Never assume you won't qualify for a scholarship and put off exploring these opportunities. You'll be surprised just how many scholarships are out there for eager and ambitious students.
What Do Scholarships Cover?
Some scholarships are more lenient than others. For example, a local business might award a scholarship and simply present a check in your name. Technically, you could use this money however you want, but it's encouraged for school expenses.
Other scholarships list designated expenses, such as:
Tuition

Housing

Books

Lab Fees

School Supplies

Meals
Many organizations will present the scholarship to the school to prevent students from spending the funds on non-school expenses. Then, the school finance office applies the available money to your outstanding tuition balance.
Where to Find College Scholarships?
Once students begin searching for college scholarships, they're often surprised by how many are out there. Aside from those available directly through the school, you'll find scholarships sponsored by local businesses, non-profits, major corporations, individuals, and so on!
The following list is a great starting point:
School Guidance Counselor or Career Center

Local Non-Profits

Chambers of Commerce

Teachers and Professors

College Financial Aid Office

Local Library

YMCA & other youth organizations

Department of Labor
The Department of Labor sponsors the website www.CareerOneStop.org. Click "Toolkit" in the top menu, then select "Scholarship Finder." You can search through over 8,000 scholarships, grants, and financial awards.
When pursuing your dream of attending college, never doubt yourself. Everyone has specific strengths, skills, and traits that make them unique and valuable. Likewise, there are so many scholarships out there that could match perfectly with your passions.
Every bit that helps reduce the cost of school is a win. If you have additional questions on college financing we're always here to help. Please give us a call at 248-322-9800 extension 5 to speak with a team member today.
© Genisys Credit Union and www.genisyscu.org, 2023. Unauthorized use and/or duplication of this material without express and written permission from this site's author and/or owner is strictly prohibited. Excerpts and links may be used, provided that full and clear credit is given to Genisys Credit Union and www.genisyscu.org with appropriate and specific direction to the original content.