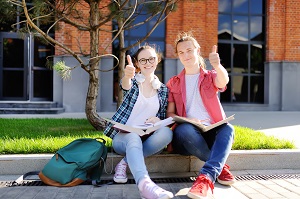 If you recently graduated from college, there's a good chance you are carrying student loan debt. Sources report that 60% of grads leave school owing on student loans.
With the average debt per student being $37,172 as of 2016, it's also quite likely you may be having trouble making payments. If that's your situation, make sure you are aware of the options available for getting relief.
Is Your Income Too Low to Make Your Student Loan Payments?
If so, the Department of Education offers programs that enable you to have your payment reset to an amount relative to your income. Four programs are "pay as you earn" or "income-based" repayment plans. These programs have differences in features and requirements, but all are meant to give you options to lower the payments you make under the 10-year standard repayment plan for direct federal student loans.
If eligible, your payments will be set at a percent of your discretionary income and adjust as your income changes. The revised payment can range from 10% to 20% of your discretionary income according to the program.
One thing to keep in mind with these programs is that your overall payments will likely end up being more than the cost under the standard repayment plan since interest will accumulate over an extended period. But if your budget is stretched too thin, getting payment relief may be for you.
You can start your application for an Income Drive Repayment plan at Student Loans.gov.
Will A Consolidation Loan Benefit You?
Some students wind up having federal student loan payments to make to many different loan servicers. A consolidation loan can simplify repayment by giving you one monthly payment.
Do you also need help fitting your payments into your budget? A consolidation loan may also extend the time (up to 30 years) to repay your loan, providing a lower payment and may be an option if you don't qualify for one of the income-based programs and still want to lower your monthly outflow.
Another possible benefit of a consolidation loan is that you may be able to switch from a variable rate loan to a fixed rate. The fixed rate will ease concerns about your payment increasing if interest rates start to rise.
There are some drawbacks to consolidation, like greater interest cost due to a longer repayment period.
Get more information on consolidation loans at the Federal Student Aid website.
Loan Forgiveness Is Possible for Some
In some situations, you may not be required to repay all or some of your student loan debt. Certain public service workers and teachers may be eligible.
If you work for a federal, state, or local government organization; or a non-profit organization that is tax-exempt under Section 501(c)(3) of the Internal Revenue Code, you may qualify. You have to be employed full-time and meet other requirements. Check out the information at the Federal Student Aid website to learn more.
Teachers who have taught full-time for five consecutive academic years in a low-income school may be able to receive up to $17,500 relief on direct federal student loans. Learn more about the forgiveness program if you think this may be an option for you.
Do You Just Need A Little Help?
Maybe your payment struggles are temporary, and you just need help for a few months. Contact your loan servicer to see if you can arrange temporary payment relief under forbearance. Forbearance will give you a break on your payments for a short period (for example, three to six months.)
Or are your payment struggles merely a matter of timing? Does your student loan payment date hit at just the time of the month when your available funds are lowest? Consider requesting a change of your payment date to get relief.
It Doesn't Hurt To Ask
If you're having trouble with your student loan debt, it's worth checking online or picking up the phone to see if you can get some relief. A great place to start is at the Department of Education's Federal Student Aid website.
Don't wait. See if you can get help today.
© Genisys Credit Union and www.genisyscu.org, 2019. Unauthorized use and/or duplication of this material without express and written permission from this site's author and/or owner is strictly prohibited. Excerpts and links may be used, provided that full and clear credit is given to Genisys Credit Union and www.genisyscu.org with appropriate and specific direction to the original content
Sources:
www.studentdebtrelief.us/student-loans/student-debt-statistics
https://studentaid.ed.gov/sa/sites/default/files/repaying-your-loans.pdf