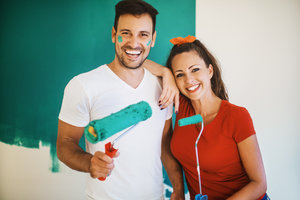 Are you looking to take out a loan against your home's equity, but noticed that interest rates are starting to slowly climb?
With rising rates, borrowing against the equity of one's home will likely become a popular choice. People will choose to fund home renovations and other high-priced needs with their equity instead of moving to a new home with a mortgage that has higher interest rates.
There is more than one option to accessing your home's equity, make sure you know what impact rising rates will have on your choice.

HELOCs
AKA: Home Equity Line of Credit
1. How they work
A home equity line of credit is a revolving credit line that allows you to borrow money, as needed up to a predetermined limit, with your home serving as collateral for the loan.
Loans are approved for a specific amount of credit by taking a percentage of the home's appraised value and subtracting the balance owed on the mortgage. Lenders may also consider any outstanding debt you have, your income and your credit history.
If you're approved for a HELOC, you can spend the funds however and whenever you choose. Some plans do have restrictions, though, and may require you to borrow a minimum amount each time, keep a specific amount outstanding or withdraw an initial advance when the line of credit is first established.

2. Pros
HELOCs allow for more freedom than fixed home equity loans. Since you're opening a line of credit and not borrowing a set amount, you can withdraw money as needed from the HELOC over the course of a set amount of time known as the "draw period." This is especially beneficial if you're renovating your home and don't know exactly how much money you'll need to fund your venture.
Repayment options on HELOCs vary, but are usually very flexible. When the draw period ends, some lenders will allow you to renew the credit line and continue withdrawing money. Other lenders will require borrowers to pay back the entire loan amount at the end of the draw period. Others allow you to make payments over another time period known as the "repayment period."
Monthly payments also vary. Some require a monthly payment of both principal and interest, while others only require an interest payment each month with the entire loan amount due at the end of the draw period. This can be beneficial when borrowing for an investment or business, as you may not have the funds for repayment on a monthly basis but anticipate earning enough to pay back the entire loan. However, be careful before selecting the interest-only option as it could lead you into staying perpetually in debt.

3. Cons
HELOCs usually have variable interest rates. This means the interest you're paying on the loan can fluctuate over the life of the loan. This variable-rate is based on a publicly available index, such as the U.S. Treasury Bill rate, and will rise or fall along with this index. Some Lenders will also add a few percentage points, called margin, of their own.
Obviously, taking out a HELOC in an environment of rising interest rates means your rates are likely to increase over the life of the loan. In addition, HELOCs that only require repayment of principal at the end of the term can also prove to be difficult for some borrowers. If you have trouble managing your monthly budget, you may not be able to pay back the full amount on time. In that case, you will be forced to refinance with another lender, possibly at an unfavorable interest rate.
Home Equity Loans
1. How they work
A home equity loan, also secured by your home's equity, allows you to borrow a fixed amount that you receive in one lump sum. The amount you will qualify for is calculated based on your home's loan-to-value ratio, payment term, your income and your credit history.
Most home equity loans have a fixed interest rate, a fixed term and a fixed monthly payment.
2. Pros
The primary benefit a fixed home equity loan has over a HELOC is its fixed interest rate. This means you know exactly how much your monthly payment will be for the entire life of the loan. In an environment of rising rates, this is especially beneficial for a borrower, as your loan will not be subject to the increasing rates of other loans.
Unlike the repayment policy of HELOCs, every payment on a home equity loan includes both principal and interest. Some loans allow borrowers to pay back larger sums if they choose, but may charge a penalty for early payments. Regardless of policy, at the end of the loan term, the entire amount is paid up and you can forget about the loan.

3. Cons
Taking out a fixed home equity loan may mean paying several fees. Receiving all the funds in one shot can also be problematic if you find that you need more than the amount you borrowed.

Also, the set amount is due every month, regardless of your financial standing at the time. Remember, if you default on the loan, you may lose your house.
Carefully weigh the pros and cons of each kind of loan before tapping into your home's equity.
Still unclear? Call or stop by your local Genisys branch to learn more about our flexible terms and competitive rates on home equity loans. We will help you calculate whether you can afford the monthly payments of your chosen loan and determine which one would be the best fit.
© Genisys Credit Union and www.genisyscu.org, 2018. Unauthorized use and/or duplication of this material without express and written permission from this site's author and/or owner is strictly prohibited. Excerpts and links may be used, provided that full and clear credit is given to Genisys Credit Union and www.genisyscu.org with appropriate and specific direction to the original content.


SOURCES:
https://www.franklintempleton.com/investor/campaigns/templeton-global-bond-rising-rates?gclid=CjwKEAjw5_vHBRCBtt2NqqCDjiESJABD5rCJP3FZKzsQc7EeIo3T0s4DMxIgvNCsL4At-X8K8nzR7BoC5-fw_wcB
https://www.google.com/amp/www.csmonitor.com/layout/set/amphtml/Business/Saving-Money/2017/0219/Why-a-home-equity-loan-is-a-smart-choice-as-rates-rise
http://www.schwab.com/public/schwab/active_trader/trading_insights/trading_strategies/6_strategies_for_dealing_with_rising_interest_rates.html
http://homeguides.sfgate.com/choose-home-equity-loan-2651.html
http://online.wsj.com/news/
http://files.consumerfinance.gov/f/brochure.pdf
http://www.realtor.com/home-finance/homebuyer-information/what-are-liens-on-a-home.aspx