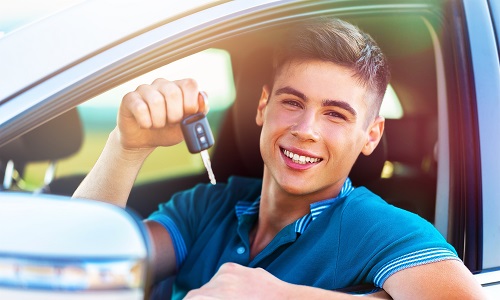 Buying a new car can be a scary process. If it's your first vehicle purchase, it can be even more frightening since it will probably be the largest purchase you have ever made.
How can you avoid the mistakes and buyers' remorse that many first time buyers experience? Here are a few tips.
Know how much you can afford.
Before you even start looking, it's best to know how much car payment you can afford. This requires a little math to be done.
Estimate all of your monthly expenses currently. Do you have student loan payments, credit cards, groceries, pet expenses, or utility bills to pay? How much do you typically spend to eat out, go to movies and concerts, and other entertainment? Do you have rent, cell phone and cable expense to pay? And don't forget to count any money you are saving for a future use. Get it all down on paper.
Next, subtract your total monthly expenses from your monthly income? How much is left for a car payment? Plus, you will need to consider that you will have extra insurance, gas, and other vehicle-related expenses.
You should aim to spend no more than 25% of your monthly income on a car payment. Once you have an idea of the amount you can afford, call your credit union or other lender to learn how that payment may translate into a price on the cars you should consider.
Make sure your credit is in good shape and get pre-approved.
A credit report is like a report card about how you've managed your financial responsibilities. It shows if you have paid bills late or not at all, or if you've been good and paid on time. You want to know how your credit will be viewed by potential lenders before you shop. Again, your credit union can help by getting you pre-approved for your auto loan. The better your credit is, the lower the cost of your loan.
Keeping your credit in good shape will also come into play with the premiums you will pay for auto insurance. If your credit report has some bad marks on it, you may pay more for insurance.
It's best to know how your credit will affect these factors before you shop.
Research, research, research!
Once you've determined how much car you can buy, research all the options available to you. Several websites provide all you need to know about the cars available.
Make sure to check out these features:
Safety features are important. Check into things like airbags, anti-theft devices, and the type of brakes.

Gas mileage is critical in being able to afford your car. The lower the MPG (miles per gallon), the higher your gasoline costs will be.

How many miles are already on the car? The higher the mileage, the more likely there will be future repairs.
If you are buying a used car, you should always obtain a CarFax or similar product on the vehicle you are interested in buying to see if there are any previous issues. It's also a smart idea to have a trusted mechanic inspect the car before making any type of verbal or written agreement with the seller.
Far too often, inexperienced buyers get stuck in cars they can't afford to keep on the road. Don't fall in that trap.
Be sure to insure.
Arranging your insurance should be done in tandem with searching for a car since it very well could affect which car you decide to purchase. Sometimes the cost to insure one vehicle is much higher than expected. It's a good idea to have another car in mind to see if the insurance premium is lower. That cool sports car you have in mind likely comes with a much higher insurance bill. Know before you buy.
When shopping for an auto insurance policy, make sure to compare the details side-by-side to verify you're fully protected and that your deductible amounts are affordable and allowable by your lender.
Get the right financing.
A rookie car buyer often spends all of their time on the price of the car and almost none on the cost of financing it. Shop around for financing. There are several parts of financing to consider besides just the monthly payment.
Know what interest rate you're paying and the number of payments you will need to make. A low monthly payment may hide a high-interest rate by stretching out the life of the loan. If your loan period is too long, your car may become obsolete before you pay it off.
Also, make sure you know what's included in your financing. There are several add-ons like mechanical breakdown protection, extra warranties, loan protection insurance, and vehicle value protection products that can be added to your payment. Those may be entirely appropriate for you, just make sure you understand them before including them in your financing. If there is something you're confused about, make sure you ask!
Drive the right way.
Your first car loan is one of the first of many important financial decisions you will make. Follow these steps to make sure you don't have buyers' remorse down the road.
Buying a car is not always a perfect step-by-step process, but knowing these critical steps will help you cruise toward a strong financial future. Contact a Genisys Representative for more answers to your auto loan questions or visit our Auto loan pages online for FAQs, calculators and more.
© Genisys Credit Union and www.genisyscu.org, 2018. Unauthorized use and/or duplication of this material without express and written permission from this site's author and/or owner is strictly prohibited. Excerpts and links may be used, provided that full and clear credit is given to Genisys Credit Union and www.genisyscu.org with appropriate and specific direction to the original content.