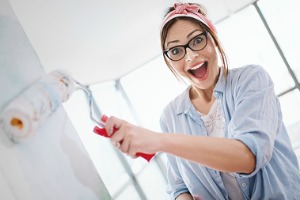 If you're like most of us, you've had extra time to scrub and purge your home from top to bottom. And now, with every surface, closet, and room sparkling clean, you're starting to see all the areas that could use a facelift. Like your kitchen that needs a complete overhaul, fresh paint on the walls, or even new window treatments.
The only thing standing between you and your dream home is finding the cash to fund it, right?
Maybe not. Lucky for you, you don't need to spend a fortune to give your house a new look. Read on for our list of home improvement hacks and learn how to upgrade your home on a budget.
1. Cabinet Makeover
Instead of dropping a ton of money on replacing your kitchen cabinets, give your tired kitchen a fresh new look by replacing just the cabinet fronts. You'll pay a fraction of the price and no one will know your old cabinets are hiding behind those beautiful new doors.
Want to go even lower-cost? Consider painting your cabinets to upgrade the look without spending much money or time. Don't forget your cabinet hardware. Replacing your pulls with a modern, trendy style will top off the whole new look.
2. Cover Countertops with Contact Paper
Stone countertops can be gorgeous, but they're also incredibly pricey. Instead of paying thousands for beautiful counters, try covering them with pretty, waterproof contact paper. You'll find loads of granite or marble look-alikes at home improvement stores and you can learn how to apply your knockoff covers neatly from DIY tutorials on YouTube. Don't worry: We won't let anyone in on your secret!
3. Revamp Window Treatments
Pretty curtains and drapes add a splash of color and personality to any room. You can make your own inexpensive curtains by picking up some fabric from a sewing supply store. You'll also need rods to hang up those curtains—and sometimes those can cost as much or more than the curtains. Make it happen with this hack: Use skinny PVC pipes instead of curtain rods. You can spray paint them to match your décor and hang with simple hooks.
4. Create a Mirrored Backsplash
All you need for this fantastic hack is a pack or two of snazzy, self-adhesive mirror tiles. These retail for about $15 per 20-tile pack and you can find them online or at a home improvement store. The mirrored backsplash will give the illusion of greater space and you won't have to deal with grout and caulking. Decorate with inexpensive decals to up the glam or just leave it bare. It's a super-cheap way to make your kitchen sparkle!
5. Slipcover the Sofa
If your sofa is hopelessly stained or worn out and you'd love to update it, but can't spare the cash, try covering it with a slipcover. You can find slipcovers in all colors and textures to match the shape of your sofa for $100 or less. They're not just for protection; the right slipcover will give you an (almost) brand new couch! Make sure you read reviews before purchasing, because quality really makes a difference here.
6. Replace Light Fixtures
Light fixtures can really make a big statement in a room and you don't have to spend a fortune. Walk through your home and take note of the light fixtures that are relics from the past or are builder grade style put into every home in the neighborhood. Then, take a trip to a home improvement store or check out sites like Hayneedle for trendy, striking light fixtures. For less than $100, you can give your house an entirely new look!
7. Put on Your Painting Clothes
If the walls in your home desperately need fresh coats of paint, look no further than your local home improvement store. Even if you've never picked up a paintbrush, you'll find loads of painting tutorials on YouTube, and you'll only have to spring for the actual paint plus a few supplies. Best of all, when you're in charge, you can get as creative as possible. Using painter's tape and your imagination, you can paint funky designs on your walls, like diamond contrasts, vertical and horizontal stripes, or anything! It's amazing how a new wall color or freshening up the same color makes a house shine again.
These hacks will make your home beautiful for just a bit of money. But, if you need more major home improvements that require serious cash, we can help. Call, click or visit your branch today to ask about a Home Equity Loan or Flex Line of Credit. We can make that happen, too!
© Genisys Credit Union and www.genisyscu.org, 2020. Unauthorized use and/or duplication of this material without express and written permission from this site's author and/or owner is strictly prohibited. Excerpts and links may be used, provided that full and clear credit is given to Genisys Credit Union and www.genisyscu.org with appropriate and specific direction to the original content.