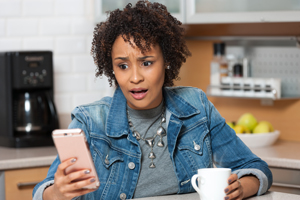 Gone are the days when making deposits, withdrawals, etc.—meant you had to stand in line, and wait patiently (or not!) for the services of a teller. Today, we have lots of options when it comes to financial transactions.
Mobile banking is an increasingly popular way to monitor and manage your money and as more of us bank with phones fraudsters are following the same path turning their attention to mobile banking.
Here are the five rules you should never break.
Fraudsters know that one of the possible keys to their success lies in the misunderstanding of mobile devices. Security awareness is key to minimizing the chance that the information on your mobile device ends up compromised.

1. Don't Follow Links
You should never follow a banking link sent to you in a text message or e-mail. These links could potentially lead you to a spoofed Web site. If you enter your information into such a site, you've just handed that data over to thieves.
Thieves love to spoof trusted companies, and they know you just may give up your login if you believe it's your credit union asking. And it can be harder to eyeball an email for authenticity on a mobile device's small screen.
Word of advice: ignore the email link and go directly to the homepage.
On a related note, you should never send your account information or password via text message or e-mail. It's a common phishing scheme to send out bogus requests for such information.
Don't fall for it!

2. Navigate to a Website directly
Be diligent of logging into the correct website. It's always a good idea to navigate to a Web site directly instead of typing the name into a search bar. This will help you avoid bogus Web sites.
Be careful to identify false websites.
If your financial institution is in the United States, the website will always end in .com or .org.
If you see a website that ends in something different do not continue with that site and report it to your financial institution.
Fraudsters will try to obtain mobile banking passwords by e-mail and phone calls, asking for your mobile banking account number, username, password, and other important information.
Remember, financial institutions will never ask for your password under any circumstances. Do not give your password to others under any circumstances!

3. Use Official Apps from your Institution
Be aware that fraudsters will continue to create fraudulent applications. Don't download applications onto your phone without checking them out first. Verify the legitimacy of an application by checking the app publisher or seller before downloading it to your mobile phone.
Before you download an app look on their website to learn about the official app. Once you've verified the app is official, it shouldn't be difficult to download and install to your device.
Continually update your apps. Yes, the app may be working just fine, but typically the updates are security related – don't ignore them.

4. FREE WiFi may not be SECURE WiFi

Avoid using open free public WiFi connections. Public WiFi at coffee shops, hotels, airports, and many restaurants – most security experts agree it is unsafe for secure transactions. Be very careful which wireless service you are using while accessing your mobile banking app. If you are in a public place utilize your wireless provider network.
If you just want to read the gossip on Facebook - or check the sports news on ESPN - go for it! Free WiFi is fine for this type of browsing, just don't log into important sites that involve a password while on a public network. This will stop the fraudsters from spying on your important information.



5. Keep your Information and Phone Safe

Password protecting your mobile device and locking it when it's not in use are the two easiest ways to secure your phone as well as your personal information. Do not lend your phone to someone with a mobile banking app opened and active and be sure to delete text messages from your financial institution on your mobile device, especially if they contain sensitive information.
Using strong passwords composed of numbers and letters (upper case and lower case) that are not easily guessable may seem inconvenient, but they will deter a fraudster from trying to guess your password. And even though you have the perfect password, it is still a good practice to change your mobile banking password regularly.
While the new modern day convenience of carrying your credit union in your back pocket comes with risks, by following a few simple rules you can rest assured your account is safe. Remember if it looks too good to be true, or doesn't seem to follow the 'normal' protocol it probably is not legit.
So keep your credit union in your pocket and be careful out there in cyberspace!
© Genisys Credit Union and www.genisyscu.org, 2017. Unauthorized use and/or duplication of this material without express and written permission from this site's author and/or owner is strictly prohibited. Excerpts and links may be used, provided that full and clear credit is given to Genisys Credit Union and www.genisyscu.org with appropriate and specific direction to the original content.
Source: money.howstuffworks.com