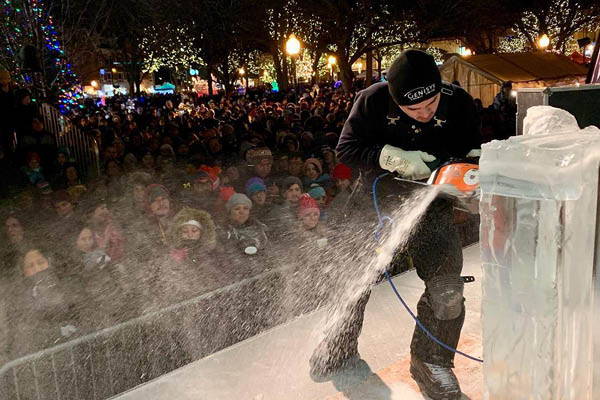 From February 11th - February 13th, Downtown Plymouth & Kellogg Park will transform into an "ice wonderland" during the 40th Anniversary celebration of the Plymouth Ice Festival. Genisys Credit Union (GCU) is excited to be partnering with the event to sponsor its annual Ice Throne.
"We enjoy partnering to support this annual tradition as it gives community members an opportunity to make memories and get outside during the lull of winter," said Jackie Buchanan, President & CEO of Genisys Credit Union.
A signature feature of the Ice Festival, the Ice Throne is a unique ice carving for guests to experience "Ice Festival Royalty" as they take a seat atop the mighty sculpture. This cherished activity has been a tradition for many families as they return for that same picture year after year. Come find the Genisys team at the Ice Throne on Saturday, February 12th from 10 a.m. to 12 p.m. or Sunday, February 13th from 12 p.m. to 2 p.m.
"The Plymouth Ice Festival is excited to have Genisys Credit Union back and as the sponsor of this family fun activity. Partnerships such as theirs is what makes this festival possible," said James Gietzen, Festival Organizer. "Over the years, support from Genisys has helped countless culinary students learn how to ice carve, giving them a leg up on other job candidates as they join the workforce after college. This year the Genisys team will be onsite at our Ice Throne to help people take those treasured family pictures. Make sure to stop by Kellogg park and say 'hi.'"
The sculptures at the festival are created using 350 pound blocks of ice. Ice carvers showcase their creative talents through a variety of designs. Previous years have featured: Mr. Potato Head, a Red Wings player, Snoopy, a giraffe, and much more. Sculptures will remain standing after the event, weather permitting.