VISA® Gift Cards—a Perfect Fit Every Time!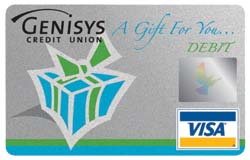 Give the perfect gift every time—a VISA® Gift Card! Visa Gift cards can be used at 19 million merchants that accept VISA® debit cards or to make purchases online.
And buying a Visa® Gift Card is simple. You can buy at any Genisys branch office. Cards purchased in a branch office are activated and immediately available for use.
Choose the purchase location and VISA® gift card amount that's best for you:
Note: VISA® Gift Cards cannot be reloaded.
Start Now
Buy your gift cards today.
Go to main navigation