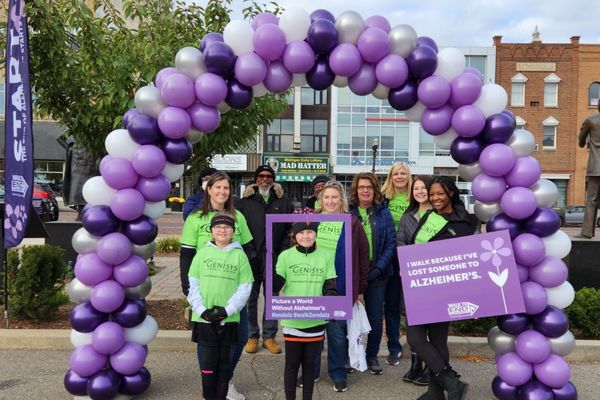 In the fight to end Alzheimer's and all other forms of dementia, Genisys Credit Union partnered with The Alzheimer's Association to support their annual Walk to End Alzheimer's - Flint on October 8.
Returning as the Memory Wall sponsor, the credit union hosted an area for Walk attendees to remember their loved ones impacted by Alzheimer's and all other dementia by memorializing their name on signage at the event. The Walk raised over $80,000 which will go towards Alzheimer's care and support and advancing research towards methods of prevention, treatment, and ultimately, a cure.
Prior to Walk weekend, the credit union's branches in Grand Blanc, Clio, and Fenton hosted "Purple Weeks," to raise awareness and funds for The Alzheimer's Association and its subsequent Walk.
"A disease that hits close to home for many, we are elated to be able to give our support in finding a cure," said Kristin Goddard, Genisys Credit Union Grand Blanc Branch Manager. "Thank you to all who
stopped by the branch during our awareness week & helped us move forward in the fight to end Alzheimer's!"
During "Purple Week," the branches purpled out by featuring a mini Memory Table, giving members an opportunity to honor their loved ones who have been impacted by Alzheimer's and all other dementia. They also displayed Promise Gardens, a spot to donate, provided literature about Alzheimer's and resources offered by the Association, and more.
The Promise Garden is a mission-focused experience that "plants" flowers representing their promise to remember, honor, care, and fight for those living with Alzheimer's disease and their caregivers. The varying color of flowers highlight the diverse reasons for Walk participation.
"We are so incredibly thankful to Genisys Credit Union and the wonderful, passionate staff," said Nicole Colley, Senior Development Manager, Livingston & Flint Walk to End Alzheimer's. "It is incredible to receive support from our community partners in spreading resources and education to further the mission to end Alzheimer's!"