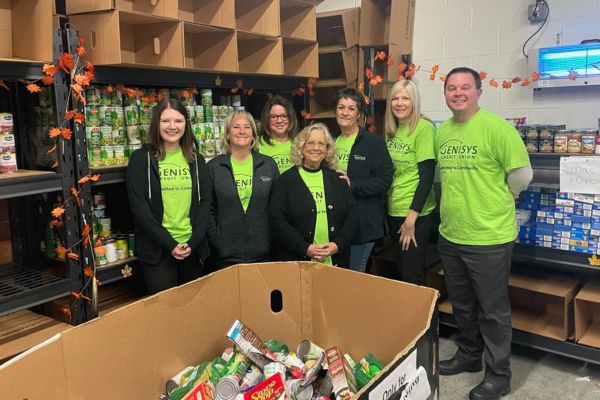 Genisys Credit Union hosted a campaign with their employees to raise donations for Lighthouse's annual Thanks & Giving campaign. The initiative provided funding for Lighthouse to purchase over 2,000 turkeys, ensuring a Thanksgiving dinner for all the families they serve.
"As we enter the holiday season, I am grateful for the generosity of the Genisys team," said Jackie Buchanan, President and CEO of Genisys Credit Union. "Lighthouse stands as a beacon of hope for our neighbors by providing essential resources. We are thankful to provide our support as they further their mission of alleviating poverty and ending homelessness."
The team at Genisys raised funds through an employee match campaign. Funds raised are doubled by Meijer as part of their Simply Give program, which allowed for over 2,000 turkeys to be purchased. Meijer started their Simply Give program in 2008 to help food pantries fulfill their mission of feeding those struggling with food insecurity.
"Our Thanksgiving program has been a cornerstone at Lighthouse for many years, and we are proud to provide so many holiday meals to those in need. Our partnership with Genisys Credit Union has been invaluable, and we deeply appreciate their dedication to volunteering and fundraising, which has been instrumental in supplying 2,300 turkeys for this year's food boxes," said Ryan Hertz, Lighthouse President & CEO.
In addition to their financial contribution, the credit union staff volunteered their time over two days to help pack Thanksgiving food boxes. This included unloading, sorting, and organizing donations and packing boxes, which will provide a full Thanksgiving meal to local families this year. The credit union extends its thank you to all who have donated to Lighthouse to make their Thanks & Giving program possible.