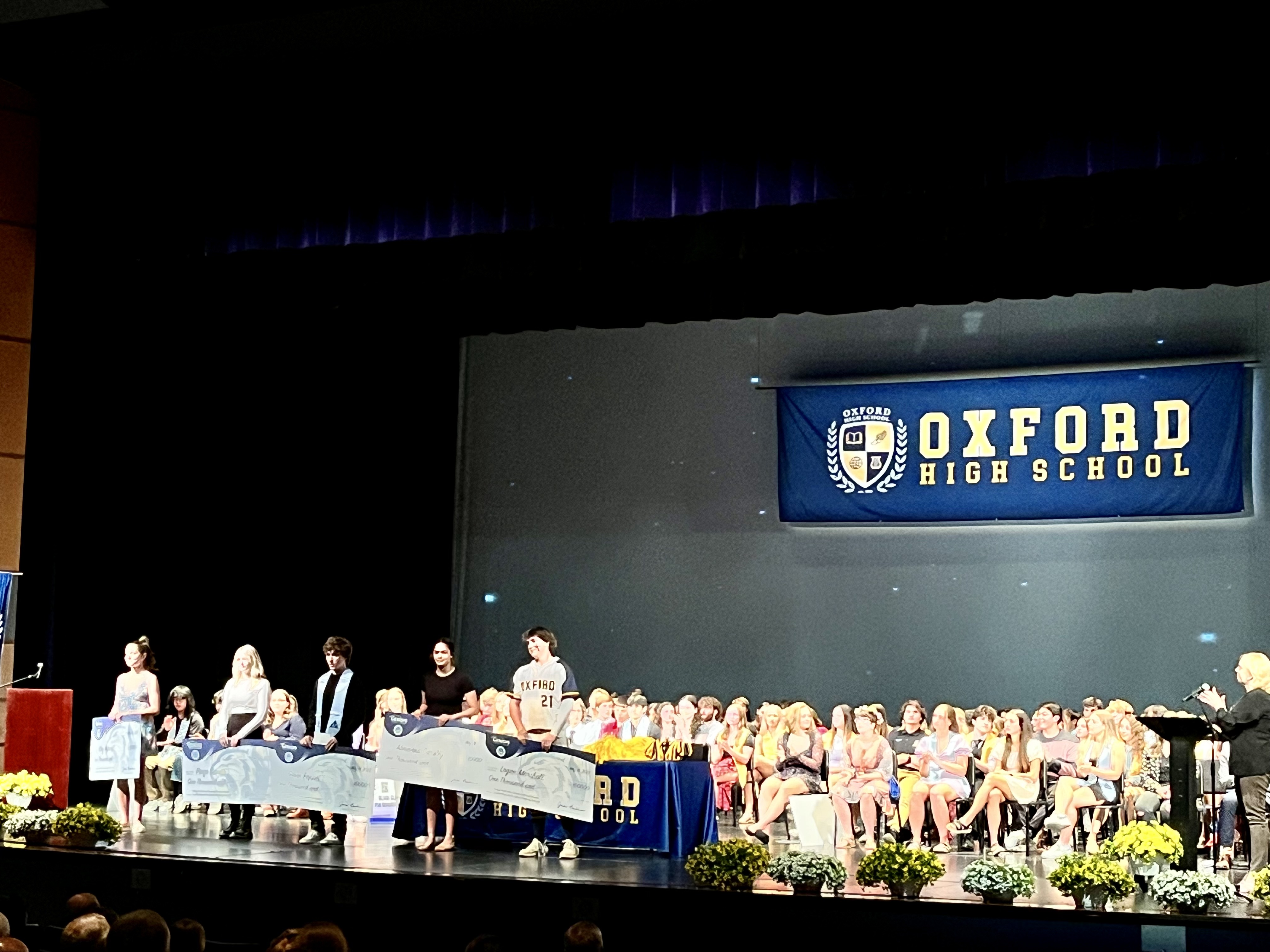 Earlier this year, the Oxford Chamber of Commerce and Genisys Credit Union offered their Oxford High School (OHS) Community Pride Scholarship to the OHS Class of 2023. On May 15, at the OHS Senior Awards Ceremony, six graduates were each awarded the $1,000 scholarship: Abrianna Carsley, Paige Comito, Gavin Cowan, Logan Marshall, Kiley Myrand, and Gavin Poppei.
As part of the scholarship, applicants needed to reflect and answer the question: What does the Oxford community mean to you? The selected recipients displayed a great level of dedication to their communities, personal passions, and academics.
Future Spartan, Abrianna Carsley will be attending Michigan State University to study Biochemistry and Molecular Biology. "This is perfect for Bri because I believe she was put here to make a difference, not just in her own life, but in the lives of others," said Brian Edwards, Language Arts & IB Theory of Knowledge Instructor at Oxford High School. Throughout her high school career, Abrianna was involved with various clubs including the Environmental Club, Choir, and the Social Justice Club.
Paige Comito will be pursuing Zoology at Michigan State University. With a love for animals, Paige has been doing TNR (trap, neuter, release) in Oxford's Waterstone subdivision for eight years for stray and feral cats and, for two years, has been the Team Captain for the OHS Equestrian team. In Paige's words, "The equestrian team was a learning experience. Not just learning about riding, but learning about myself as a person…so I will hold these lessons in my hands as I move onto the next chapter of my life with eagerness."
Gavin Cowan will be studying Computer Science at Grand Valley State University. With a love for coding and programming, Gavin has volunteered his time throughout his high school career with various groups such as ID Tech Camps for Programming, Oxford Gives Back, and Soldiers Angels Baking Team, which makes baked goods and sends them overseas once a month for deployed service members.
A future Laker, Logan Marshall will be attending Grand Valley State University to study Finance and Sports Management. With a love for sports, Logan played varsity football and baseball, but the most impactful venture of his high school career was his involvement with 42 Strong, a peer-to-peer mentoring program within Oxford Community Schools. The purpose of the program is to ensure that younger kids have a sense of belonging and a non-formal outlet to discuss issues with their mentors; he was chosen as one of the first mentors. "Life lessons don't always appear in a transcript or a letter of recommendation. Sometimes the demonstration of overcoming our greatest obstacle is undocumented and hidden from view," said Logan.
Kiley Myrand is a future Wolverine who will be attending the Ross School of Business at the University of Michigan. "Kiley's skills accommodate what she wants to do with her life, because her focus is always to help people," said Nathan Nickolai, Physics Teacher at Oxford High School. That passion moved her forward in being actively involved in 42 Strong, a peer mentoring program, coaching soccer for children with disabilities, and Link Crew, which provides incoming freshman classes guidance and support.
With a drive and passion for learning, Gavin Poppei will be attending the University of Michigan. "His motivation for success academically is based on intellectual curiosity and the willingness to actually learn," said Eric Button, Head Coach of the North Oakland Eagles Varsity hockey team. For his application, Gavin submitted a palindromic poem that can be reread in a circle; the idea reminded him of what Oxford truly felt like and the phrase of how all roads lead back to home.
"We are pleased to award the 2023 Community Pride Scholarship to this dedicated group of students who drive forward change in the Oxford community," said Jackie Buchanan, President and CEO of Genisys Credit Union. "We believe that they will continue to make impactful contributions to their new university communities and wish them all the best as they continue their education."