PONTIAC, Mich. – May 12, 2017 – Lake Orion and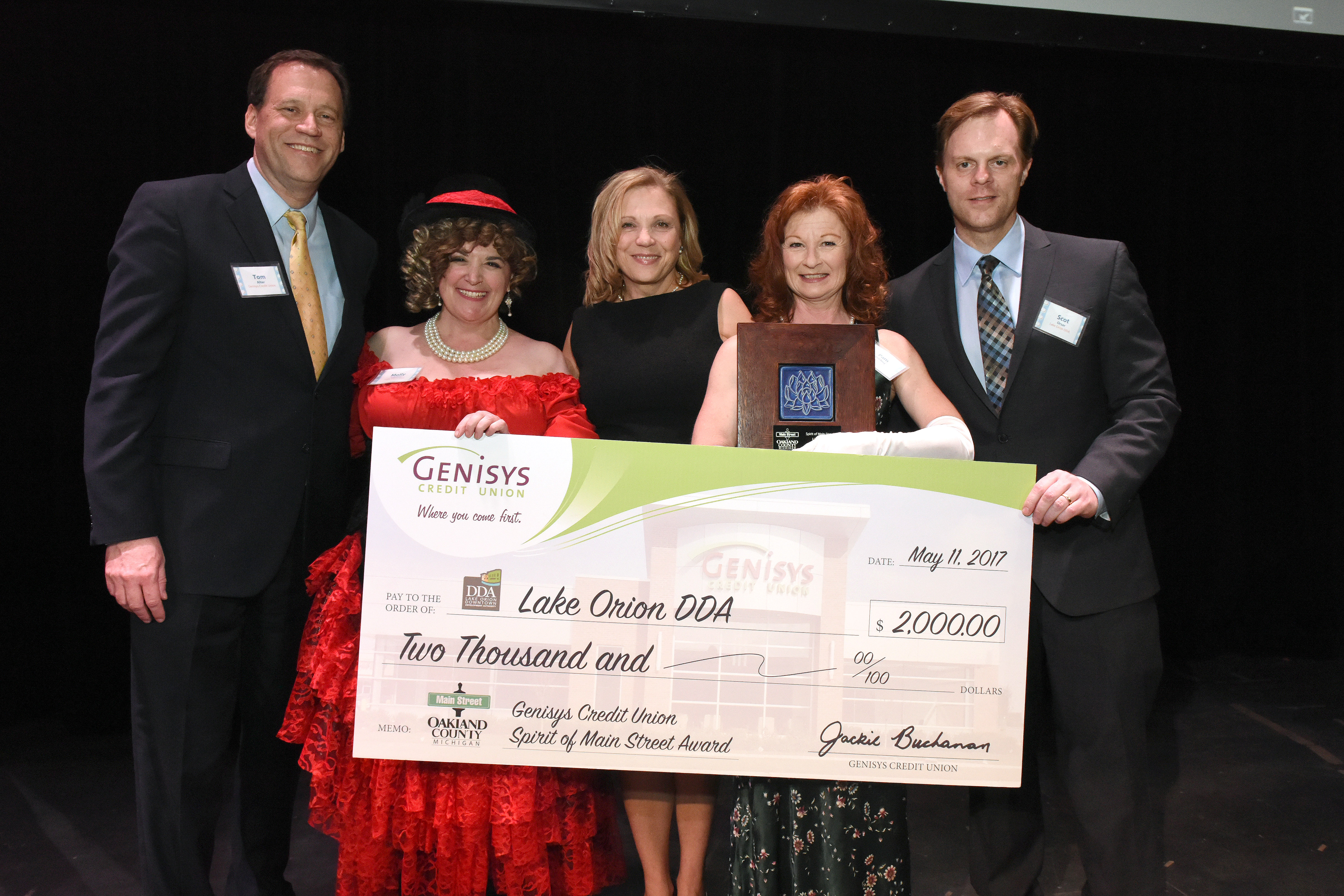 Rochester and the Downtown Development Authority (DDA) for each community received top honors Thursday night at the Main Street Oakland County "Main Event On Broadway" celebration at the Flagstar Strand Theatre for the Performing Arts.

Awards in 13 categories were given out by Oakland County Executive L. Brooks Patterson during the celebration, which was a nod to the Flagstar Strand and its recent renovation and restoration as a live performance venue.

"Our downtowns add immeasurable value to the quality of life Oakland County residents find so attractive," Patterson said. "Congratulations to the communities and the Main Street Oakland County team for the work they've done making these downtowns such economically vibrant and attractive destinations."

Patterson was joined at the event by more than 150 guests, including many local and county officials. It was sponsored by ITC, A Fortis Company; SMART, Genisys Credit Union, the Oakland County Business Finance Corp.; The Dobrusin Law Firm and Michigan Glass Coatings.

The Lake Orion DDA received a $2,000 cash award from Genisys Credit Union for creating an amateur video illustrating the story of its downtown. The Rochester DDA and The Home Bakery split a $1,500 award from Michigan Glass Coatings for their display window on a Broadway theme.

MSOC created the awards program in 2004. It recognizes excellence in downtown revitalization in such areas as design, economic restructuring, organization and promotion. The judging panel was comprised of experts in historic preservation and economic development.

The award winners were
ALL COMMUNITIES
• Spirit of Main Street: Lake Orion DDA (Includes a $2,000 prize, sponsored by Genisys Credit Union)
• Window on Main Street: Rochester DDA and The Home Bakery (Includes $750 to each, sponsored by Michigan Glass Coatings)
SELECT LEVEL COMMUNITIES Stars of Main Street
• Volunteer of the Year: Brian Golden, Farmington; and Scott Reynolds, Lake Orion
• Local Leader of the Year: Jerry Walker, Holly
• Board Member of the Year: Cassie Blascyk, Highland
• Business Owner of the Year: Chris and Tiffany Best, The Rust Belt Market, Ferndale
• Landmark Preservation: Flagstar Strand Theatre for the Performing Arts, Pontiac
• On a Shoestring: Putting the Art in SMART: Ferndale
• Out in the Open: Canvas Pontiac, Pontiac
• Telling Your Story: Grizz Night, Pontiac
• Game Change: West Construction Services, Brent and Kyle Westberg, Pontiac
ASSOCIATE and AFFILIATE LEVEL COMMUNITIES
• Program on the Rise - Promotion: Food Truck Fridays, Lathrup Village
• Program on the Rise - Organization: Bobbi Lovins, Lathrup Village
Since 2001, MSOC downtowns have generated about $741 million in new public and private
investment, created 7,378 jobs, established 1,020 new businesses, the construction of 3.3 million
square feet of floor space and benefited from more than 382,000 volunteer hours.

In 2016, public and private investment totaled $34.2 million and resulted in 293 net new jobs; 49 net
new businesses; the construction of more than 176,000 square feet of floor space and volunteer
contributions of more than 43,000 hours of volunteer time equating to a value of more than $1 million.

Main Street is a trademarked program of the National Main Street Center in Chicago. Clawson,
Farmington, Ferndale, Franklin, Highland Township, Holly, Lake Orion, Ortonville, Oxford, Pontiac
and Rochester are MSOC "Select Level" communities. Birmingham, Wixom and Lathrup Village are communities in the "Associate Level." Auburn Hills, Clarkston, Groveland Township, Hazel Park, Holly Township, Leonard, Oak Park, South Lyon, Walled Lake and Waterford Township are "Affiliate Level" communities.

Oakland County is the first and still only county in the United States to operate a full-service county-wide Main Street program. It is available to the county's 32 historic downtowns, heritage corridors and mixed-use urban centers.