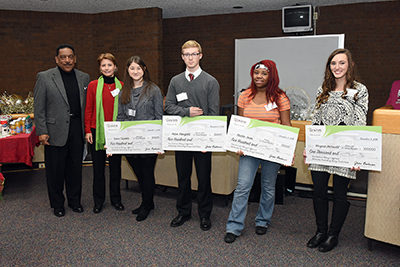 Auburn Hills, Mich. – December 19, 2016 – Genisys Credit Union is committed to giving back to the students in their community. This December alone, Genisys has awarded scholarships to six local students.
"Genisys Credit Union is honored to sponsor these scholarships to acknowledge the outstanding youth within our communities," said Jackie Buchanan, Genisys President/CEO.
Holiday Extravaganza presented by Genisys Credit Union and Oakland County Michigan Works, was a collaborative event between the communities of Auburn Hills, Pontiac, Waterford, and White Lake that took place on December 3. As part of this collaboration, Genisys provided a scholarship to one student of each community. The selected students were given the title of Holiday Extravaganza Junior Grand Marshal in addition to the scholarship.
Junior Grand Marshal Margaret McDonald, of White Lake, was presented the Fran Anderson Scholarship Award of $1,000. Junior Grand Marshals Grace Casolari of Waterford, Malika Jones of Pontiac, and Adam Mansfield of Auburn Hills were each awarded a $500 scholarship.
This year's Holiday Extravaganza drew the largest crowd and the most volunteers the parade has ever seen. The 35th Holiday Extravaganza is comprised of the WinterFUN Festival and the parade down E. Caesar Chaves to Saginaw Street. The parade included twelve professional floats, five professional balloons, seven marching bands and more than 100 of your favorite costume characters.
This event would not be possible without their Corporate Sponsors: Advanced Disposal, Art Van Furniture, Lee Industrial Contracting, Oakland Livingston Human Services Agency, Oakland County Sherriff Department, Oakland University, The Crofoot, The Oakland Press, and United Healthcare.
The 65th Rochester Hometown Christmas Parade presented by Genisys Credit Union took place Sunday, December 4. Genisys has been the presenting sponsor of the Rochester Hometown Christmas Parade since 2010. Over the years, the partnership between Genisys Credit Union and the Rochester Regional Chamber of Commerce has provided over $8,000 in scholarships for the Greater Rochester Community youth. This year's Junior Grand Marshals, Andrew Smith and Sophia Shafkalis, were each awarded a $1,000 scholarship.
"We are thankful for this wonderful program and the support of Genisys Credit Union. Without their support this program could not exist," said President Sheri Heiney of the Rochester Regional Chamber of Commerce. This parade wouldn't be possible without the support of their North Pole Sponsors: City of Rochester Hills, Crittenton Hospital Medical Center, and Oakland University.