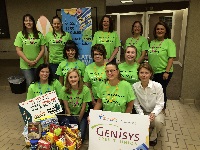 AUBURN HILLS, Mich. – August 5, 2015 -- Genisys Credit Union which provides services to anyone who lives or works in the Lower Peninsula of Michigan, recently Made a Difference for the Food Bank of Eastern Michigan's "Hunger Doesn't Take a Vacation" Campaign.

Genisys Credit Union was a proud supporter of the Food Bank of Eastern Michigan in their "Hunger Doesn't Take a Vacation" Campaign! Thanks to members in Clio, Fenton, Flint, Grand Blanc, Marysville, and Vassar for their commitment to raise the necessary dollars to help local area neighbors. The contributions raised included $9,064.80, plus 35 pounds of canned food. This equates to 81,618 pounds of food, which will provide 54,412 meals for neighbors in our communities who are served by the Food Bank of Eastern Michigan through local community food centers, food pantries, etc.
The campaign, a month-long friendly competition between local credit unions, began on June 15 and concluded on July 11. Genisys Credit Union was the overall first place winner in the competition bringing in the most contributions to help local communities.
"The dedication of our members and Genisys staff to pull together resources to help the Food Bank of Eastern Michigan was very inspiring," said Jackie Buchanan, President and CEO. "We are proud to join our fellow credit unions in such a worthwhile cause of people helping people, which is our credit union industry philosophy."
The Food Bank of Eastern Michigan (FBEM) provides partner agencies access to low- and no-cost food to distribute to clients. They also provide technical assistance and training, while ensuring programs meet food safety standards and provide fair and equitable services to clients. The Food Bank and their partner agencies feed more than 22,000 individuals each week – at food pantries, soup kitchens, shelters, community centers and more.
"The Food Bank of Eastern Michigan is proud of all of the participating credit unions that have helped raise funds and collect can goods for the hungry of our communities, in the summer drive," HUNGER DOES NOT TAKE A VACATION". We applaud and appreciate Genisys Credit Union for leading the way!" stated Tracy Fowler-Johnston, Development Manager, Food Bank of Eastern Michigan.
About Genisys Credit Union:
Genisys Credit Union is a not-for-profit, member-owned financial institution that has been committed to helping its members financially since 1936. Based out of Auburn Hills, MI, Genisys is one of the largest credit unions in Michigan, with over 175,000 members and 29 branch locations. They also provide business loans and a range of services for small to mid-sized businesses. Genisys Credit Union is proud to be making a difference in their communities, and truly believes that Genisys is "where you come first". Connect with Genisys on Facebook and Twitter by following "GenisysCU". For convenient access to your account, download the Genisys iPhone App in the iTunes Store and Android App in the Google Play Store. For more information or a calendar of events, visit Genisys online at www.genisyscu.org.
# # #