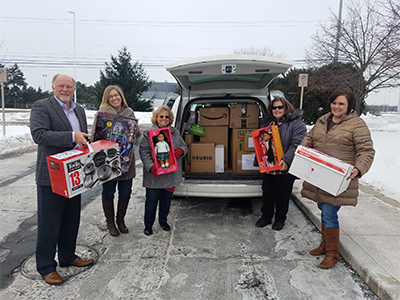 Auburn Hills, Mich. – December 29, 2016 –Genisys was excited to participate in three different programs to help those in need this holiday season. Throughout November and December, Genisys contributed to Sheriff Bouchard's Coats for the Cold, Adopt-a-Family and box-packing for the Baldwin Center.
"Genisys Credit Union is dedicated to carrying out the credit union philosophy of "people helping people" while making a difference in our communities," said Jackie Buchanan, Genisys President/CEO.
Throughout the month of November Genisys branches in Oakland County collected coats for Sheriff Bouchard's Coats for the Cold coat drive. Donated coats were sent to different charitable organizations among Oakland County who then distributed them to families in need at no cost. Coats for the Cold is sponsored by the Oakland County Sherriff's Office, in partnership with 1-800-MINI-STORAGE, COWS (Container on Wheels Mobile Storage), Real Estate One, Genisys Credit Union, 89x Detroit, and many other community organizations around Oakland County. "Coats for the Cold is an easy way for the community to reach out and help someone less fortunate stay warm this winter," Sheriff Bouchard said. "For the past 29 years, we have worked with local charitable organizations to provide free coats to those in need. The community's generosity has been wonderful every year."
This year Genisys "adopted" 14 local families around St. Clair County, Oakland County and Genesee County. Many local families struggle to afford food and have little to no money to provide the basics such as coats, gloves, blankets or toys. Several families were adopted by Genisys through Lighthouse of Oakland County. Lighthouse matches donors with local families in efforts to make their holidays brighter.
Genisys' dedication doesn't stop there. On December 19, over 50 Genisys employees, friends and family gathered to pack boxes of food for local families that rely on Baldwin Center for assistance. They packed boxes with perishable and nonperishable food items like cereal, soup, fruits and other canned goods filling the truck with about 250 boxes of food. For more information on Baldwin Center, please visit www.baldwincenter.org/blog/.