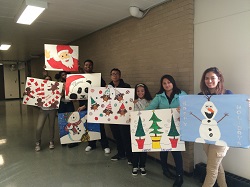 FOR IMMEDIATE RELEASE
Genisys Credit Union Supports the Holiday Art Project in Pontiac
Photo cut line: Art Students from Pontiac High School.
Auburn Hills, Mich. – November 25, 2015 -- Genisys Credit Union, which provides services to anyone who lives or works in the Lower Peninsula, recently sponsored the Holiday Art Project at Pontiac High School.
The Holiday Art Project is a collection of artwork created by students from Pontiac High School. The student's artwork will be on display during the Holiday Extravaganza WinterFun Festival in downtown Pontiac on Saturday, December 5. The artwork will then be placed in the storefronts of downtown Pontiac for the community to view throughout the holiday season until January 1st.
"Genisys Credit Union is pleased to sponsor these art projects to help bring the support of the arts in our local communities. The inspiration that is drawn from these projects and the creativity from people is a wonderful collaborative experience", said Jackie Buchanan, President and CEO, Genisys Credit Union.
About Genisys Credit Union
Genisys Credit Union is a not-for-profit, member-owned financial institution that has been committed to helping its members financially since 1936. Based out of Auburn Hills, MI, Genisys is one of the largest credit unions in Michigan, with approximately 178,000 members and 29 branch locations. They also provide business loans and a range of services for small to mid-sized businesses. Genisys Credit Union has consistently received a 5-star Bauer Financial Rating for safety and soundness and is proud to be making a difference in their communities. Connect with Genisys on Facebook, Twitter, and Instagram by following @genisyscu. For convenient access to your account, download the Genisys iPhone App in the iTunes Store and Android App in the Google Play Store. For more information or a calendar of events, visit Genisys online at www.genisyscu.org.
# # #